I was asked to speak about blogging at a women's networking event, I attend in Woodland Hills, and was part of a panel about marketing called "Your Business or Profession in Print or Social Media."  A good portion of the women in our networking group were Baby Boomers who have segued from a corporate job or traditional brick and mortar business into a retirement business. Our panel included 2 graphic designers, a photographer, a copywriter, a website designer, and myself. (the group's resident blogger)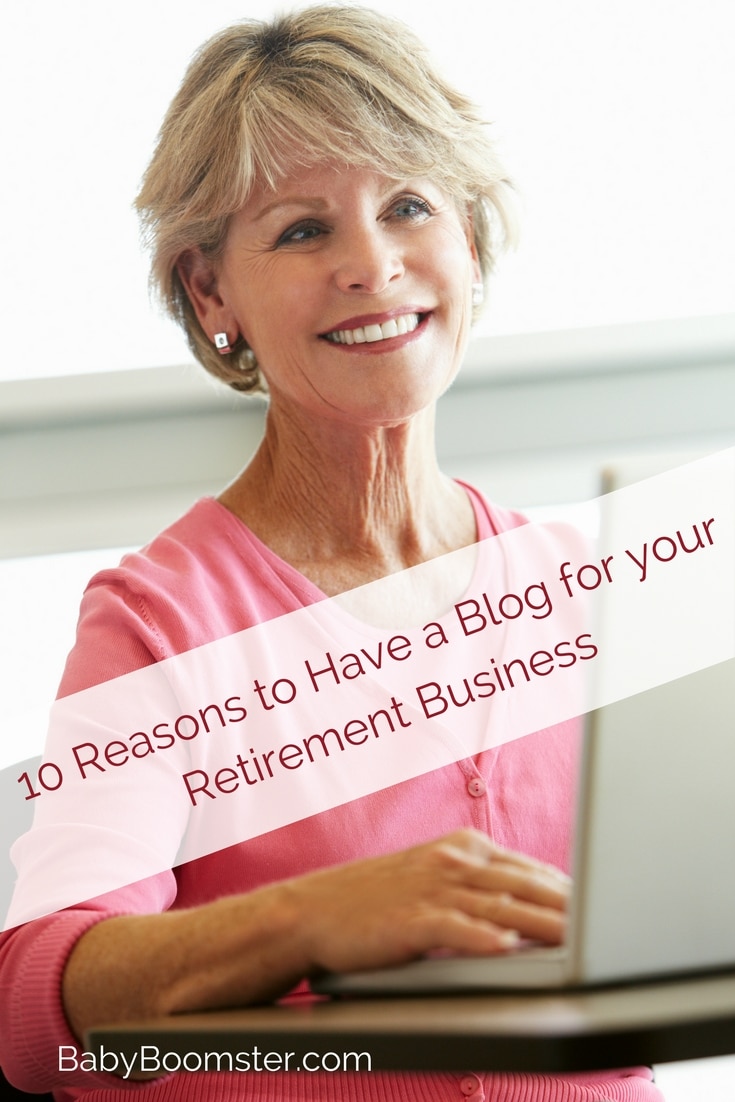 It's amazing how many Baby Boomers have a retirement business and having a blog is an excellent way to promote it. I came up with 10 reasons why you may want to have a blog to market your business whether it's one you've had your entire life or are thinking of starting.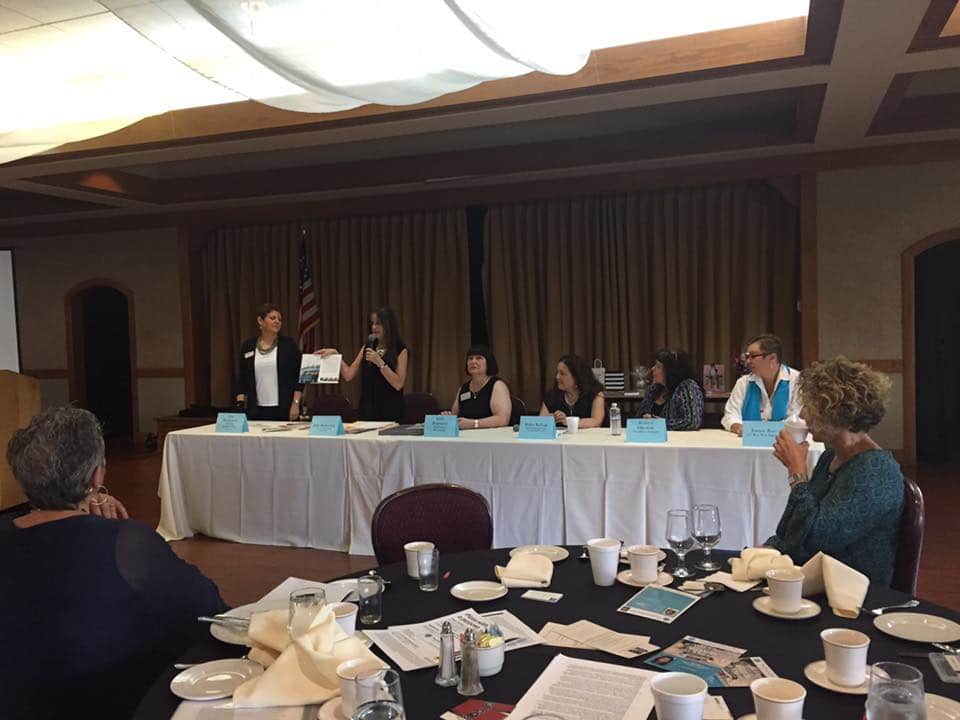 1. Blogs are where people get most of their news
The world's biggest blog is the Huffington Post. Other blogs include TechCrunch, Mashable, Copyblogger, Buzzfeed, & Business Insider. Even huge news sites like CNN, LA Times, Politico, are on a blog platform. So why not use a blog to announce news about your retirement business, your thoughts, ideas, or a new product launch? Hopefully, it won't be fake news. LOL!
2. Articles posted regularly on your blog will bring you more organic traffic
A static website sits dormant on the web and is essentially just an online business card. Unless your site has been online for a long time, you're spending tons of money to use Adwords, or other types of advertising, it's not going to attract much traffic. When you post articles on your blog regularly, even just once a month, your site begins to live and breathe. This gives potential customers more opportunities to find you online.
3. Blogging helps you build a targeted email list
A good email list is GOLD for most businesses. You can offer an incentive on your blog for your readers to sign up to receive updates of your latest posts. This can be scheduled and automated so that your newsletter arrives on a weekly, monthly, or even daily basis. Make sure to include an FTC compliant email opt-in box on each page of your blog to entice new readers to opt into your list. Using an opt-in box is crucial because you only want people on your list who choose to be on it. It must also give them the option to unsubscribe whenever they want. You NEVER want to add people to your list without their permission because you run the risk of being fined for spamming.
4. Monetize your business online as well as offline
Just because you hold in-person appointments for your business doesn't mean you can't create additional income online. It may become harder to hold physical appointments as you age or perhaps you'd like to travel and make money while you're away. Why not use your blog to promote online courses, e-Books, sell physical products, or make other types of passive income online?
5. A blog helps to establish you as an expert in your field and sets you apart from your competition
It's important to write your articles in your own voice when you post articles because your personality is who you are selling. When you let people know who you are and how you work, it attracts your target audience. It will also connect you to fabulous people who can help move your business forward that you would never meet locally. I'm amazed by the caliber of people I've connected with online, many of whom I've learned from, and the opportunities I've been offered simply from writing blog posts.
6. If you absolutely HATE writing, a blog can host your videos, audio recordings, and other media
Not everyone likes to write and blogging is certainly isn't for everybody. However, there are other types of content you can post on a blog. Video blogging is called Vlogging. If you like making videos, post your YouTube, Facebook Live, UStream, or Periscope videos on your blog. Or, embed audio recordings like a podcast. My 2 Boomer Broads podcast is on Itunes but is also on a blog because I include our show notes as well as a player to listen in. Blogs are excellent for posting events, testimonials, new products, presentations, quotes, and photos you may want to promote for your retirement business.
7. A blog will help you create that book you always wanted to write
Baby Boomers grew up reading books, have led full lives, and have much to offer as authors. In fact, a good portion of the books being published today is written by authors over 50. The majority of fiction sales as of 2017, is coming from eBooks. When you write blog posts, it's easy to put them together to form an eBook and even a hard copy book. Then you can promote them on your blog. Think of blogging as a testing ground to analyze what your audience responds to. It will help you form ideas, improve your writing skills, and build an online audience that is necessary to create sales. Book agents look for authors with an online presence on both their own websites or blogs and on social media.
8. Use a blog as your portfolio to create a new retirement business as a paid writer
There is still plenty of paid writing work available in print and online websites. Pitch magazine and newspaper editors, large online websites, companies, brands, and other outlets who will pay you to write by sending them links to articles on your blog.
9. Want to be a star? Create your own celebrity on a blog
Are you an actor, artist, musician, entertainer, or want to be recognized by media outlets? Having a blog gives you the chance to be a star without experiencing the rejection that comes through traditional routes. As a voice-over actor for over 35 years, I often get asked by fans, "How can I become a voice-over actor?" I respond, "Well, you either have to learn how to act, or create your own show." Anyone can set up a podcast, video channel, or become famous simply by voicing their opinions. Look at Perez Hilton. He created a huge and successful blog business as a celebrity gossip columnist.
10. A blog allows you to build a retirement business with little to no overhead
I worked as a direct sales consultant for 10 years, earning 3 free cars as a sales director so I wasn't just fooling around with it. I also spent a ton of money purchasing products, supplies, renting meeting rooms, and networking. Then I discovered blogging. Now I write articles on my blog and insert affiliate links to products I believe in into the text. Affiliate programs cost NOTHING to join. If someone clicks on a link and makes a purchase, I earn a small commission. I also write sponsored posts for brands. Most brands seek me out and send me products to review. I make money in the comfort of my own home and all I have to pay for is my hosting account, which can be as little as $100 per year.
So why not start a blog?
As I mentioned before, blogging isn't for everyone. In any business, you still have to be consistent, persistent, and fail forward. Success will not happen overnight unless you're willing to wear a Chewbacca mask and laugh like a maniac on a YouTube video. But, if you have a retirement business you want to promote, it gives you an option that has the potential to bring you more success.
Start a blog on Bluehost – My favorite hosting service