Without all the angst happening in the news every day and with things getting done as far as beating the pandemic, our Baby Boomer bloggers have been writing about what has been happening in their worlds. This week's roundup is a mixed bag of everything from helpful tips to cute doggie moments. They are all about enjoying our lives in the best way we know-how.
Now that many of us Baby Boomers have had the vaccine or will have it soon, there's newfound freedom we can enjoy. Who said being vintage was a bad thing?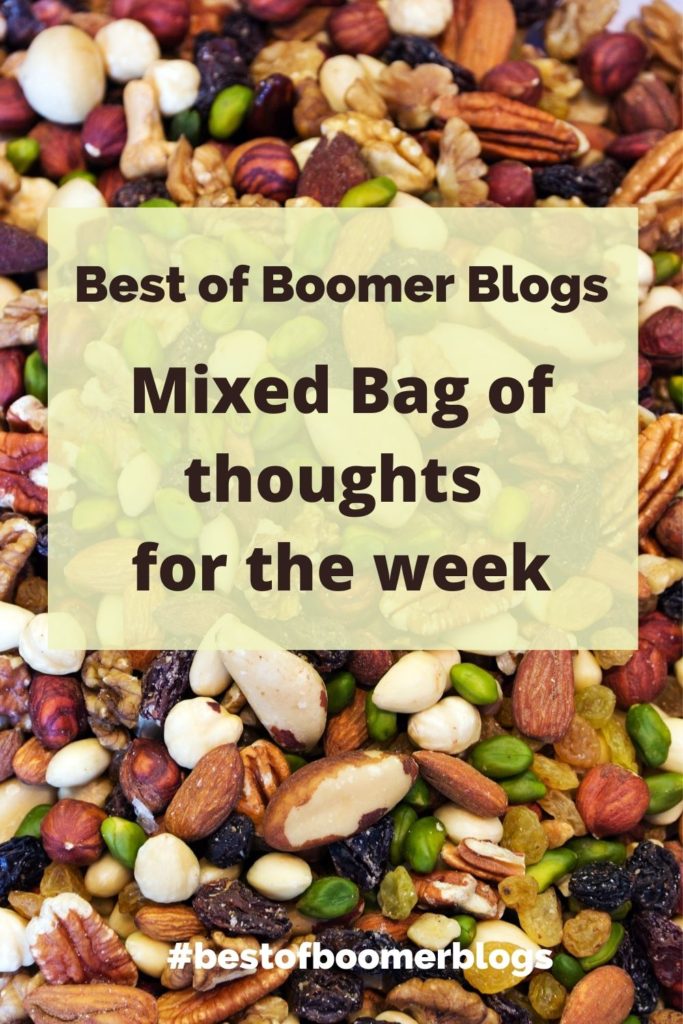 About the vaccine
After days of addled internet search, weeks of promise and hope, months of frustration, and sometimes anger, Tom from Sightings Over Sixty was finally able to get through to someone on the phone.."Sure, I can help you with that," the woman said. His reaction: Wait … Is This for Real? Could it possibly be? You can guess what he's talking about.
This week Meryl Baer of Beach Boomer Bulletin experienced one eventful day in a week of usually uneventful days. Two happenings, not normally considered eventful in a pre-covid life, take on new significance after a year in semi-quarantine, as she relates in this week's post, A Shot in the Arm.
Happiness is not always what you expect
Are you happy with the life you are living? Do you think it should've been different? You're not alone. That's the short discussion Carol Cassara is having over at A Healing Spirit in Why Expectations Are a Losing Proposition.
Inspiration from some of our favorite changemakers
For International Women's Day, Jennifer of Unfold and Begin decided to keep it straightforward with some quotes from a few female troublemakers.
Don't get hurt out there
Be aware more people are going to emergency rooms for injuries during the pandemic from some consumer products such as batteries, fireworks, all-terrain vehicles, and skateboards, reports Rita R. Robison, consumer, and personal finance journalist. To avoid injuries, lock up cleaning products; wear a helmet before riding a scooter, skateboard, or bicycle; don't let young children play with fireworks, and keep products with small batteries away from kids.
Doggie love
It finally happened. Laurie Stone of Musing, Rants & Scribble's dog Libby got to run around outside, off-leash. On their neighborhood walks, it always breaks her heart this pint-size Yorkie can't go off on her own since… well, she can't be trusted and would end up in the next county. Instead, the dog tugs (and tugs and tugs), performing a slow-motion gallop, wanting to zoom around like her canine ancestors. Laurie always felt bad that she couldn't let the dog go…until now.
Itching to travel
My biggest passion in life right now is to travel and having everything shut down has been frustrating. I may have to win the lottery first, but the thrill of visiting places I've never seen is what I love. In fact, I wouldn't mind doing it solo if I can.
Last week I tuned into 2 travel-related webinars hosted by the CEO of Travel Adventure Shows. The first webinar featured panels of experts, including Peter Greenberg and Roger Dow who had a mixed bag of opinions on how travel will commence as we come out of the pandemic. The second webinar was hearing from members of The Department of State who gave us Must-Have Resource links for when you plan your next trip, especially if it's overseas.
So, as you can see, our mixed bag of Boomer Blog posts has something for everyone. Please check them out and share them with your friends. We all love comments, tweets, and shares.