We all love dessert but sometimes it doesn't love us. Still, you want to enjoy life, so why not have something sweet once in a while? My Apple Cups with Pumpkin dessert recipe below will satisfy your sweet tooth without spiking your blood sugar. With just a sprinkle of brown sugar, it's a delightful and healthy dessert you can serve guilt-free to your grandchildren, elderly relatives, and, of course, yourself.
Enjoy this Apple Cups with Pumpkin recipe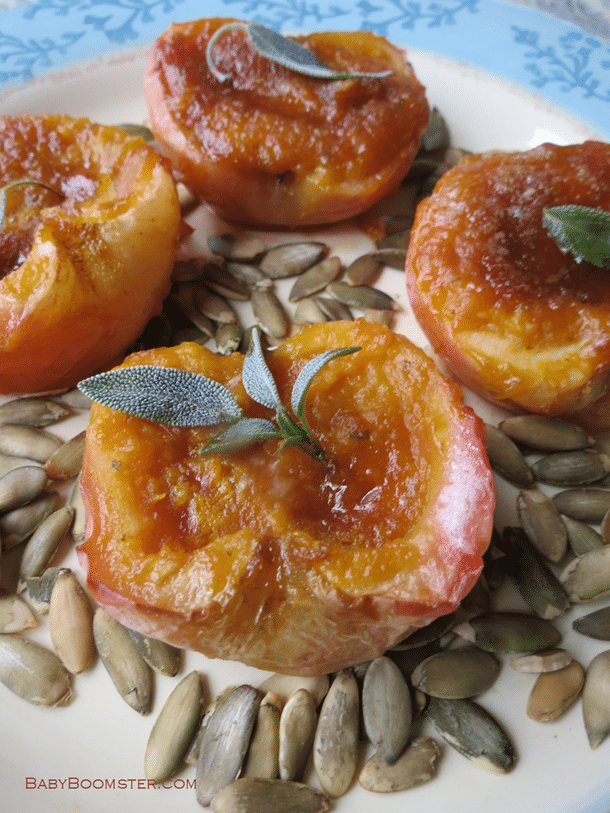 Apple Cups with Pumpkin
Delicious and fairly guilt free dessert you can enjoy with your whole family.
Ingredients
3

large Honeycrisp apples or large red baking apple

1/2

cup

of brown sugar

1

can

15 oz of pumpkin puree

1/2

Tbsp

of fresh minced sage

2

Tbsp

of melted butter

3

Tbsp

whipping cream

1

Tbsp

melted butter
Instructions
Cut the apples into halves lengthwise and remove the core carefully.

Place the apple halves into a shallow baking dish.

Sprinkle them with half of the brown sugar

Add a small amount of water to the baking dish.

Bake at 400 degrees F for about 20 minutes until the apples are slightly tender.

Let the apples cool for a bit.

Scoop out the apple pulp leaving about 1/4 inch inside the apple cups.

Combine the apple pulp, pumpkin puree, sage, 3 Tbsp of melted butter, and cream in a mixer bowl.

Beat the mixture until it's fluffy.

Spoon the mixture into the apple shells.

Place the apples back into the shallow baking dish.

Sprinkle with the remaining brown sugar.

Drizzle the apples with the remaining tablespoon of butter.

Bake at 400 degrees F for 30 minutes.
I made these apple cups using Honeycrisp apples. They're a cross between the Macoun apple and Honey Gold, are juicy, and work well for baking. However, you can use any type of apple you enjoy.
To add a savory touch to the apple cups I also topped them with a sprig of fresh sage.
The goodness of apples
We all know an apple a day keeps the doctor away but here's some more good news. According to Medical News Today, unless you've been prescribed a statin to prevent heart disease, an apple is a good replacement.
Researchers found that if 17.6 million people in the UK took a statin a day, this would reduce the number of vascular deaths by 9,400. If the whole over-50 UK population (22 million) ate an apple a day, this could reduce the annual number of vascular deaths by 8,500.
Apples also help prevent diabetes, hypertension, and cancer.
I hoard cans of organic pumpkin puree during the holidays to use throughout the year and canned pumpkin works well for this recipe. You can also give it to your dog if it's organic and unsweetened because it's high in fiber and is good for digestion.
To add interest to the apple cups and balance the sweetness I sprinkled them with a touch of fresh sage.
Do you eat an apple a day to keep the doctor away and what's your favorite way to eat them? Please leave a comment below.