I've been a nomad most of my life and have lived in a variety of environments that included several large homes and apartments, a small Hollywood bungalow, a double-wide mobile home, and a room in a home. Since the tender age of four, I've lived exclusively in Southern California in so many different places I've lost count. At various time, I enjoyed apartment life which has its advantages and disadvantages.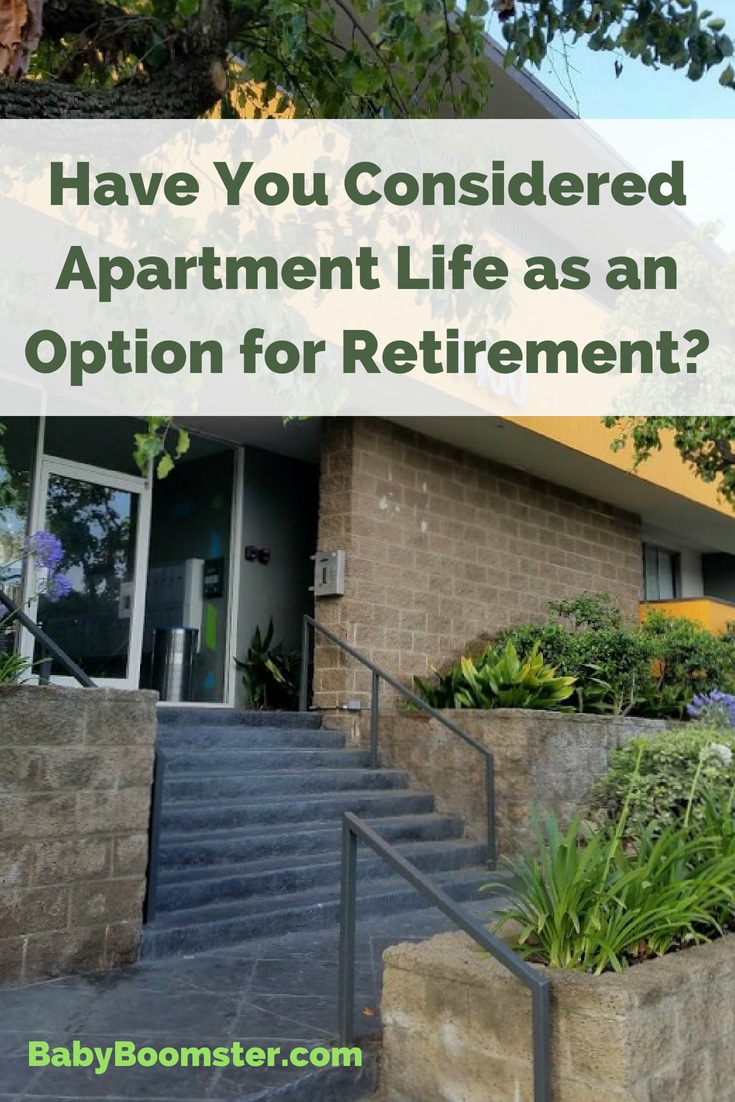 After years of ups and downs. . .
Many Baby Boomers find that they need to downsize. It may be that the kids have left and your house is bigger than you need it, you want a more affordable option, or would like to live in a location that is more ideal. Whatever the reason, apartment life might be your best solution.
The advantages of apartment life when you're older
Apartment tenants, as opposed to those in rental homes, aren't at as much at risk of being asked to leave if the building changes owners. I've had to move several times from rental homes after the landlord sold it.
Apartments often have cool amenities. The apartment we lived in had a fully-equipped fitness center and they held "get to know your neighbor" mixers almost every month. A gourmet food truck also parked in front of the office once a week. Each building had a pool area and we were lucky to have a stacked washer and dryer in our unit as well as garages for both cars.
Handyman on call– If something went wrong in our apartment we put in an online service request and a handyman showed up within 24-48 hours.
Utility costs are minimal. When I lived in a big house our utility bill was as much as a mortgage payment, especially in the summer.  Utility costs for an apartment are less and are sometimes included in the rental fee.
There's no yard to maintain. The courtyard in our building had a pool, BBQ's and a grassy area with chairs. It was taken care of by gardeners and maintenance workers. As a former pool owner, having someone else deal with the expenses and care of a pool other than myself was a joy.
Pet friendly – Our two small dogs were welcome there. Apartment life isn't an ideal environment for a large dog but small dogs and cats usually have no problem with it. Our pets got to meet other tenants' pets when we took them out for walks. There were doggie poop containers in front of the buildings that were cleaned out every day by the maintenance staff. Living in an apartment with a dog who can't go out a doggie door forces you to get out and exercise.
You can choose the location of your unit  If you decide to live in an apartment when you're older it's usually best to find one without stairs or one that has an elevator if you're not on the ground floor. Don't add more risk for a fall especially when you're carrying sacks of groceries.
There are nearby conveniences. Apartment buildings in a city, are often near restaurants, stores, banks, and other businesses.
Security – Most upscale apartment complexes have security staff that patrols the complex at night and there's always a neighbor in a neighboring apartment in case of emergency.
Online connections – The apartment we lived in had a Facebook group for all the tenants. We sold furniture, announced events, got together for drinks, and reported problems.
RENTCafé did a study and found that as America is slowly graying (22% aged 60+), seniors are giving up homeownership in favor of the flexibility and convenience of renting. Renters households aged 60 and up drove the past decade's surge in renters, with a 43% increase, from 6.55M in 2007 to 9.37M in 2017, outpacing the increase of owner households and growing faster than younger renter groups.
Over 55 community or not?
There are advantages to living in an over 55 community whether it's an apartment complex or a gated community. One of my friends moved from a home she owned in LA to a retirement community near Laguna Beach. It's called Laguna Woods and was formerly Leisure World.
She's having the time of her life performing in theatrical products, singing, and even fell in love and got married. There are multiple clubhouses and all sorts of activities. Her community was featured on 60-Minutes when they showed the results of a survey on why people live to be 90+.
Our apartment complex had residents of all ages. A large number were film students from a nearby film school. It wasn't uncommon to see lights, cameras, and action going on at all hours of the day and night. Some people didn't enjoy the party atmosphere of our complex but we didn't mind.
The disadvantages of apartment life
You obviously don't own an apartment like you would a house or condo. You may be subjected to high rent increases if you aren't living in a rent control area.
You have to deal with other people's messes. Our apartment maintenance staff got a workout cleaning out abandoned apartments or garbage left by uncaring residents who thought they were their maid service. An occasional giant cockroach would show up once in a while but that can happen anywhere you live.
Apartment life is great if you live in a nice neighborhood but can be awful if you don't. It's worth paying a little extra for convenience and safety.
You may have to put up with the apartment company's weird decorating choices. Our building was repainted with bright orange accents to match the leasing company's brand colors. Most of the tenants were less than thrilled with that choice.
I moved out of my apartment after my partner passed away because the rent was too high to pay on my own. However, depending on where you live, rents can be reasonable and more affordable than renting a home, if you don't own one yourself. It depends on your location.
Have you considered apartment life? Please leave a comment below.