Do you look at your skin nowadays and think to yourself . . . Mom, is that you? Is it dry, blotchy, and saggy? For most of us, that's what happens when we get older, unless you're super diligent. I asked the CEO of Albertini International for her thoughts about hydration over 50 and how menopause affects our skin.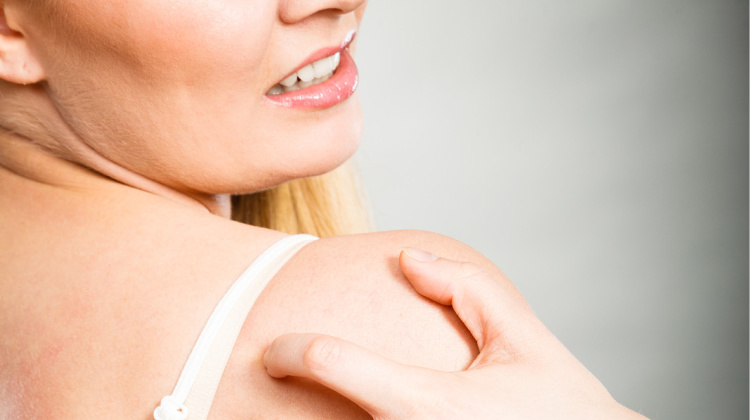 Valorie Albertini has been deeply involved in the beauty business for the past 30 years. She was recruited for Jhirmack and spent years testing their products as Director of New Product Development. She also served as Director of New Product Development for Sabastian International.
As a speaker and corporate emcee, she did lectures for companies like Mastey de Paris, Tressa, and Murad throughout the world. Now, she is a licensed esthetician, cosmetologist, entrepreneur, and President of Albertini International in partnership with her friend Janice Petit de Mange.
Her company designs skin care products for women over 40 to meet the beauty needs of "women old enough to know and young enough to care."
Valorie Albertini's philosophy is to "replace what the skin is missing, and we can ease many of our skin issues as we age."
Why is hydration over 50 important?
When we get older, we lose something in our skin called natural moisture factor (NMF). Its loss results in skin tightness, flaking, dryness, and sometimes irritated skin. Divine Skin Hydrator helps replace this NMF.
Our skin is a multi-layered physical barrier to the environment. New skin cells start out looking like grapes. As they push up toward the surface, they begin looking like raisins, and then like cornflakes. The Natural Moisturizing Factor (NMF) is found in the upper layer (epidermis) of the skin, in the top cornflake portion.
NMF is comprised of the skin cells themselves, which hold the water-retaining proteins, lipids, sodium pca, lactic acid, pantothenic acid, hyaluronic acid, sugars and a few other substances, resulting in the water -retaining barrier of the skin. The contents of the NMF act as humectants, keeping our skin pliable. Its loss results in skin tightness, flaking, dryness, and sometimes irritated skin.
Many things can disrupt our NMF. Some of us did not get a very good NMF genetically and were just born with dry skin. In the absence of water, skin cells do not exfoliate normally, with the result being dry, rough skin.
Another issue contributing to the loss of our NMF is the change in our hormone as we approach menopause. Skin and hormones are very closely related, and menopause often plays havoc with our skin's ability to retain moisture.
It happens to all of us – one day we wake up with our mother's skin!
How does menopause affect our skin?
According to Menopause.org, most women enter menopause between the age of 40 and 58. Estrogen levels begin to decline, hormone levels become unbalanced, and we start to notice all sorts of changes in our bodies, including mood swings, short-term memory loss, and often the dreaded hot flashes.
Changes in hormones due to menopause can cause several problems with your skin, including loss of collagen, decreased dermal thickness and elasticity, along with fine wrinkles. Another common symptom of menopause is also dry skin.
However, many of us have dry skin all our lives. Even those who have never had dry skin often find with menopause they experience dryness and flakiness for the first time. Besides being unattractive and itchy, left untreated severely dry skin can result in dermatitis.
Consistent exfoliation = better skin
There are many ways to exfoliate your skin that can range from mild to aggressive. Daily use of products that include retinol, glycolic acid, for example, a weekly mask with fruit enzymes like pumpkin, papaya, and pineapple. Or monthly microdermabrasion and micro-needling.
After 50, nature slows down our exfoliation rate and leaves our skin dull and somewhat rough. Exfoliating smooths and improved our skin texture. When we exfoliate it prompts our skin to stimulate new collage production.
Albertini International products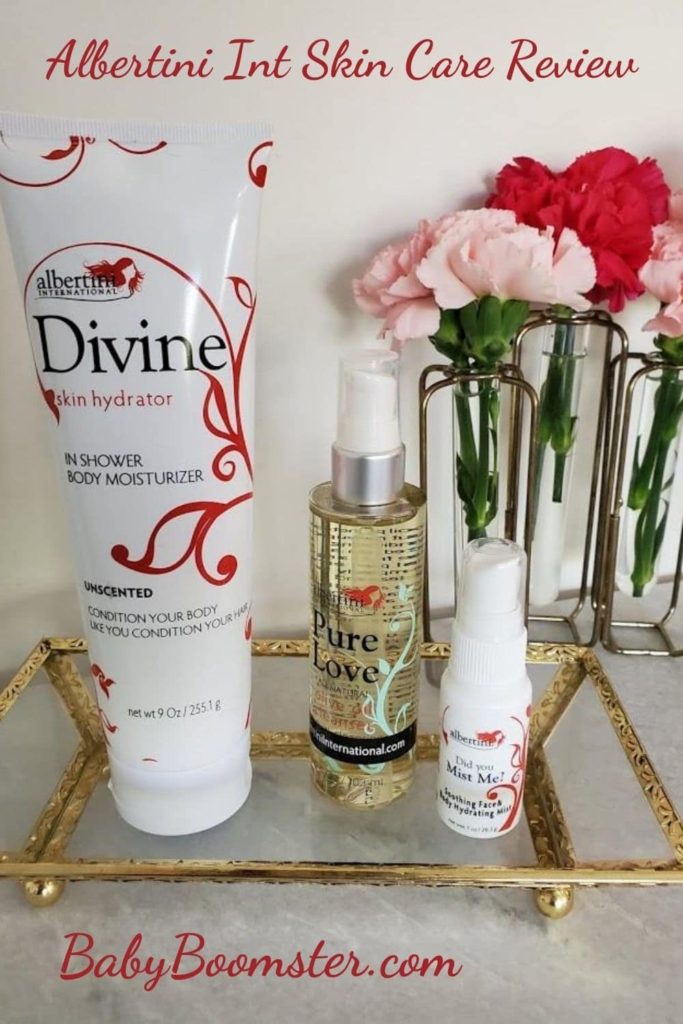 These are a few of the Albertini International products I tried.
Divine Hydrator In-Shower Body Moisturizer
First, I love that this product is unscented. I'm not big on fragrance in my skin care products because it's often irritating. Divine Hydrator is best used when you finish your shower and are still wet. It's rich, non-greasy, and leaves my skin feeling silky and smooth.
I have always had dry skin so I will definitely be keeping this in my shower.
Pure Love All Natural Olive Oil Cleanser
The way you use Pure Love All Natural Olive Oil Cleanser is to warm the oil in your hands and then gently massage it in circular motions on your face. Once you get it to sink in, use a clean washcloth, and gently exfoliate your face before rinsing it off.
The oil is a mixture of olive, argan, and jojoba. When I tried it, it felt so good on my face, I didn't want to rinse it off.
Did You Mist Me?
I also tried a sample of Did You Mist Me? Valorie said the mist is going to be reformulated to make it even better. It's always nice to have a face mist to keep your skin hydrated and it's especially good when you are flying in a plane. I found the mist to be quite refreshing.
Click here to visit Albertini International Skin Care Products