There are several things to look forward to during winter: the holidays, the excuse to stay under the blankets with a mug of tea, and the peaceful silence that winter brings. On the other hand, there are also many things that can make winter not so enjoyable, especially as we get older.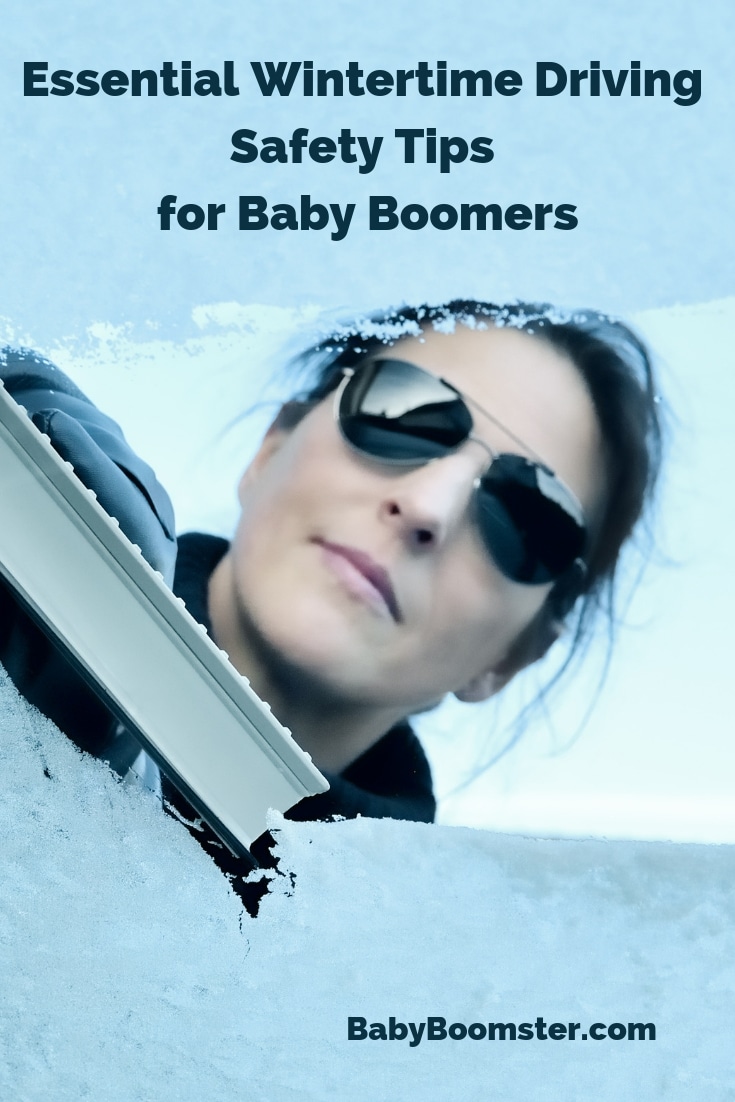 Easily one of the worst parts of winter is driving on snow- and ice-covered roads (no matter how many years you've been driving). Whether you live in a rural or urban area, traveling far or just close by, it's important to take the right measures to ensure you and your family are safe during all your journeys this winter.
Moreover, it's fair to admit that as we get older we might be getting wiser, but our eyesight tends to decline and our reaction times get sluggish. That's natural and nothing to be ashamed of, but it also means you'll need to take extra precautions during this time of the year.
So, with all of that in mind, here are some driving safety tips for all those tricky wintertime roads:
Accidents Can Be Costly — Physically and Financially
According to Health in Aging, "Adults 65 and older are involved in more car accidents per mile driven than those in nearly all other age groups. Winter is an especially important time to be vigilant when driving because road conditions and weather may not be optimal." While car accidents can happen anytime, any season, winter conditions such as fog, snow, ice, and freezing rain can increase your chances of accidents and injury.
Not only is it important to drive accordingly in these conditions, but winter weather can even influence fault in traffic accidents. Of course, driving safety is always a top priority, but it's also worth keeping in mind that if you don't take the right precautions and do end up in an accident, you could be held liable. Some winter negligent factors include:
Driving too fast for conditions
Following too closely
Not using headlights
Failing to use windshield wipers when conditions dictate
Improper vehicle maintenance, such as failing to regularly inspect and rotate tires
Distracted driving
Impaired driving
Driving while fatigued
While it might seem more than obvious to say that you should drive more carefully in winter, it's easy to get into a rush for work or your grandchild's Christmas recital, and that's when those costly accidents happen.
Pamper Your Car
In winter, our cars tend to be put through the wringer. Below freezing temperatures and several inches of snow can be hard on your vehicle's outer and inner parts. As such, there are important habits to have during winter to ensure your car will be around for many more seasons to come.
While most of us know by now the importance of giving your engine some time to warm up before heading off, according to Advanced Transmission Center, "When it comes to the cold, biting wind and relentless winter weather, it's not only your transmission that could do with a little extra care and pampering." They go on to recommend some ways you can give your car the TLC it deserves during the colder months:
Change fluids: Oil, antifreeze, and other important vehicle fluids tend to thicken in colder temperatures. This can spell trouble as the fluids struggle to move easily when too thick and can cause seals to tear. Letting your car warm up, driving slowly at first, and changing to a lighter weight fluid for winter can help.
Check your battery: Your battery has to work twice as hard in winter than in other seasons. If your battery is older than 3 or 4 years, you should consider replacing it (or have its capacity tested).
Check your tire pressure: With all the snow piling up, it's more likely that your tires will deflate. This can be very dangerous on winter roads as driving with low tire pressure can result in uneven wear or even a tire blowout while driving.
Get rid of the salt: While we're all thankful for the salt used to make winter roadways less icy, that salt can stick to the metal on the underside of your vehicle — corroding components like your brakes and wheel wells which can lead to mechanical problems. It might seem silly but it's important to wash your car frequently during the winter, making sure the underside is well-tended.
You can have all the right driving safety habits during winter but it means very little if you neglect your car. As we adjust to the cold by layering up with coats and gloves, take some extra time to properly winterize your car as well. It's better to deal with it now than when you're in the middle of the road somewhere.
Wintertime Golden Rules for Driving Safety
Beyond winterizing your car and stocking it with an emergency kit, there are some other practices worth religiously implementing. Remember that in all 50 states you are legally required to always drive with either your prescription glasses or contacts if you have eyesight with 20/50 acuity. If you have them, it's also important to never get in the driver's seat without your hearing aids to ensure you're vigilant to other drivers around you.
And of course, some of the three golden rules to always keep in mind while on slippery roads:
Slow and Steady – Taking a page out of the tortoise's book, keeping your driving speed slow and steady can help you feel more comfortable while in the midst of hazardous winter conditions. Furthermore, don't feel pressured by "road bullies" to go faster than you deem necessary — just move into the right lane and let others pass.
Patience Is a Virtue – Remember not every journey needs to be a race to the finish line. Even if you need to set aside more time to get to your destination, try to enjoy the moments you have to yourself with your favorite music or even audiobook. Your patience will be rewarded with a less stressful, safer drive.
Eliminate Distractions – Unfortunately, distractions can sometimes end up causing more problems than snowy roads. Keeping your cell phone stashed away, the volume in your car lowered, and even asking family members to quiet down can help keep you focused and more aware of your surroundings.
There is also always the option of waiting. It can be a tough decision to make, especially if you're traveling for the holidays or need to finish a project at work, but it's better to wait out a nasty storm inside a warm, comfy, (and stationary) home than risk your safety or even life on winter roads. Remember, the storm will always pass.
Final Thoughts
At the end of the day, this isn't your first rodeo. As we grow older we learn from those many, many mistakes throughout life — and driving in harsh winters is no different. However, it's easy to switch into autopilot mode or even become overly confident in your driving skills, and that's when accidents happen. No matter how old you are, where you live, or where you're going, it never hurts to remember to practice all the essential driving safety measures while on the road.