Add tangy goodness and a healthier twist to your chicken salad with this recipe for Chicken Salad with Yogurt Dressing. It's pretty and yummy enough to serve at a party or picnic.
Enjoy my recipe below: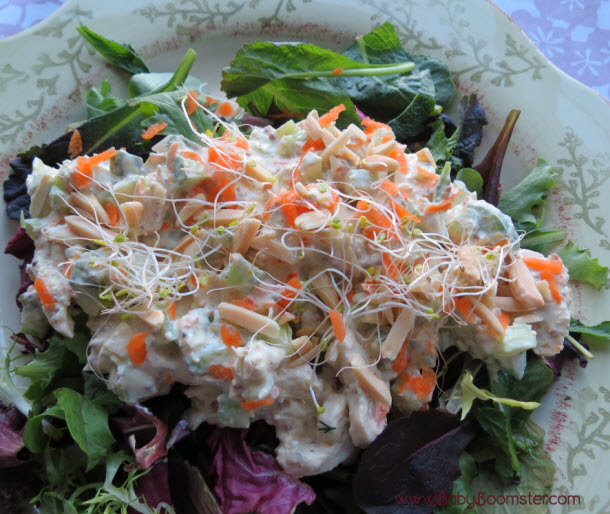 Roasted Chicken Breast Salad with Yogurt Dressing
This tasty salad is creamy, colorful and nutritious. It's an entire meal on a plate.
Ingredients
2

chicken breasts roasted

or pull off the meat of a whole roasted chicken

1/2

cup

Greek Yogurt thick and strained is best

Try Sheep or Goat Yogurt

2

Tbsp

Dijon Mustard whole grain or plain

2

Tbsp

extra virgin olive oil

1

Tbsp

wine vinegar champagne or apple cider

2/3

cup

celery chopped

2-3

large carrots peeled and grated

1

small cucumber chopped

I love Persian cucumbers

2

scallions chopped

1/4

cup

slivered almonds toasted

salt and pepper to taste to taste

mixed baby lettuce Try a herb mix if available

1/4

cup

alfalfa sprouts or another type of sprouts
Instructions
If you are using the meat of a whole roasted chicken, pull the meat from the bones and shred it into small pieces. (use both breast and dark meat if you prefer)

Whisk together the yogurt, mustard, olive oil and vinegar in a medium-sized bowl.

Stir in the celery, carrots, cucumber, and scallions. (save about 1 Tbsp of grated carrots to top the salad)

Add the chicken pieces to the mixture.

Season with salt and pepper to taste

Serve over a plate of mixed baby lettuce

Top with toasted almonds, the remainder of the grated carrots and a sprig of sprouts
History of chicken salad
The Chinese were the first to mix a variety of spices and oils to chicken to create variations of what we could call a chicken salad. But, don't confuse this with Chinese Chicken Salad as that is more of a Western invention. It was deemed Chinese because it contains deep-fried wonton and rice vinegar.
There is a French recipe that is over 200 years old that mixes cooked chicken with oil, lemon juice, parsley, shallots, and anchovies.
The first American version of chicken salad was created in 1863 in an establishment called TownMeats in Rhode Island. The owner, Liam Gray, mixed up some cooked chicken with mayonnaise, tarragon, and grapes. 
Hold the mayo
Mayonnaise is typically what is used but can be heavy. I substituted yogurt instead because it not only adds tang but gives you health benefits as well.
Yogurt adds a probiotic element to the salad which aids in digestion and my particular favorite is Greek yogurt because it's creamier and thicker. Greek yogurt, in particular, makes an even better binding agent than mayonnaise but works better with chicken than with tuna. Yogurt also makes a great substitute in potato salad, coleslaw, white sauce, shrimp salad, and fish tacos. However, if you're making a BLT, mayonnaise is much better.
Give it some crunch
There's something about crunch in a salad that always makes it more fun and that's why I added some almonds and celery. I do the same thing with tuna salad by adding celery or chopped dill pickles rather than relish. And, the Dijon gives it zing. So, that's why I love it. It's a zingy, tangy salad!
What's your favorite way to make chicken salad? Please leave a comment below.