A Pot au feu (pot on the fire)  is defined as a French Stew consisting of meat and vegetables.  It's steeped in rustic tradition and is typically made with beef, oxtail, or other types of meat.  This recipe is made with chicken but it can be replaced by the meat of your choice. If possible, use certified organic chicken if available, for the best quality and flavor, although it is not necessary.
In order to be labeled "USDA Organic," the chicken had to have been fed not just a vegetarian diet, but a diet that does not include any genetically modified ingredients or toxic synthetic pesticides. This is not the same as "natural" or "antibiotic-free."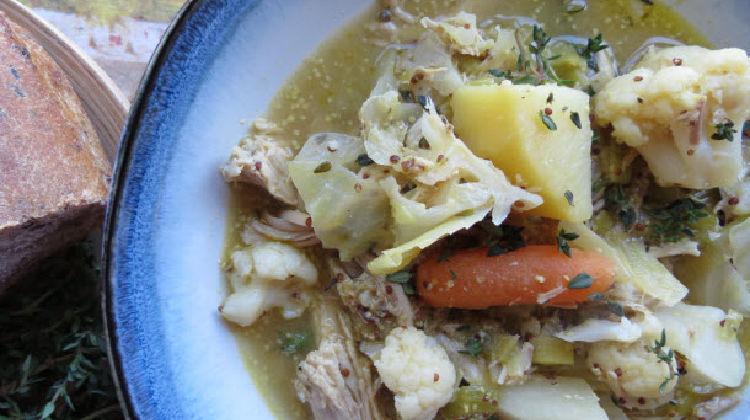 Organic Chicken Pot-Au-Feu Stew
This recipe is inspired by the French rustic tradition of stewed meat and vegetables. Make it with organically sourced chicken if possible.
Ingredients
3

quarts

chicken broth

use organic, low sodium

1

small – med whole chicken whole

free range, organic if possible

1

large onion cut into large chunks

1/4

cup

grainy Dijon Mustard

2

large leeks White part cut into 1/4 inch round slices

6-8

cloves

garlic peeled

10

black peppercorns whole

10

sprigs thyme plus 1 tsp chopped

12

baby carrots peeled

whole

2

turnips peeled and cut into approx 1

2

medium potatoes peeled and cut into approx 1

1/2

head cabbage coarsely chopped

4

stalks celery sliced

1/2

head cauliflower coarsely chopped

salt and pepper to taste to taste
Instructions
In a large pot combine the stock, entire chicken, 2-4 celery stalks with leaves, onion, chopped carrot, garlic, peppercorns, and thyme sprigs. Bring to a simmer over medium heat. Then, cook on low heat simmering for about 1 1/2 hours. Turn the chicken over once.

When the chicken is cooked through, transfer it to a platter to cool. Remove the meat and place it in a bowl. Discard the bones, giblets and skin.

Strain the broth and discard the chopped vegetables and herbs.

In the meantime mix the chicken pieces with the mustard.

Pour the broth back into the pot and bring to a simmer over medium heat. Add 12 whole baby carrots, the turnips and potatoes. Cook for about 10 minutes.

Add the chicken (mixed with mustard), cabbage, cauliflower, leeks, and the remaining chopped celery (leaves removed) Adjust seasoning with salt and pepper to taste.

Let the pot simmer for about 1/2 hour on low heat until flavors are blended and vegetables are soft.

Scoop the chicken and vegetables into individual soup bowls. Add some broth on top. Sprinkle with fresh chopped thyme.

Serve with fresh Artisan Bread.
The history of Pot Au Feu
Pot au feu is a celebrated dish in France and is perfect for a cold winter's day or if you are feeling under the weather. It's said to be what roast beef is to England. Traditionally, it was cooked in large vats made for sharing with others.
It's a meal in itself and the flavors are savory and exquisite.  There are many variations of this traditional French stew and it has no fixed ingredients. I created this recipe with chicken, but any inexpensive meat such as pork, bacon, or beef can be thrown into the pot. The vegetables you use can vary as well depending on the season.
Pot au feu came about when peasants used to cook it over the hearth suspended by a hook hundreds of years ago. They would fill up the pot in the morning, add the ingredients and cook it for hours over the fire. Then, they would eat the meat for lunch and sip the remaining broth at dinner. But, most couldn't afford meat most of the time, so it was only made on special occasions.
After the 16th-century, life for the peasants became even grimmer and it was rare they could eat meat at all. The higher born would occasionally serve it for themselves but was mostly thought of as peasant food. Rather than make it with cheap meats like pork they used beef or a combination of chicken and veal.
After the late 18th-century, country landowners and urban bourgeoisie began to develop a love for pot au feu. By the end of the French Revolution, it gained popularity and after the Bourbon restoration, it became a central component of the French diet and a national dish.
It's a nourishing and filling dish
The combination of nutritious vegetables and protein makes it a meal in itself. Serve it with a slice of artisan bread and a glass of wine and enjoy!
What's your favorite French soup? Please leave a comment below.