Jackie Mendelson, author of the book "Natural Born Guilt: My Tragiccomedy: Happy to Hippie to Hooked" is someone I know personally as a successful businesswoman and former senior executive of charitable organizations and foundations. But, until I read it, I knew very little about her past.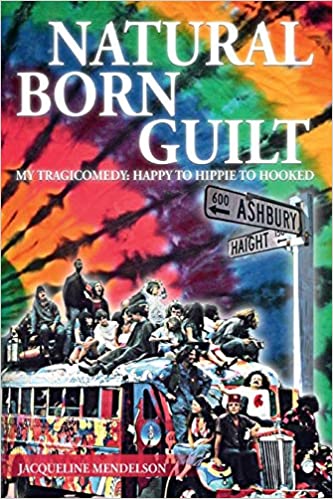 Born into a nice Jewish family, Jackie grew up in an affluent suburb of the San Mateo Peninsula, near the Bay Area outside of San Francisco. Her life in the Mendelson family was happy even though they moved frequently, causing her to be shuttled to multiple schools where she learned to adapt. I know how that feels as I moved many times myself as a child.
But, aside from a few alcoholic relatives, life was as normal as it could be with both parents working, and an adopted sister, who caused her guilt for being her parent's biologically born daughter.
Still, she found solace sitting by herself in a closet. Not because she was abused, but because it was her happy place and where she worked out her troubles.
The detail Jackie remembers from her childhood growing up in the 50s and 60s is remarkable and gives insight into her family dynamic and how her brain was wired.
Like many young people during that time, she smoked pot and did drugs, including LSD, in high school. It affected her schoolwork, but she managed to get into the San Francisco Art Institute and moved to a flat on Geary Street with a friend.
Geary Street is in the Haight-Ashbury district and she lived there at the zenith of the Hippie explosion. It wasn't long before she was spending her days getting high and then selling and shooting heroin with the best of them. Jackie and her friends hung out at the Avalon Ballroom and the Fillmore with band members who were soon to become icons of the Baby Boomer generation. She became adept at rescuing friends who had overdosed on Smack.
She experimented, as many of us did, with free love, and all that went with it. One exploit went on to become a famous opera singer.
With all that went down in The Haight, it's hard to believe those who survived are now in their 70s and 80s.
At times she lived in communes, took off with friends for months at a time to Hawaii and Mexico, hung out in LA's Laurel Canyon, and flew across country to deliver drugs for money.
The sweet Jewish girl she was as a girl was also an asshole at times, as junkies tend to be. Once, while working at the post office, she stole drugs from a letter a soldier in Vietnam sent to his girlfriend. It could have been his last communication with her. There were times, while reading her book that it was hard to believe she turned out to be the wonderful woman she is now.
Jackie managed to escape arrest for a while, but the police finally caught up with her and she went to jail. At one point, she moved to Los Angeles to clean up her act, only to fall back into the drug-dazed life and get arrested again. She finally got help at a drug rehabilitation center and was able to move on with her life.
Her book is a fascinating look into an era that many of us idolized when we were young. I'm a few years younger and was in high school during the "Summer of Love" so I could only view it from the periphery.
I couldn't put the book down and I'm not saying that because Jackie Mendelson is a friend. Her book is part 1 of a trilogy.