I've always been a huge fan of Middle Eastern cuisine from shish kababs to tabouli and everything in between. One of the sauces I love to spoon over grilled meats and vegetables is refreshing tahini salad dressing made with herbs, garlic, and lemon.
Enjoy this tahini salad dressing recipe on a garden salad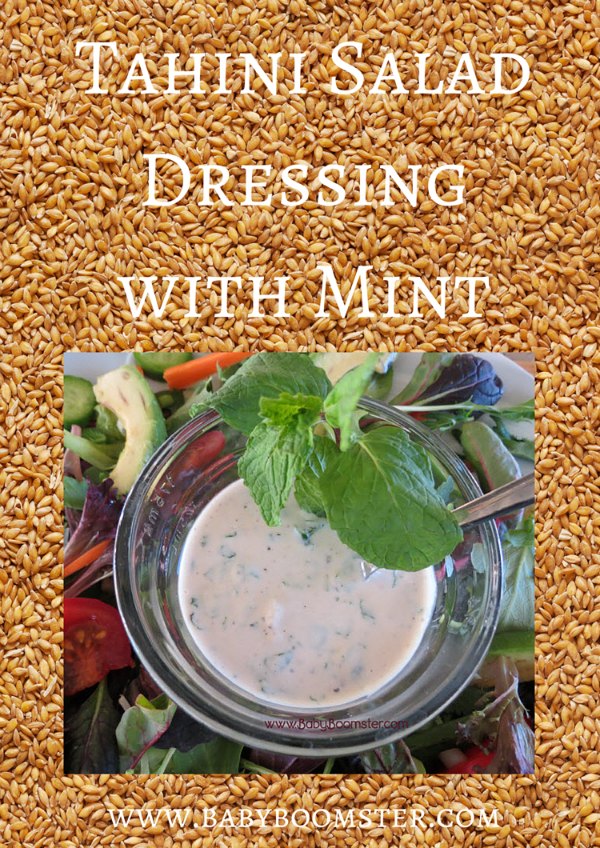 Tahini Salad Dressing with Mint
Tahini is a ground sesame seed paste that is lovely in salad dressing.
Ingredients
2

cloves

garlic minced

2

Tbsp

mint leaves fresh

chopped

1/4

tsp

red pepper flakes

salt and pepper to taste

1

lemon fresh squeezed

1/2

cup

Tahini can be purchased at middle eastern markets and healthy food stores

add a little water to thin out the dressing.
Instructions
Mix or whisk all ingredients. Add a little water to get the consistency you want. Use the tahini dressing for salads or vegetable toppings. Yummy and healthy! Note: Make sure to mix the tahini first as it tends to be thicker on the bottom before adding it to the other ingredients.

Serve on mixed greens
About Tahini
Tahini is a paste made from ground sesame seeds. Unlike sesame paste, tahini is made from hulled sesame seeds and is a more refined product. It's used widely in Mediterranean, Asian and African cuisine. Sesame seeds have been eaten for over 7,000 years and tahini is considered to be an ancient dish. It originated in Persia where it was known as "holy food."
You can make tahini paste by blanching sesame seeds in hot water until the hulls float away. Then grind them and add a little salt and olive oil to make a paste. Or, find packaged tahini paste at Middle Eastern markets, specialty stores, and some local grocery stores. Make sure it's as fresh as possible. Keep it at room temperature until you open the jar and then refrigerate it. Only store it for a couple of weeks at the most. If it's refrigerated too long, the oil in the tahini will begin to turn rancid.
Save this image for later on Pinterest
Have you used Tahini? What your favorite way to use it? Please leave a comment below.