I attended T-Mobile's virtual Tech Experience to learn how their 5G technology will benefit adults 55+. It was fun, futuristic, and educational sort of like the Carousel of Progress at Disneyland only updated.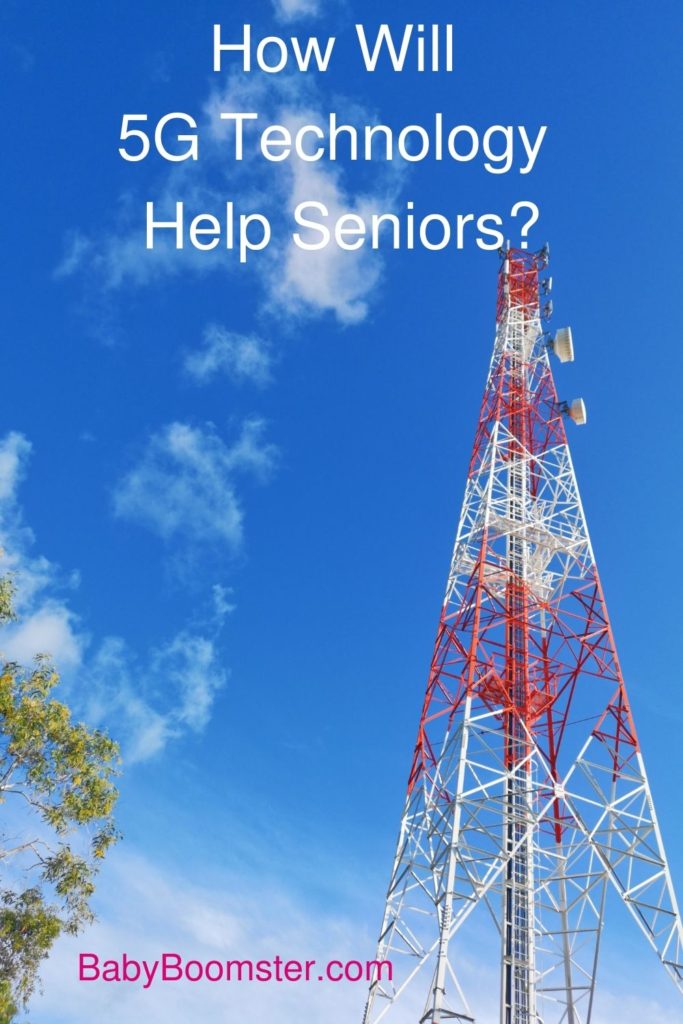 What is 5G Technology?
When cell phones first came into being they were the first generation of wireless technology. (1G) Each generation is usually determined by its advanced speed but there are other innovations that are incorporated into them as well. I won't go into depth about them because it's much too technical even for my fairly tech-savvy brain.
We graduated from 1G to 2G, 3G, 4G, and now 5G.
In a nutshell. . . (and ripped from Google)
The difference between 4G and 5G technology is that mobile data speeds far outstrip the fastest home broadband network currently available to consumers. With speeds of up to 100 gigabits per second, 5G is set to be as much as 100 times faster than 4G. Low latency is a key differentiator between 4G and 5G. – 5G will be able to fix bandwidth issues.
According to PC Magazine, even though 5G has already been deployed by various networks, in most cases, it hasn't made a huge difference.
Then, there are those people who claim 5G will fry the world with its electromagnetic rays like space lasers. That isn't true, but there are always those who push fake facts.
Drum roll please . . .
Things are about to change
PC Magazine goes on to say that T-Mobile, which merged with Sprint, was the first carrier to launch a true 5G network. "It's "ultra capacity"5G has shown speeds higher than 4G."
Companies like ATT and Verizon also have 5G technology, but they share it with other networks that split the bandwidth.
T-Mobile uses a "layer cake" strategy that combines low band, mid-band, and high band. It has lower latency, less lag time, and follows government standards so it is safe.
5G has the capability to connect classrooms, vehicles, enhance entertainment and gaming. It also enables state-of-the-art telehealth. which is a boon for seniors.
How will 5G benefit those 55 and over?
Let me list the ways because there are so many!
More than half of people age 55+ want a more secure network and better security which is a major benefit of 5G.
Seniors want more reliable mobile connections, faster upload and download speeds, wider network coverage, higher-quality voice calls, and the ability to receive speedy broadband from anywhere, including in rural areas.
It enhances the entire home Internet experience making it possible to get fast data speeds even in crowded areas and better video streaming without buffering or being bumped off in the middle of a Zoom or your favorite movie.
It allows better real-time translation for text and audio which is especially helpful during virtual meetings between doctors and patients.
It will greatly benefit healthcare and emergency services which are crucial for seniors.
5G video chats were used during the pandemic to connect families with those who were sick and seniors were able to talk to kids and grandchildren.
T-Mobile is working on more than just smartphones
It's amazing what innovation in technology can do for the planet at large. We're old enough to remember the first cell phones. They were huge and clunky. Now, we carry mini-computers in our pockets. During the Tech Experience, we saw what T-Mobile has been doing with drones. Drones deliver packages, emergency supplies, can stream videos to inspect damage from hurricanes, and so much more.
Retailers are using 5G technology for product mirrors like fitness systems.
What you may not know about T-Mobile
T-Mobile is America's 5G leader with the largest, fastest, and most reliable 5G network. Their Extended Range 5G covers 295 million people across 1.6 miles. That is 4x more geographic coverage than Verizon and 2x more than ATT.
Want to make the switch?
T-Mobile has special programs for people 55+ You can check out their latest plans HERE and if you're worried about switching providers, don't worry! These 4 Simple Steps will make it easy.
What's in it for you if you are 55+
Here is a recent news release about T-Mobile's 55+ wireless plans. In summary, T-Mobile's Magenta 55+ and Magenta MAX 55+ plans offer:
Unlimited text, talk and data
A guaranteed monthly rate that includes taxes and fees in the plan price – your price stays the same each month.
Netflix on Us – Magenta 55+ includes Netflix on Us for families and Magenta MAX 55+ includes Netflix Basic with one line or Netflix Standard with two lines
Available for up to four lines
Mobile hotspot (5GB of 4G LTE for Magenta 55+ plan and 40GB of 4G LTE for Magenta MAX 55+)
Scam Shield that helps protect people from phone scams, hacks, and robocalls
Free stuff and discounts every Tuesday with T-Mobile Tuesdays
Unlimited texting and 2G data without roaming charges in 210+ countries & destinations
America's largest and fastest 5G network – which is like having WiFi on the road to send pics and stay connected
Added bonus: the MAX tier includes unlimited Premium Data, so you can't be slowed down no matter how much data you use.
Customers can opt for the Essentials 55+ plan which offers 50% off of the leading competitors' basic unlimited plans. It's often touted as the best value out there.
Another extra bonus
T-Mobile's Scam Shield helps protect against COVID-19, stimulus payment, IRS tax, and other scams and scare tactics that target older adults and it's included with all T-Mobile consumer plans.
To find out the latest in T-Mobile 5G Technology follow T-Mobile on Twitter @TMobileNews
Disclaimer: I am not an affiliate for T-Mobile but, I was the lucky winner of an iPhone in the raffle after our presentation!!! However, all opinions in this post are my own.