One of the many joys in life is owning a pet. In fact, so many people believe so that the American Pet Products Association reports that around 67% of U.S. households include at least one pet, which means there are well over 160 million pets in this country. Of course, it's not hard to see why.
Pets, small and big, offer a number of positive benefits to a person's day-to-day life, including companionship, physical activity, and stress relief — to name a few. Many studies indicate that pets can make you happier and healthier, and Baby Boomers are no exception.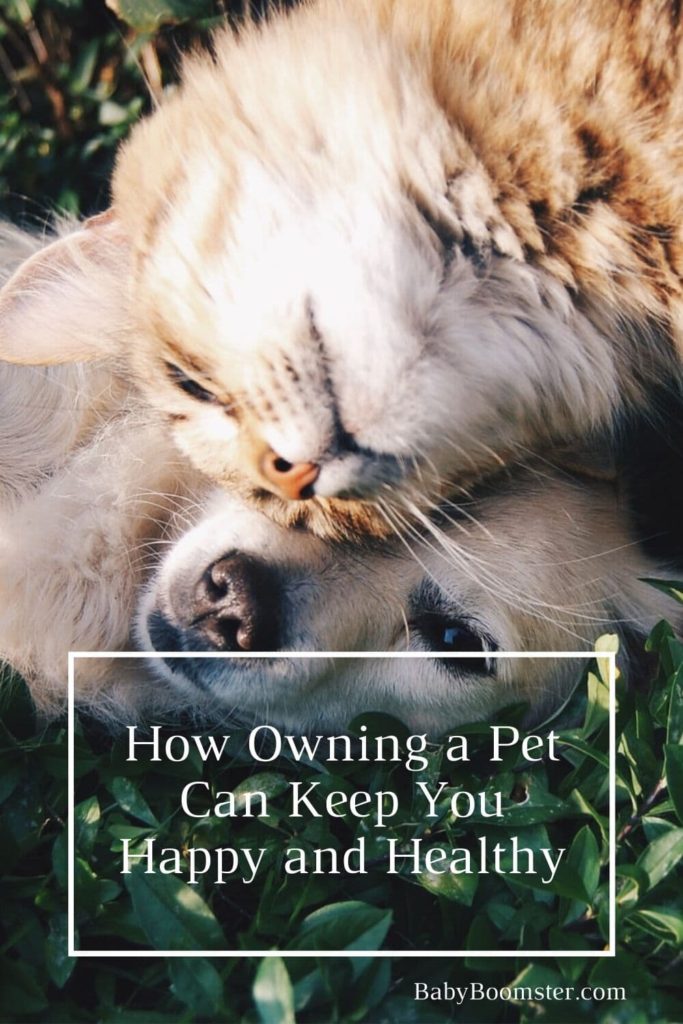 Get Your Tail Wagging
Maintaining both your physical health and mental health is crucial as an aging adult. According to healthy aging gurus at Invigor Medical finding ways to eliminate stress and focus more on your mental well-being is especially important as we age.
Mental health issues such as depression and even dementia become a greater risk as we grow older so it's important to take care of your mind as well as your body. This is where our faithful pets come in. In a study of 437 older adults, it was found that having a pet at home helped to ease negative feelings of loneliness and depression.
Of course, even if a person doesn't struggle with depression or other mental health concerns, they can still reap the benefits that come from owning a pet.
Pets are great motivators and can help keep their owners more active, as well as encourage a healthy schedule and generally bring more happiness and love to a home. Whether it's a cat, a bird, or a fish, they all have certain needs and as a responsible owner, it's important to meet those needs.
Nothing motivates a person to get up and at em quite like a hungry cat wanting breakfast. Most pets also require stimulating exercise through playtime and walks.
Pets keep you company and relieve stress
According to those at News in Health, "Interacting with animals has been shown to decrease levels of cortisol (a stress-related hormone) and lower blood pressure. Other studies have found that animals can reduce loneliness, increase feelings of social support, and boost your mood."
It can be hard for a person, of any age, to be socially isolated for so long, but older adults especially can suffer from its effects. A loveable pet can help with that, so now might be the perfect time to finally become a pet owner.
Owning Pets on a Fixed Income
Baby Boomers were actually the first American generation for whom owning a pet became a common occurrence, and they're also keeping their pets as they age. However, for those older adults who are looking for a new furry companion, it's important to keep in mind that owning a pet can become pricey.
Many Baby Boomers are entering retirement, which means living on a fixed income or limited budget. In order to keep pets healthy and happy (like they do for their human companions) it might be worth investing a few dollars a month into pet insurance, should anything happen.
Pet insurance can also be helpful when adopting a pet with a pre-existing condition. With food, toys, and other supplies to take care of, footing an expensive vet bill could become problematic for those on a budget.
It comes as no surprise why animals like dogs are called man's best friend. There is something special about the connection between humans and pets. Pets are a wonderful addition to a person's life, but Baby Boomers in particular can reap crucial mental and physical health benefits from an animal companion.
Older adults need to really focus on their wellness and pets have proven time and time again to help with that. The best part is, pets make loving them easy.
On pet insurance
Quite often, the topic of pet insurance boils down to one question: Is it really worth it? The editorial team at Money put different pet insurance providers to the test and laid out what they offer so you can compare prices based on your specific situation. We hope their pet insurance research helps you answer this question once and for all.
Have your favorite pet food & meds delivered to your door. Check out Chewy.com here.