The herb-roasted root vegetable recipe below includes a colorful mix of root vegetables and fresh herbs. It's a perfect side dish for Thanksgiving or a fall meal.
Enjoy this recipe!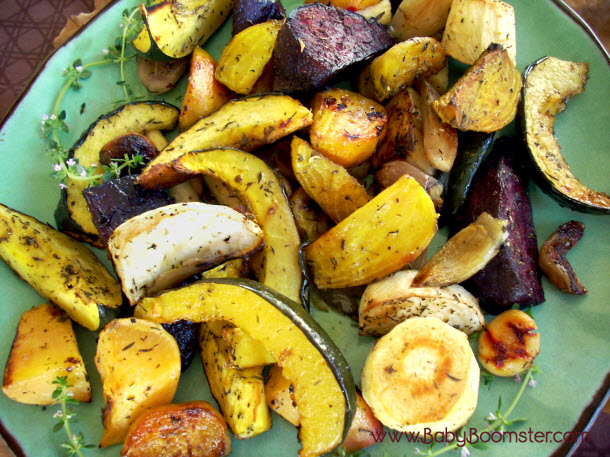 Herb Roasted Root Vegetables
A colorful and delicious side dish that's perfect for Thanksgiving or a fall meal.
Ingredients
nonstick vegetable oil spray I use olive oil spray

3

Tbsp

butter

1

Tbsp

olive oil

salt and pepper to taste

3

large red beets peeled

and each cut into 6 wedges (Keep the beets separate from the other veggies. I put them in a large dish covered in water until the rest of the veggies are prepared)

2

Tbsp

thyme fresh

if available and chopped

2

Tbsp

savory fresh if available and chopped

8

large shallots peeled

halved through the root end

3

large golden beets peeled

each cut into 6 wedges

2

about 2 3/4 lbs acorn squash unpeeled, halved, seeded, and each half cut into 6 wedges

2

medium turnips peeled

each cut into 6 wedges

2

large parsnips peeled

each cut crosswise into 6 pieces

1

large rutabaga peeled

cut into 12 wedges

8

cloves

garlic peeled
Instructions
Position 1 oven rack in the top third of the oven and 1 rack in the bottom third. Preheat to 375 degrees. Spray 2 large rimmed baking sheets with nonstick cooking spray.

Melt the butter with olive oil in a small saucepan over medium-low heat.

Combine the red beets, a large pinch of thyme, large pinch of savory and 1 Tbsp of the melted butter mixture in a medium bowl. Sprinkle with salt and pepper and toss to coat.

Turn the beets onto 1 side of 1 prepared sheet.

Combine all the remaining vegetables and herbs, garlic, shallots and remaining butter mixture in a large bowl. Sprinkle generously with salt and pepper and toss to coat.

Divide the vegetable mixture between prepared baking sheets.

Roast the vegetables for 30 minutes. Reverse the baking sheets and continue to roast until all the vegetables are tender. (about 45 minutes or longer)

This dish can be prepared 4 hours ahead. Let it stand at room temperature. Rewarm in a 350-degree oven about 20 minutes. Transfer to a platter to serve.
You're going to need some elbow grease to peel and chop all the vegetables, but it will pay off in the end. Try to enlist your grandchildren to do KP duty. I bet they'll enjoy it and it'll be much better for them than sitting around watching video games.
The benefits of eating root vegetables
Red beets are a rich source of Vitamin C, Betaine, and Nitric Oxide, which are excellent for cardiovascular health. The juice of red beets lowers blood pressure.
Golden beets contain potassium, fiber, folic acid, and iron. They're mildly sweet compared to the red variety and don't stain.
Turnips are low in calories but are a wonderful source of antioxidants, minerals, vitamins, and fiber.
Rutabagas relieve constipation and have high levels of vitamin A. They also help lower the risk of getting cataracts. Vitamin C in rutabagas helps improve breathing, especially for those with asthma.
The folic acid in parsnips helps prevent dementia. Parsnips, niacin, and vitamin C help to strengthen the immune system. Like rutabagas, eating parsnips helps prevent constipation and they are especially beneficial for those who have kidney conditions or are obese.
Acorn squash is high in vitamin A which helps prevent lung cancer. Its phytonutrients are excellent for maintaining prostate and colon health.
Note: Cook the red beets separately so they don't bleed into the other vegetables. Otherwise, the entire dish will be pink.
What are your favorite root vegetables and how do you like to cook them? Please leave a comment below: