Nowadays, it's not uncommon to see older individuals and retirees attending college and seeking out new and different degrees. Some simply want to be "lifelong learners" and focus on their overall growth and wellbeing. Others may want to earn more credits or certifications for a specific career path.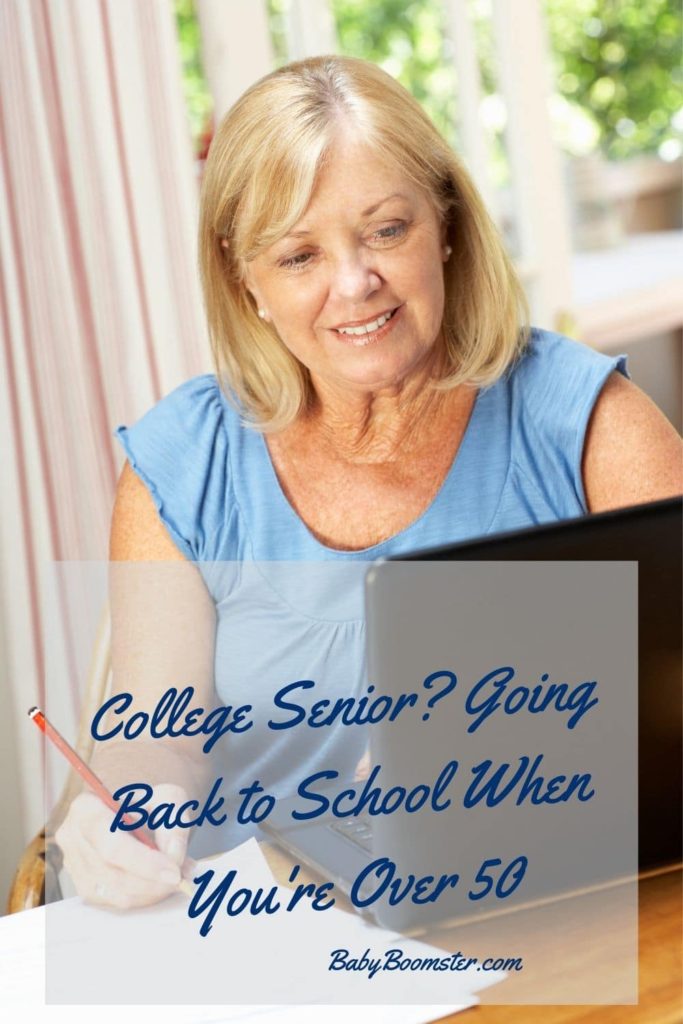 Whatever the reason, it's never too late to go back to school at any age to learn something new. In fact, nearly half a million people over the age of 50 are enrolled in some type of post-secondary education program. Thousands of those individuals are even over the age of 64.
Your passion may not be the only thing driving you to keep learning. More seniors are enrolling in collegiate programs because it's become easier than ever to do so.
Thanks to advancements in technology, many colleges across the country offer fully remote classes and virtual instruction. Some degrees can be obtained completely online, so you can learn from the comfort of your own home instead of having to drive to campus.
If you've ever considered going back to school, but you're still on the fence, it's a good idea to know some of the benefits that can come from it, as well as what you might expect from the experience.
Why More Seniors Are Taking Classes
Again, it's easier than ever to gain a degree or obtain certain certifications, because most things can now be accomplished online. That's a huge appeal for individuals who don't want to drive, take night classes, or feel out of place in a classroom full of young adults.
Taking college-level classes online allows you to work from your own home, and sometimes even at your own pace. But, it's important to remain disciplined and put a few strategies into place to do well, including:
Engaging early and often in discussions
Consistently checking the syllabus to know what to expect
Learning how to request books and journals through different programs
Budgeting your time
Reducing distractions
Participating and asking questions
Another reason online classes have become so appealing to seniors is that some may not physically be able to attend school in-person. Whether you're dealing with mobility issues, you're not comfortable driving, or you struggle with vision problems like "aging eyes" that keep you from focusing the way you should, going to school online helps to take away the power of those problems and put you in control.
Because taking classes is easier in many cases, more people over the age of 50 are starting to realize that they can better themselves at any age. You can make more money in your current job, or completely wipe the slate clean and find a new career later in life with a different degree under your belt.
What Are the Benefits of Going Back to School at an Older Age?
Before we stop talking about the reasons why some seniors are going back to school, it's important to note that one of the biggest underlying reasons is because many people understand the importance of aging gracefully. Being a lifelong learner has so many benefits. Part of aging in a healthy way includes connecting with others and trying new things. Going back to school offers both.
Not only will you sharpen your mind and may even improve your mental health state, but you'll experience additional benefits like:
More available programs
The ability to grow your professional network
Flexibility
Personal benefits also include being more financially stable than you were as a high school graduate and experienced in the workforce. That kind of experience has likely given you the ability to be more focused, more responsible, and manage your time wisely. Those are important skills for a college student at any age, and something that younger people attending classes often struggle with.
What Do You Need to Know Before Deciding to Enroll?
If you're over the age of 50 and you're going back to school, or want to learn new skills, keep in mind that things will be different from what you're used to. If you went to school as a young adult, you have to be willing to be adaptable to the changes that have occurred in post-secondary education programs. Use your resources, and don't be afraid to ask for help.
Being successful in going back to school will depend on your willingness to learn and stick with it, no matter what you're studying. You can make it easier on yourself by choosing a school that suits your needs. That requires doing a bit of initial research, but if you're uncomfortable with the school you choose, you're not going to be as engaged as you should be.
Look at mission statements, values, and that school's willingness to accept and encourage lifelong learners. Other factors to consider before you enroll include:
What you'll need to prepare before you go
How to navigate the financial side of enrollment
Determining how quickly you'll get through the program
Do you have a support system at home?
Preparing yourself as much as possible for this new experience will make it more enjoyable for you. If you're interested in going back to school, you undoubtedly already have a passion you're trying to pursue, or the motivation to better yourself and get ahead.
Whatever the reason, don't let your age be a factor in keeping you from your collegiate dreams. You're not alone in your desire to go back, and it's never too late to learn something new.
Are you taking classes right now? Which ones are you taking? Please leave a comment below.