The reason chicken soup is considered to be Jewish penicillin is partly that it's made with bone broth. There are so many health benefits from cooking down bones for hours to extract all their goodness. I added protein and veggies to my homemade bone broth and turned it into a rich and nutritious soup.
Enjoy this homemade bone broth with chicken and vegetable recipe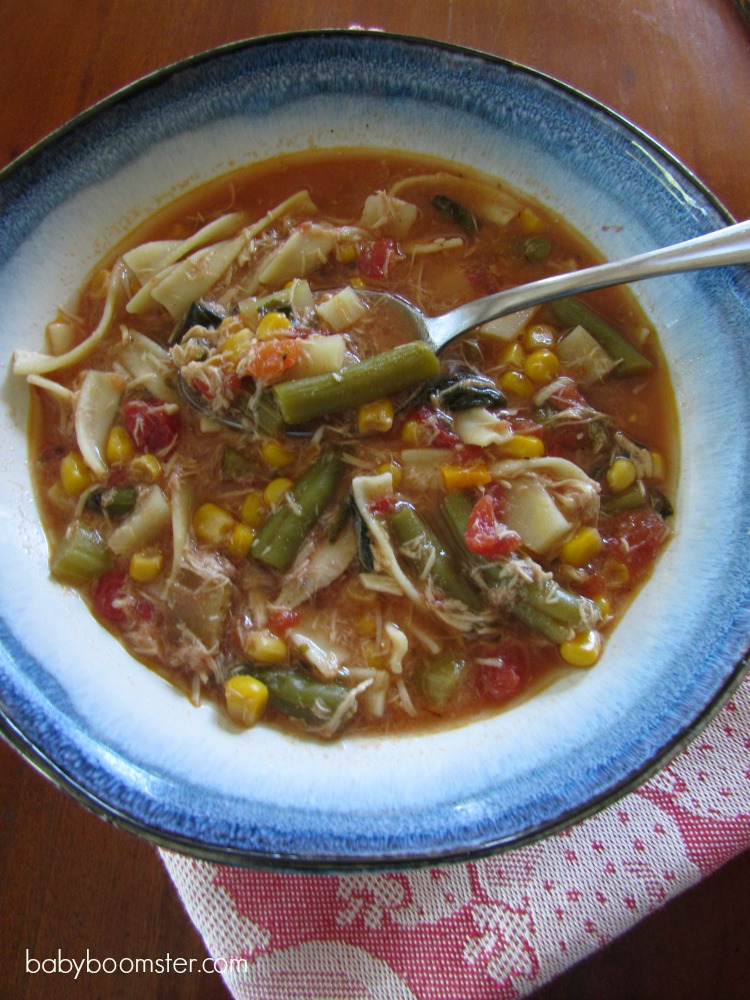 Homemade Bone Broth Chicken Soup with Vegetables
Chicken soup is the Jewish penicillin, but when you add lots of vegetables, it's even better.
Ingredients
Stock
1

whole chicken with giblets

optional

1

whole unpeeled onion

2-3

celery stalks and leaves cut into 4-5 inch pieces

several sprigs of parsley with stems

2

Bay leaves
Soup
About 3/4 pot full of homemade Chicken stock strained and with fat removed

2

stalks of celery chopped

1

turnip chopped

2

large carrots chopped

1

can

14 1/4 oz of corn with juice

1

can

14 1/4 oz green beans with juice

1

small can

14 1/4 oz of crushed tomatoes

3

cloves

chopped garlic

chopped sage

rosemary, thyme and parsley to taste or dried if fresh is not available

2

bay leaves

pepper to taste

Coarse salt to taste

I like Celtic or Pink Himalayan sat

1

cup

dry egg noodles

2

cups

of fresh spinach stemmed and cleaned
Instructions
Stock
Put the whole chicken with giblets into a large soup pot and cover it with water.

Add 1 whole unpeeled onion. 2-3, 4-inch celery stalks and leaves, 1-2 large unpeeled carrots. several sprigs of parsley. and 2 bay leaves.

Bring the pot to a boil and simmer on low for 3 hours or more.

Let the broth sit until cooled.

(optional) Refrigerate overnight to let flavors congeal.

Remove the chicken and other large pieces of vegetables and place them into a large bowl.

Remove the meat from the chicken and place it into another large bowl.

Discard the chicken skin, bones, and vegetables.

Strain the broth using a sieve into a bowl or large pot.

Let it sit for a while until fat rises to the top.

Skim off the fat using a large soup spoon or a fat skimming pitcher.

Place the skimmed and defatted broth into a soup pot.
Soup
Add 2-3 cups of stewed chicken meat to the broth in the pot.

Add the chopped celery, turnip, carrots, can of corn with juice, can of green beans with juice, can of crushed tomatoes, garlic, fresh herbs, 2 bay leaves, pepper, and salt.

Bring to a boil and simmer for at least 1 hour until the chopped vegetables are tender.

Adjust the seasonings to taste

add the egg noodles and cook for 10-12 minutes until tender.

A couple minutes before the noodles are ready, add the spinach.

Serve or let the soup sit overnight so that all the flavors congeal.
The benefits of eating bone broth
A while back I was watching Doctor Axe on TV talking about the benefits of bone broth. He claims that bone broth helps treat leaky gut, overcomes food tolerances and allergies, improves joint health, reduces cellulite, and boosts the immune system. He then segued into selling his expensive branded bone broth protein powder.
But, people in longevity hot spots around the world like Italy and Greece have been cooking up homemade bone broth for thousands of years. Simmering bones, marrow, skin, feet, tendons, and ligaments for hours and even days, releases its collagen, proline, glycine, and glutamine that are necessary for good health. Most manufactured bone broths contain meat "flavors" and way too much salt, preservatives, and sometimes MSG.
Making the soup
What I like to do is boil up an entire chicken. (sans head and feet) By now vegetarians and vegans are probably reeling if they are reading this. Sorry about that. The good news is; you can also make broth by boiling down vegetables. It just won't have the collagen and other benefits that homemade bone broth has.
No matter what type of bones you use, it's always best to make sure the animal hasn't been fed antibiotics or hormones. Grass-fed, free-range, and organic are always best. Once the meat and bones have been boiled for hours, let the bone broth sit for a while so the flavors congeal. Once it's cooled I stick it in the refrigerator overnight. Then, I remove the meat and bones and any vegetables used for seasonings, run the broth through a sieve and remove the fat either using a spoon or a defatting pitcher.
I separate the meat from the bones and place it into a bowl. Then, I use some of it to put back into the soup and the rest for chicken salad sandwiches or other dishes. You can also save it for your dog because it's good for them too. I give my dog the giblets because she loves it.
It's even better with lots of vegetables
When I make soup I use any type of vegetable I have in the house. I also throw in cans of corn, green beans, and crushed tomatoes, because the juice in the cans flavors the soup. Just make sure your canned vegetables are organic or as pure as possible. If you like, throw in beans, rice, or noodles.
Next time you come down with a cold, the flu, or pneumonia, or simply want a healthy meal, boil up some homemade bone broth chicken soup and add lots of vegetables. You'll feel much better afterward.
What do you like to put in your chicken soup? Please leave a comment below.