As Baby Boomers some of us have been staying Safe at Home for several weeks now. Others are just getting started. It depends on what state or country you live in.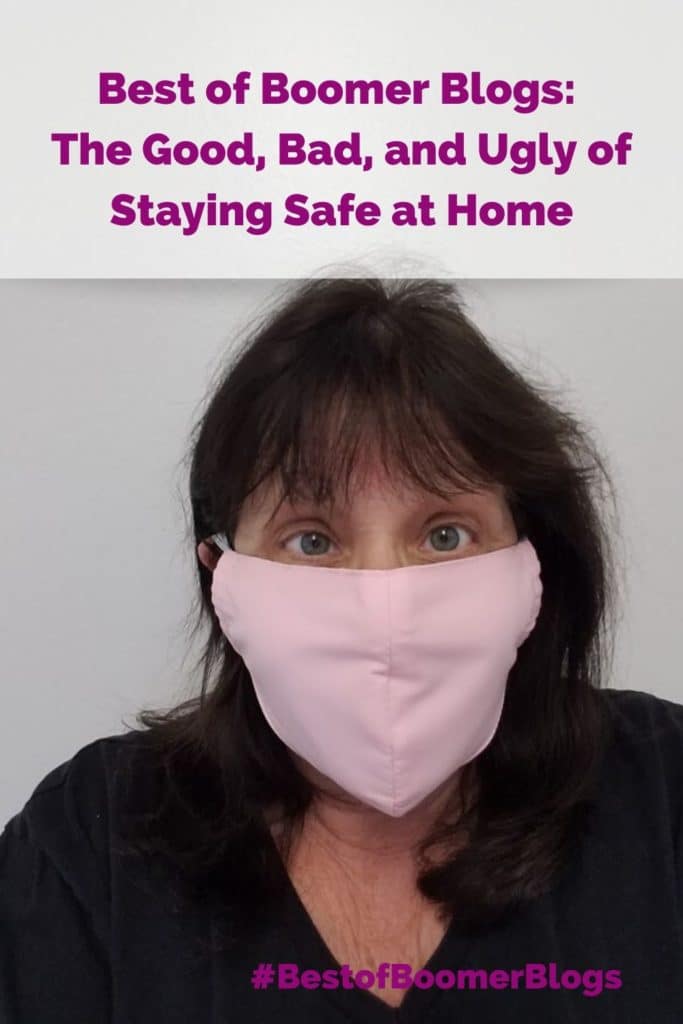 All I know for sure is that in Los Angeles, our efforts are paying off. Sure, there are still plenty of people getting COVID-19 and dying from it, but our Governor and Mayor are doing an excellent job. The people in my neighborhood are mostly complying and our numbers are beginning to flatten. Still it's a scary situation.
The countdown to Easter and Passover has begun and most people, who are religious, will be attending online celebrations via Zoom or other teleconferencing apps. Others will be meditating or celebrating in other ways safe at home. It's all good. But whatever you celebrate, stay away from church or synagogue. Your higher being doesn't care about calendar dates or where you worship. Celebrate in December or whenever it's deemed safe.
Staying Safe at Home may make you anxious
A way to rise above anxiety over our own situation is to expand good vibes from our nearest and dearest to the world. Heart hugs are one way to do that, says Carol Cassara at A Healing Spirit, and she explains how in this post.
It may also be challenging if you have family members living with you
Oh my God. So far Laurie Stone of Musings, Rants & Scribbles and her family are doing this. Five family members are living under one roof — Laurie and husband Randy, her Mom, and two adult sons, both on temporary "Corona" leave from school jobs. Like many families under lockdown, Team Stone is coping. Most interesting is how everyone's talents are coming to the forefront. Read about what she and her family are doing here.
Others are busy doing Spring Cleaning
Staying home 24/7 allows us to do things not part of our normal routine. Mining her closet for long-lost items in a futile attempt to make order out of chaos, Meryl Baer of Six Decades and Counting discovered a beloved T-shirt that brought memories of two trips taken during her life. She summarizes the experiences in Two Trips Fifty Years Apart.
Look for the funny in all of this
While hiding out in deep isolation, Jennifer of Unfold and Begin, wanted to make sure everyone remembers how to laugh. In We Need a Good Laugh Right Now, she shares some humor from the internet in the hopes that it will make everyone remember that laughter is part of our collective human experience.
But on a practical note
According to Tom from Sightings Over Sixty, the Coronavirus is beginning to present us with both moral and economic dilemmas. Have you heard of the "Keep Your Rent Movement"? As he tells us in Do We Pay Our Rent? some people have gone on a rent strike, believing they shouldn't have to pay rent as long as the pandemic keeps people self-isolating and out of work, or on reduced hours working from home.
Whether this makes sense to you might depend on whether you're a tenant or a landlord. But is it possible that this is just the first of many questions about who we will pay, and who we won't?
And, on The Survive and Thrive Boomer Guide, Rita R. Robison, consumer and personal finance journalist, writes that it's good government health officials are finally telling people to wear masks when they go out in public. Robison suggested people wear masks in public in late February when she wrote an article in how to prepare for the coronavirus pandemic.
And a word about protective gear
Masks are the newest fashion statement and there has been some amazing creativity out there. Boomers who took Home Economics in high school are dusting off their sewing machines and making some very chic face covering.
Gloves, toilet paper and cleaning products have been much harder to find. I've been using a doggie poop bag to hang on to handrails because a fall can be just as bad as getting COVID-19. They come in pretty handy especially if you have dogs.
What's alarming is that people are dropping their discarded gloves and masks in the street which is totally disgusting and not safe. Come on people!
Be good Girl Scouts and Boy Scouts. Clean up your mess. Enjoy this Instagram post and stay safe at home. We can do this if we all work together.
I'm moving next weekend, and have been selling all my stuff, which is not something you should be doing right now if you can help it. But sometimes, life interferes. Since I haven't had time to write, I wanted to share a recipe for an immunity-boosting maca and chia smoothie. Enjoy!
I want to leave you with this thought by meditation guru David Ji;
The highest vibration always wins. Let's keep raising the vibration.