I love the colors and textures in the Belgium Endive Fennel and Pear Salad recipe below. Aside from it being creative and artful, it's also a healthy and delightful dish that's easy to make. It's mixed with pears, walnuts, and tangy Gorgonzola cheese  A very simple olive oil and balsamic vinegar dressing with a little Dijon mustard added in is all you need.
Enjoy this Belgium Endive, Fennel, and Pear Salad recipe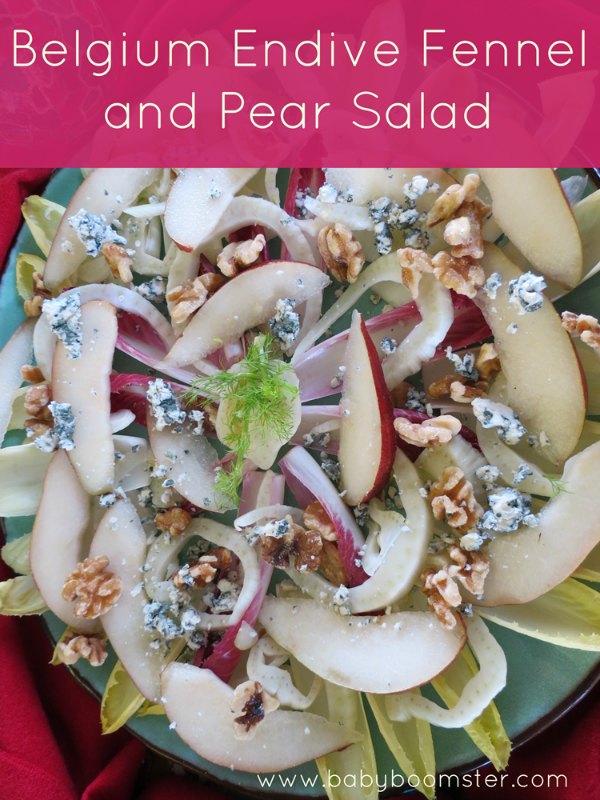 Belgium Endive Fennel and Pear Salad
A beautiful and artful salad, that will stand out at any potluck.
Ingredients
3

Belgium Endive combo of red and white or substitute radicchio

1

medium fennel bulb

2

small pears ripe

red pears add color

1/4

cup

walnuts pieces

1/4

cup

gorgonzola cheese crumbled

1/3

cup

extra virgin olive oil

2

Tbsp

Balsamic Vinegar

1

tsp

Dijon Mustard

salt and pepper to taste
Instructions
Cut off the bottoms of the Belgium Endive and separate into leaves If you are using radicchio, break into smaller leaves.

Wash the leaves and pat dry with paper towels and set aside

Remove the long stalks and bruised outer leaves of the fennel and trim the stem end. Wash and dry the fennel bulb and slice it across the bulb as thinly as possible. Lay the endive and fennel leaves decoratively on a plate or salad bowl.

Wash and slice the pears thinly. Add to the salad plate or bowl.

Sprinkle the plate with the walnut pieces and crumbled Gorgonzola Cheese

Mix the olive oil, balsamic vinegar, dijon mustard, salt and pepper in a bowl. Serve on the side or drizzle on top of the salad.
Belgium Endive, separated into leaves, is a decorative and fun way to serve dips and appetizers because you can use the leaves as little plates. If you prefer, you can also cut endive into strips if you prefer smaller bites.
Crunchy fennel is a vegetable I love using in salads. If you haven't tried it before, it has a slight licorice flavor. Fennel has many nutritional benefits that help prevent and soothe indigestion, gas, anemia, respiratory disorders, eye problems, and more. It's a natural detox vegetable.
Who doesn't love the sweet taste of fresh pears? Pears are easily digested, anti-oxidant rich, and are anti-inflammatory. They are members of the rose family, Rosaceae, which includes, apples, apricots, cherries, chokeberry, crabapples, loquats, peaches, plums, quinces, raspberries, strawberries, and almonds. All of them help prevent esophageal cancer. Pears are also high in fiber and will lower the risk of colorectal and stomach cancers.
You can find fresh pears in a variety of colors and flavors, depending on where you live. You might want to try several types of pears in this salad for more color. Choose from varieties such as Bartletts, Bosc, Comice, Concorde, Forelle, Green Anjou, Red Anjou, Red Bartlett, Seckel, and Starkrimson.
I think this salad is pretty enough to use for holidays and special occasions. What do you think? Please leave a comment below.