The watercress dip recipe below is a mixture of fresh watercress leaves and savory herbs. It can be used either as a dip or sauce for seafood, shellfish, or chicken. If used as a dip, make sure to chill it in the refrigerator for at least 1 hour. Otherwise, pour it on meat or vegetables before roasting them. You'll enjoy its intoxicating flavor when it's done.
Enjoy this healthy watercress dip!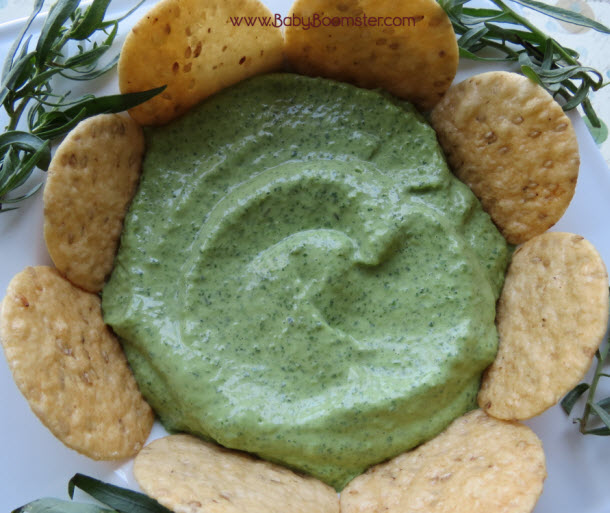 Watercress Dip with Savory Herbs Recipe
This is a delightful dip or sauce made with herbs and watercress that you can serve with crackers or vegetables.
Ingredients
1

cup

watercress leaves firmly packed

1

cup

parsley sprigs firmly packed

1 1/2

tsp

minced fresh tarragon

1 1/2

tsp

minced thyme leaves

1/2

tsp

sea salt

1/2

tsp

dried mustard

2

Tbsp

white wine vinegar

1

egg

1

cup

extra virgin olive oil
Instructions
Puree all the ingredients except for the oil in a blender or food processor.

With the motor running, add the olive oil in a slow stream until it thickens.

If being used as a dip, refrigerate for at least 1 hour. Serve with crackers, vegetables or crudites.

Use it as a sauce with fish, shellfish, or chicken.
Watercress fun facts
A study, published in the British Journal of Nutrition, reports that eating a small amount of watercress every day raises the levels of key antioxidants that fend off damage caused by exercise. You might want to try growing organic watercress seeds.
Dr. Oz recommends eating raw watercress 3-5 times a week to prevent skin and breast cancers. Watercress also contains iodine, which helps in controlling hypothyroidism.
Watercress is believed to be an aphrodisiac. Islanders in Crete have sworn by its powers and their ancient recipes have been handed down from generation to generation. An Arabian prince had watercress flown out from the UK in the 1970's so he'd be up to satisfying his harem!
What's your favorite dip? Please leave a comment below.