I had been escaping from the Internet for most of the day when I happened to check my Twitter feed. I couldn't believe it! Justice Ruth Bader Ginsburg was gone! Many of us hoped she'd last through January and yet it was amazing she made it so long.
She died of pancreatic cancer. I know how brutal that disease is because my boyfriend died from it at the beginning of the year. The fact that Justice Ginsburg battled 4 different cancers over the course of her life is a feat bordering on miraculous.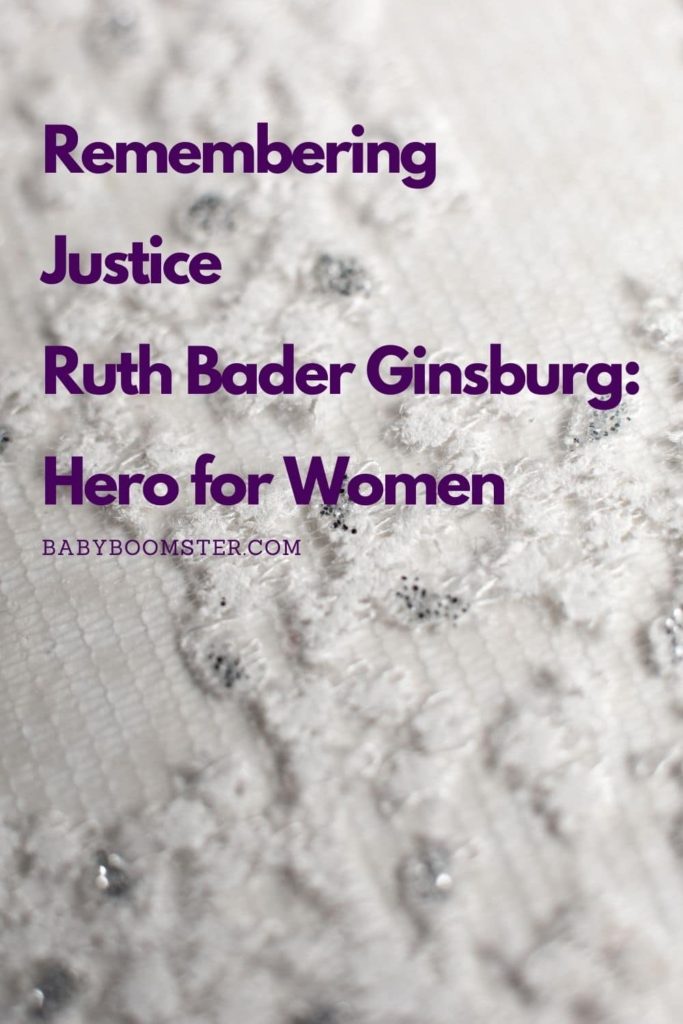 She was controversial
A friend on Twitter remarked, "I changed my profile to Ruth Bader Ginsburg and immediately lost hundreds of friends." How sad. I imagine those people are focused on one thing – abortion – negating all the other injustices she fought for which included not only women's rights, but also civil rights in general, union rights, and much more.
A quick rant about the A-word
At the risk of pissing off a huge slew of people, I believe abortion should be a non-issue. If you're in your 60s+ you probably heard about women dying in backrooms from botched procedures. The number of abortions performed in the U.S. has dropped significantly due to sex education, the availability of contraceptives, and Planned Parenthood's healthcare services for underserved women.
Late-term abortions are only performed if the child is severely compromised and will die anyway, saving the mother the trauma of carrying it in her womb. The propaganda brigade makes it sound like doctors are killing perfectly healthy babies and that does not occur.
No one likes abortion and you would have to be incredibly stupid to use it for birth control. But, I can tell you with confidence that if we start taking away services, they will increase and more women will die.
What else have women gained from Justice Ginsburg?
This Facebook post was written by a woman named Tootsie but thought it summed up Justice Ginsburg's accomplishments.
"Because of her, when I turned 18, I could apply for and receive a credit card without a male signatory.
Because of her, when I bought my house, I could apply for a mortgage without being married and without having a male co-sign.
Because of her, I could be called to do my civic duty and serve on a jury without being exempted on a count of being a woman.
Because of her I grew up believing I had a claim to my personhood as an equally vested citizen of my country. These changes happened in my own lifetime. And yet, my whole growing up, so deeply affected by her efforts, I never knew it was because of her and the countless clerks and lawyers she worked with arguing six of the most critical cases affecting women and families the Supreme Court had yet heard. She changed this country for women. For EVERYONE. Because women's rights are HUMAN RIGHTS.
Because of her, I realized my own potential as a professional, a homeowner, a person with credit, with assets, with independence. My thanks to this woman are inexpressible. No matter where you begin, where you land is still, potentially, unknown. This devotion of hers to equality, not just to "being equal" but to the concept of equality as a dynamic and not a fixed standard, made her one of the most consequential legal and cultural minds of the 20th and 21st centuries.
She's my hero. Thank you, Justice Ginsburg, for everything. #BECAUSEOFHER"
A family connection
My cousin was a prominent civil rights attorney named Arthur Kinoy. He was a professor at Rutger's University at the same time as Ruth Bader Ginsburg. He was a partner of William Kunstler in the defense of the Chicago Seven, was a counsel for the trial of Ethel and Julius Rosenberg, was one of the founders of the Center for Constitutional Rights in New York, and defended civil rights cases in the south during the 1960s. 
Both he and Justice Ginsburg were founders and members of the advisory board for the Women's Right's Law Reporter. I, sadly, never got to meet him but met his mother, my grandfather's sister Sadie.
Keep up the fight
Let's not go back to the way it was in the 50s. No matter where you are on the political spectrum, it's essential that, as women, we retain the rights we fought so vigilantly for. RGB is now looking over us, so don't give up.
How are you coping with her death? Please leave a comment below. Nasty political comments will be deleted.