You've worked for years to be able to retire. Now, you can enjoy things like traveling, spending hours on the golf course, going to the spa, and catching up with friends. All of that sounds great for a while, but realistically, how much is your golf game improving? Didn't you just have a hot stone massage last week?
Kidding aside, retirement boredom is a very real thing. One survey found that most retirees feel bored after one year, and two-thirds agreed that working part-time would give them a sense of purpose.
If you're a particularly creative and motivated person, those feelings of boredom might be even stronger. So, what can you do?
Consider starting a new business.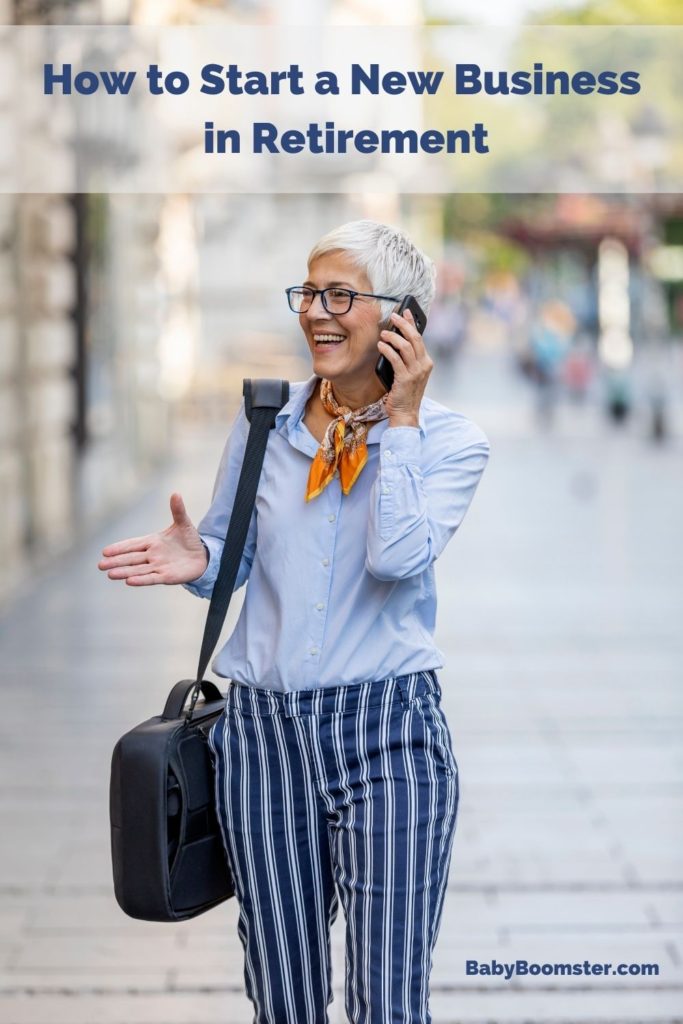 Not only is starting a business a great way to pass the time during retirement, but it gives you something to look forward to and something that still allows you to be in control. With that in mind, let's cover some of the first steps you should take to get your business off the ground and to ensure it's a success in your retirement years.
Figure Out Funding
Depending on the type of business you want to start, you'll need a way to pay for it. According to the U.S. Small Business Association, most microbusinesses cost around $3,000 to start. Even home-based businesses cost anywhere from $2,000-$5,000. You might be on a budget and worried about how you can afford that kind of money upfront. Thankfully, there are options that can help.
First, utilize the tools that are available to you. You'll feel more comfortable if you know exactly what you'll need to spend and whether you can afford it. Something like a startup budget calculator can make that easier. It will allow you to factor in things like:
Employee salaries
Overhead costs
Insurance
Interest payments
If you're still not completely comfortable with your finances, consider hiring an accountant. Having an accountant you trust is great for your business. Not only can they help you to kickstart things while being smart with your finances, but they can stay on board with you and keep your business above water for years to come. Plus, they can take care of everything from taxes to cost analysis, so you don't have to scratch your head over those things.
Do What You Love
If you were lucky enough to work at a job you truly enjoyed most of your life, you're in the minority. Over 60% of the population is unhappy at work. Jobs tend to be a major source of stress for people, too. But, whether you loved your job or hated it, you now have a unique opportunity to take something you love and turn it into a career later in life.
If you've never started a business before, it might be a good idea to balance ideas that are practical with things you actually enjoy. Some of the best new business ideas for retirees include:
Tutoring
Writing and editing
Pet care
Consulting
Being a part of a franchise
Creating a product to sell
If none of those career paths seem like something you want to do, try to incorporate some of their principles into what you love. What's your hobby? Could it be turned into something that fulfills a need or a want for consumers? What do you really want to provide? The more confident you are in your business decision, the quieter your inner negative voice will be. You can create a vision for your business that makes you excited.
It's been found that 53% of small business owners rank their happiness at a 9 or more. Compare that with the 60% of people unhappy with their current jobs, and you can see why doing something you love and creating a business out of it is so beneficial.
Get Your Feet Wet
It's not easy to start a new business at any age. But, when you've already worked for so many years and don't have any experience running a company, it can feel even more overwhelming.
But, no one said you had to jump in the deep end right away.
One way to earn money while learning more about managing your time and expenses is to freelance. The gig economy is booming right now. It has been growing steadily for years. But, the COVID-19 pandemic caused even bigger spikes as more people needed jobs and found themselves spending more time at home. You can take advantage of that by doing something you enjoy on your own terms.
Some of the benefits of freelancing include:
The freedom to work as much or as little as you want
Choosing clients you want to work with
Location flexibility
A chance to grow your skills
The only potential downside to starting as a freelancer is getting your foot in the door. Because the gig economy is so crowded right now, you have to find ways to stand out as a freelancer. You should be able to quickly show off your work with a portfolio or website, update your resume constantly, and seek out high-quality clients. Once you get a few jobs done, be sure to ask your client for referrals.
You can get started in the freelance world through different platforms like Upwork, Elance, or Fiverr. Decide what works best for you and you can quickly build up a client base.
Whether you choose to start a business from the ground up or you want to tackle something on a more part-time basis, starting a business during retirement can be a rewarding experience. With a bit of planning and a lot of passion, you can beat retirement boredom and find new success in your senior years.
Keep track of business expenses with Freshbooks, by clicking here.