When we were young it was common to go to an all-American county fair to watch pie-eating contests, ride the Ferris wheel or get cotton candy in your hair. Fairs are few and far between now, but still exist. They remind us of carefree and wholesome days when the community got together to show off their wares.
I get books sent to me as a blogger but don't often have time to read them. I spend more time watching streaming TV because I don't have to find my reading glasses. However, a book came to me for review that I'm excited about. It's called County Fair: Nostalgic Blue Ribbon Recipes from America's Small Towns, by Liza Gershman, and it is standout gorgeous.
County Fair – the book
Liza is a photographer and her images of county fair life, as well as her food photos, are stunning. Sections of the book are divided by various gingham and Americana patterns and the recipes will make you salivate for your Mama's chocolate cake.
Each recipe is categorized by state, so you have the best of the best of old-fashioned recipes you may remember from Alabama to Wyoming. You will drool for Florida Key Lime Pie, Michigan Buttery Peach Toffee Pie, and New Jersey Apple Cake, among many others.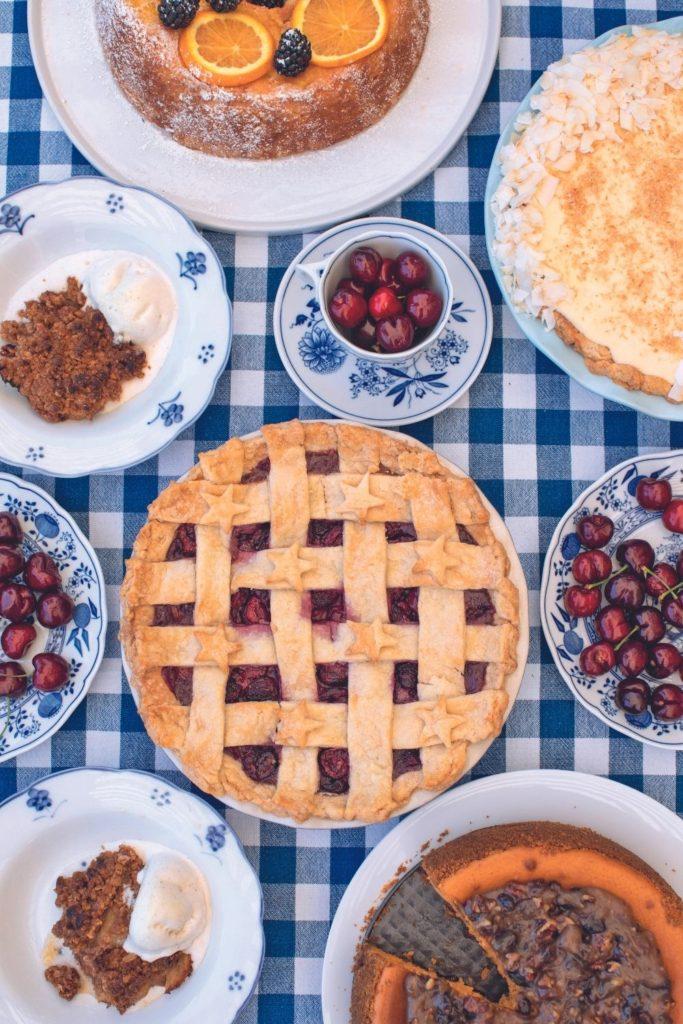 Gershman's parents made the move from the big city to country life in Sonoma, California during the 1970s and Liza fell in love with the Sonoma County Fair. She entered photography contests and learned to sew. Her mother won prizes for painting, and they often volunteered at the fair.
Her book celebrates the nostalgia of county fair life from its carnival quirkiness, imaginative handmade quilts, canned fruit of every variety, marching bands, kettle corn, and 4-H clubs. It takes you back to a more innocent time and a sense of community that is sometimes missing now.
One of the recipe creators was diagnosed with cancer in 2008 and during her treatment took up baking to give her something to focus on. She began to enter her recipes at the state fair and won 2nd place for her banana muffins. Since then, she has won almost 30 ribbons including 6 for first place for her pies and it has become a year-round hobby for her.
"Fairs have always been a passion, and imagery of carnival games and Americana decorate my mind," said Gershman. "The cacophony of the Big Top and the midway (packed full with myriad colorfully themed games, amusement rides, and food booths) entice visitors; the scents from the farm overwhelm; the sweetest pink cotton candy aromas wafting through the air. Certainly, I've fallen in love at the fair, been amazed and awestruck by crafts, and delicacies and community coming together as one."
County Fair is the kind of coffee table book you will want to display prominently. Gershman's photos capture the essence of bygone days and may even inspire you to take up baking if you haven't up to now.
Do you remember going to state fairs when you were young?
When I was a teenager in Costa Mesa, California we had an annual fish fry because we were close to the beach. We also went to the Orange County Fair which still runs today. I entered a beauty contest at the fish fry but didn't win and saw Jimmy Durante perform at the Fair. It was exciting because I was a big fan.
When I was even younger and living in Los Angeles, we went to the Pomona County Fair a few times. I remember drinking goat milk and loving it. I also adored walking past the pens of pigs, goats, and cows.
My high school had a farm and a 4-H Club but I wasn't part of it because I was a drama geek. But I always passed by it on my way to class.
About Liza Gershman
Best-Selling Author and Winner of the Gourmand Cookbook Award (2018), with a Master's Degree in English & American Literature and a Photography degree, Liza has nearly two decades of industry experience working in all facets of Commercial and Editorial photography and writing. Liza's 19 published books and hundreds of newspaper and magazine stories have enhanced her storytelling abilities in her extensive professional background, which includes Creative Direction, Art Direction, Producing, Event Production, Wardrobe, Prop and Set Styling.
A storyteller in all mediums, Liza specializes in Lifestyle, Food, and Travel. Her passion for people, culture, and cuisine has taken her to more than 55 countries and 47 U.S. states during her career. Liza's 12th book, Cuban Flavor, has garnered many accolades and has been touted on CBS, in National Geographic, Travel & Leisure, Budget Travel, NPR, and many additional local and national publications and radio shows. Liza was honored to speak for Talks At Google, and on the prestigious campuses of Twitter, Oracle, and Disney to name a few.
As a photographer and Art Director, Liza regularly teaches, writes, and presents for celebrated companies: Creative Live and Canon USA. She was honored to nationally launch the 6D for Canon, and the T6. Prior to that, she worked as the in-house Senior Digital Photographer for Williams-Sonoma and continues to freelance for clients such as Goldman Sachs, Hyatt Hotels, Restoration Hardware, Safeway, Party City, Getty Images, AirBnB, and Visa. In 2010, Liza was Governor Jerry Brown's campaign photographer, and in 2014 was a photographer for the RedBull Youth America's Cup.
As a storyteller, Liza's written work has garnered many accolades. She was a regular contributor to the San Francisco Chronicle Travel Section, writing tips on top destinations for a monthly column called "5 Places", and continues to write about travel, food, and culture in articles and book form. Many of Liza's notable clients include celebrity chefs, restaurants, wineries, beverage brands, fashion brands, spas, and hotels.
To purchase her book on Amazon, click here.
How about you? Leave a comment about your county fair experiences below.