Pre cataract surgery, I had worn glasses since the age of 6 and started wearing contacts at 14. During that time, I avoided updating my eyeglass prescription because I wore my contacts all day. I finally decided I needed to buy a pair in case there was an earthquake and I couldn't get my contacts on or if I scratched my eye and couldn't wear them.  One night, while watching the news, I learned about Warby Parker. It's a company that sells affordable frames and gives back to worthy causes.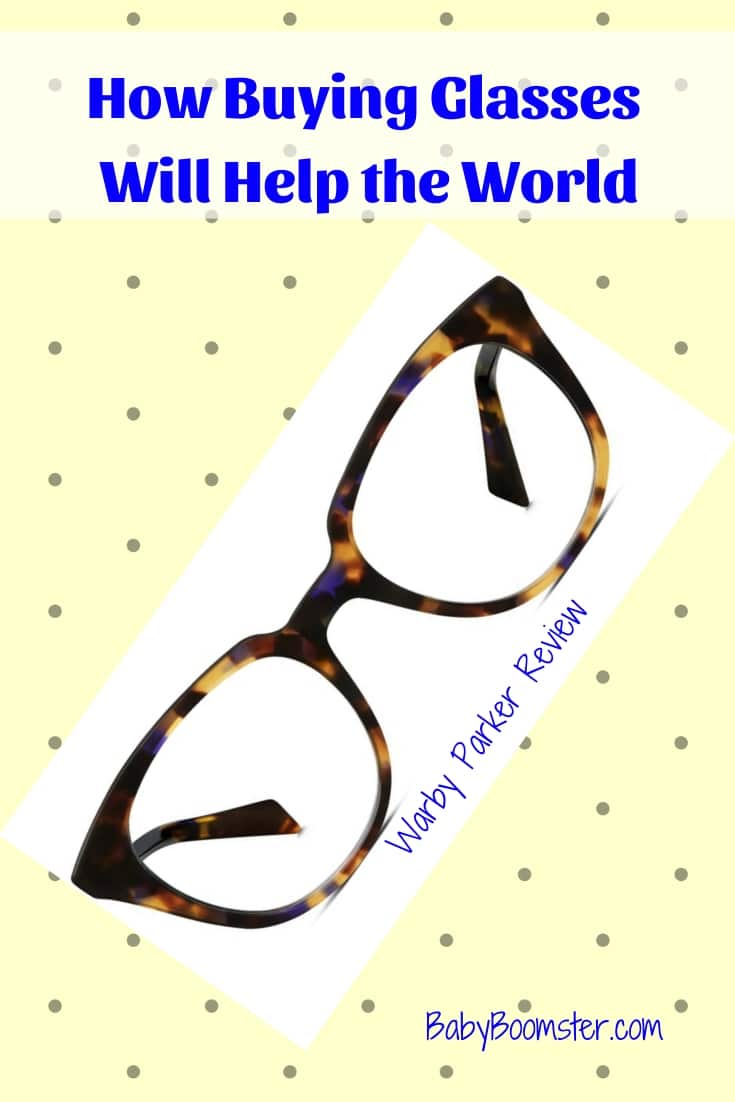 I love buying from companies that work with charitable organizations and it gives me an incentive to do business with them. Warby Parker donates a portion of its sales to non-profits who train people in third-world countries to give eye exams and provide affordable eyeglasses to their communities. Their program is called "Buy One Give One" They also provide eye exams and glasses to low-income school children in New York and Baltimore.
I was skeptical about buying glasses online because I always bought them at my optometrist's office but I found Warby Parker's website to be interactive, helpful, and fun. You start by taking a quiz to determine your best frame style (glasses or sunglasses) based on your face size and shape, frame preferences, colors, and type of material the frames are built on. After a quick calculation, you will be directed to a page that gives you the site's top picks selected for you. (they also have retail locations in various cities if you prefer to visit in person)
Their "Home Try-On" program allows you to choose 5 frames to try on in the comfort of your own home for 5 days. The box arrives with a shipping label inside so you can easily ship it back after your try-on session.
Watch the video below to see the box I received in the mail and the frames I tried on. Prices start at $95.
My choice was "Chelsea Violet Magnolia" frames and I submitted my order online. You can also call or text. During checkout, I uploaded a scanned copy of my prescription. You have the choice of ordering regular or progressive lenses. I was amazed at how affordable the prices are. My last pair of glasses were Prada and cost a fortune. The Chelsea frames are beautiful, sturdy, and stylish at a fraction of the cost. Each frame is made in-house with sustainable materials.
Who knew buying glasses would be so easy?
After I submitted my order, I received an email with questions to make sure I received exactly what I needed. The representative noted that I had an "ADD" on my prescription, and asked if I wanted regular or progressive lenses. Progressives cost a little more but the price is still reasonable. I decided to go with regular lenses because I mostly wear my contacts and only needed my glasses as a backup.
At that point, I was given the choice of:
Option 1: Distance (single-vision): for driving or looking at a clock across the room
Option 2: Intermediate (single-vision): for using a computer screen or anything about an arm's length away
Option 3: Reading (single-vision): for close-up work like reading and writing
I chose Option 2 because I figured I would take my glasses off if I wanted to read. I wouldn't use them for driving because my contacts are adjusted for distance. Since I'm always on my computer writing, the intermediates would be perfect.
They also asked me to use their PD Tool to measure pupillary distance. (the space between my eyes)
All I had to do was click a link to be taken to their website. Then I clicked a button that made a camera appear on my screen. It worked with my laptop's camera. (It also works with smartphones or tablets) I was told to take a credit card and place the stripe directly under my nose. Then, I clicked to take a selfie of myself and uploaded it to the website with the click of a button. It was immediately received on their end and I received an email confirmation. I couldn't believe how easy it was.
Once your order is submitted an email will be sent to you when it's ready to ship.
Yippee! My Warby Parker glasses arrived!
My glasses were at my door within a week and they were fabulous!  I love that the lenses weren't thick like they used to be with my prescription.  
The entire ordering experience was pleasant through and through. I hope you give them a try too!
If you need eyeglasses or sunglasses, go to the Warby Parker website and order your Home Try-On box. If you decide to purchase, you'll feel good knowing that you've helped others in need to receive an eye exam or affordable glasses.
You can bet I'll be back to order a pair of sunglasses.
What's important to you when you buy glasses or sunglasses? Please leave a comment below.