During the summer of 1972, I took the elevator up to the top floor of one of the Twin Towers in NYC with my girlfriend and aunt. I don't think the windows on that floor were installed and the building wasn't officially open yet. The complex opened in April 1973.
I was 18 years old, which was the drinking age in New York City at that time. As I gazed down at what seemed to be miles, I was amazed at how sturdy and strong the tower was. I'm not sure I got very close to the window and wouldn't have if I were looking down today.
On September 11, 2001, my daughter called me from her high school where she had just started as a freshman, and told me the Twin Towers had collapsed. I laughed and said, "No way! That couldn't happen!" I thought she was pranking me. Then, I turned on the news and sat aghast for the entire day. We all did.
I remember flying an oversized American flag from the porch of my house. The tragedy brought our nation together in tremendous unity and patriotism. Sadly, I don't trust flag-waving anymore. I'm suspicious that they are being flown for the wrong reasons like on January 6th. It would be nice to get back to that feeling of pride again, but I fear it may take a while. 9-11 affected us all.
My husband passed away in June of 2001. We attended a mass some months after the 9-11 tragedy for All Saint's Day. I'm Jewish but my husband was Catholic. A woman was there whose brother had died in one of the planes that hit the Towers. As you can imagine, the sermon was moving.
I'm glad we're finally out of Afghanistan. Over 120,000 Americans and allies were miraculously airlifted out at great risk. 13 American soldiers and almost 200 others were killed in the attempt including women and children. As the mother of a son in the Air Force, their loss is incredibly devastating, but 2,352 U.S. military members were lost in that region over the last 20 years. We don't want that to ever happen again and that's why we are out of there.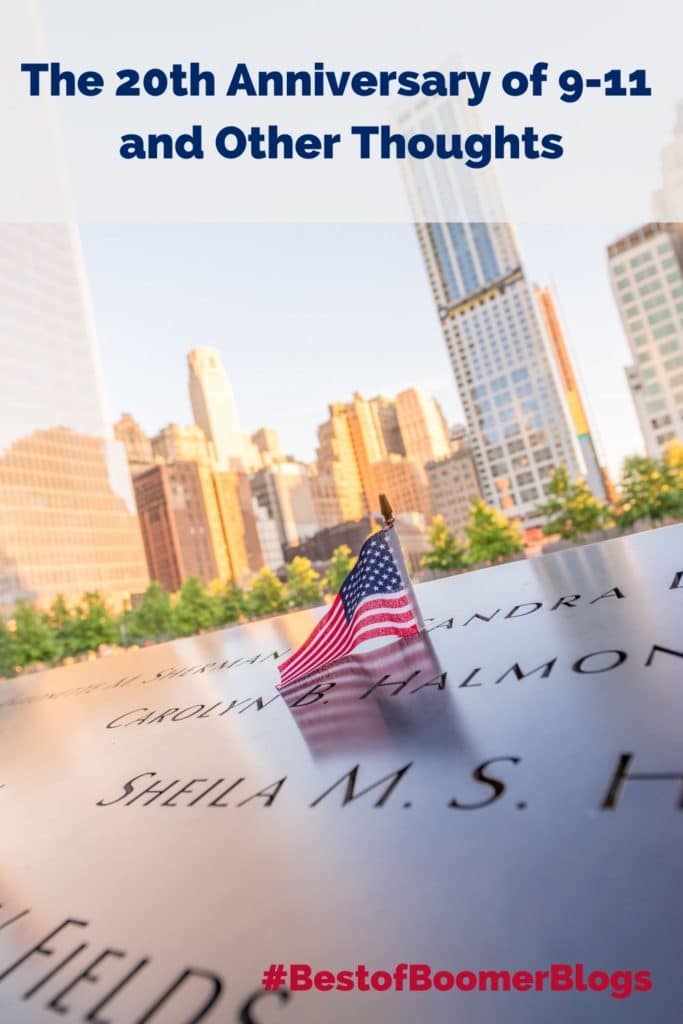 Our Best of Boomer Blogs bloggers were affected by 9-11 in different ways and spent the day in reflection. Others reflected on life in general as the summer draws to a close.
Laurie Stone's husband Randy raised his flute of champagne. "Happy Anniversary," he said with a smile. Laurie raised hers in return. They touched glasses. It was June 7th, 2000. Randy and Laurie sat in "Windows on the World", the sky top restaurant in the North Tower of the World Trade Center.
Carol Cassara's been doing a lot of cooking, both casual and "fancy" during these past two years and today she offers us a simple but oh-so-delicious burrito recipe over on her blog.
Sounds yummy!
Meryl Baer of Beach Boomer Bulletin got a bit nostalgic this week, thinking back to her days as a kid. Did she ever wonder what life would be like in her future life as a senior citizen? In a sometimes tongue-in-cheek, semi-serious list, she itemizes Ten Life-in-these-United-States features she – and probably most of us – would not have predicted 50 years ago.
It's amazing thinking back on all the changes over the many decades we've been alive.
When Rita R. Robison, consumer and personal finance journalist, got three mosquito bites on her right hand, she decided it was time to change her habits. Read what she found out about how to avoid mosquito bites.
I'm going to be taking Rita's advice because mosquitos eat me alive.
Diane Tolley spends much of her time in her past.
It's peaceful there…
This is a story from her mother's journals about her older brother and his wife when they entered the new-and-improved age, only to be stopped by the old-and-outdated.
And just who had the most powerful friends!
Enjoy your September!