We all go through hard times and as a Baby Boomer you've probably experienced a challenge or two during your lifetime. The thing is, not everyone reacts to them the same way. Some people let their difficulties get the best of them and sink into depression or even suicide. Others go into panic mode and become physically ill. But there are also those who are good at being adaptable and manage to work through them easier.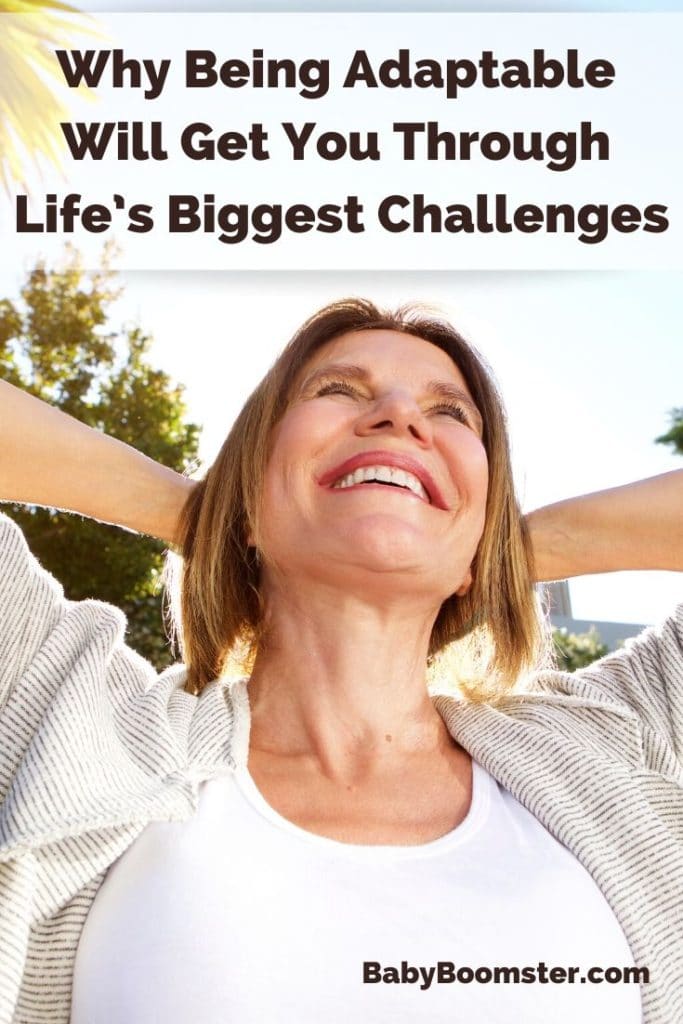 If you've always lived in a state of normalcy the idea of being adaptable may be harder to comprehend. Perhaps you've lived in the same house for most of your life and are suddenly forced to move. Someone who isn't adaptable may freak out because they don't want to leave their friends and loved ones or get rid of their possessions. That's understandable but often a move brings better opportunities and a new lease on life.
Dealing with death or the catastrophic illness of a loved one or yourself may make you feel like your life is out of control. Still, you must deal with it because it's a part of life and you don't always have a choice.
As you get older, your financial strategy may be putting you on edge. Do you have enough money to survive into old age? Did a divorce, job loss, or career choice wipe you out? Are you adaptable enough to reinvent yourself, downsize, or make more money?
Being adaptable takes a certain skillset
If you're set in your ways and reluctant to deal with change, think about adopting a few of the skills below:
Get rid of stinkin' thinking – You may think that the hardship you've been experiencing is keeping you from embracing change but it's also an opportunity to grow. Be aware of your negative self-talk by banishing words like "I can't," "I'm too old," or "Life sucks!" from your vocabulary. As corny or impossible as it may seem, speak to yourself in positive terms.
Read: Unfu*k Yourself: Get Out of Your Head and into Your Life
Be resourceful – People can reinvent themselves at any age. 80-year olds are getting college degrees and thriving. Those who have lost a loved one have turned it around to do good in the world. If something doesn't seem to be working for you focus on finding a solution rather than wallowing in pity.
Read: Stretch: Unlock the Power of Less – and Achieve More Than You Ever Imagined
Don't bitch, moan, and blame – A sure sign of insecurity is a person who is a whiny, blaming pain in the butt. No one wants them around, or their anger gets them in trouble. If you feel the urge to pitch a bitch, scream into a pillow when no one is around. Then, turn your frustration into something constructive and focus on that. Or, do something that makes you feel better like taking a walk, going to a museum, or watching a funny movie.
Even worse– Don't put the blame on yourself for something you have no control over.
Read: It's Not My Fault: The No-Excuse Plan to Put You in Charge of Your Life
Try something new even if you think it won't work – An adaptable person isn't afraid to experiment and test alternative solutions. What do you have to lose? Get out of your comfort zone and reach out whether it's finding a better treatment for an illness, a new business model, an unusual living situation, or helping others in a similar situation. You don't know where it will take you. You may open yourself to a whole new universe of ideas.
Read: Retirement Reinvention: Make Your Next Act Your Best Act
Plan for the future – Life can change in an instant so be prepared and don't be caught off-guard. Sometimes we put ourselves in a box and hide from unpleasant situations. If you're expecting a new transition in your life or even if you're not, get organized ahead of time and put what's needed in place. Make sure your financial profile is on track, research a living situation you've never considered before, take care of your important paperwork.
Read: The Power of the Purse: Fear-Free Finances for Baby Boomer Women
Don't be afraid to ask for help – When you're in a tough situation sometimes it's hard to ask for assistance but in most cases, it's the best thing to do. When change is imminent you want to have others in your corner for support.
If you are depressed or feel you've hit rock bottom, it's especially important to ask for help.
Read: Everything Begins with Asking for Help: A mental health manual for the modern age
Be clear in what's truly important to you – You may think things you're used to or habits you've developed through the decades will throw you for a loop with change. However, they probably aren't as important as you think they are. Consider someone who suddenly loses all their possessions within minutes in a fire. Shock and grief are sure to be overwhelming at first, but then a decision must be made at the spur of the moment. Where will that person live? How will they get their life back in order?
The people in Paradise, California lost their entire town in the fire. Families were completely uprooted, people and pets were lost, worldly possessions were turned into dust. They were forced to be adaptable in order to survive.
Stand up for what you believe in – Being adaptable doesn't mean caving to someone else's demands or being complacent in what will truly make you happy. We all have choices and that doesn't mean you have to settle for the leftovers or not fulfill your dreams. Be firm. Even the worst situation can have a happy ending if you hold your ground.
Read: The Art Of Saying NO: How To Stand Your Ground, Reclaim Your Time And Energy, And Refuse To Be Taken For Granted
Do you consider yourself to be an adaptable person when it comes to major changes in your life? Please leave a comment below.