When we were growing up in the 60s and 70s we were told: "never trust anyone over 30." Now that we're over 50, I'm sure Millennials feel the same way about us. It's hard to imagine your grandparents being tech savvy. But Baby Boomers have their heads in their phones almost as much as kids do. And there are plenty of Baby Boomers on social media even though we grew up playing outside instead of fixated on a video game.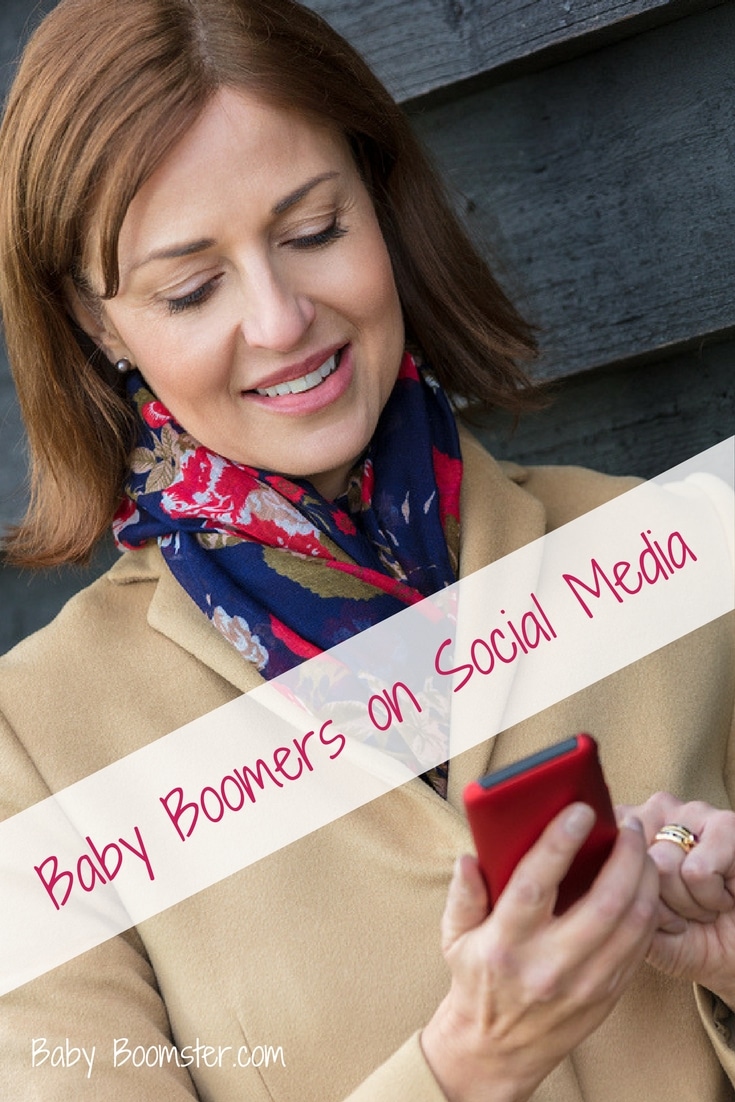 Baby Boomers on social media: Where do you like to hang out online?
We all have our favorite social media sites so I'll start with myself.
My Favorite Social Media Sites
I embraced the online world in the late eighties when I was given a Windows 3 computer as a birthday present. It had a lightning-fast speed of 33 MHz and I had to use a dial-up modem.
Somehow, I missed MySpace and didn't get into forums. Most of my "relationship building" was done through email with friends sending joke chains. Then there was Facebook.
it's fair to say that most Baby Boomers on social media gravitate to Facebook. In fact, we probably booted off a lot of Millennials because they don't want their parents knowing what they're up to. That's understandable. We didn't either when we were kids. Some moved on to apps like Snapchat, and Tic Toc although I don't see the point of those apps, other than entertainment when you're really bored.
When I first joined Facebook, I friended a bunch of people I didn't know because I thought it would be a good networking opportunity. I've since purged a bunch because our ideologies didn't mesh. I also accepted friend requests from a lot of my voice-over fans. I sometimes regret that I did because some of them pop up on my Timeline or in Messenger at inappropriate times. They can sometimes be a little weird, but I'm glad they still like me.
It took me a while to get into the groove of Instagram. As a blogger, I didn't see what the advantage was to a platform where you couldn't insert links. But now, I'm getting into it because brands love it. It's great for travelers, foodies, and photographers and I love posting interesting images. I only post selfies occasionally and leave that to 20-year-olds. Plus, I'm also a little vain.
I'm trying to curate my Instagram feed to reflect my love of travel. I deleted some of my first photo attempts because they weren't in sync with my theme. My first Instagram post was a shot of a probiotic brand I was writing about on my blog. My daughter took one look at it and commented "WTF?" I took it down and now avoid posting "cheesy commercials."
I love Pinterest! Pinning photos is time-consuming but it's a fun way to collect images of things I enjoy and I can link to my blog posts for more visibility. I wish I had more time to spend on it, but if I did, I'd never leave my computer.
It took me a while to get into Twitter but now I check it every day. It's great for news although I got kicked off one of my accounts for ranting too much. @baby_boomster is the one I use for my blog. I tried getting @BabyBoomster but someone else nabbed it and wouldn't give it up even though they never use it. I thought that was rather selfish. @rebeccaforstadt is for my voice over fans and actor friends,
If I ever need to learn something, I always go straight to YouTube because I'm a visual learner. My own YouTube channel is a work in progress or really a work with no progress so far. Making videos is my next big project.
I also had a podcast for while and my pod partner and I did almost 100 episodes. I did most of the work editing and promoting. She moved, found a boyfriend, and got married so it slowly faded away. As a voice-actor, I found it fun to do but I didn't think many Baby Boomers knew how to find and listen to podcasts.
Social media platforms come and go
There are so many social media platforms they are hard to keep up with and many die on the Vine, literally. As Baby Boomers it's best to find one or two you enjoy and stick to them.
Updated 4/2021
Which ones are your favorites? I'd love to know in the comments. Follow me @BabyBoomster on the ones I mentioned, except Twitter @baby_boomster (until that stubborn person who has my handle gives it up)