I interviewed author Mary Beth Sammons who has written a book called Ancestry Quest: How Stories of the Past Can Heal the Future. It's an intriguing collection of stories and reflections of what people have discovered about their family history after having their DNA test done.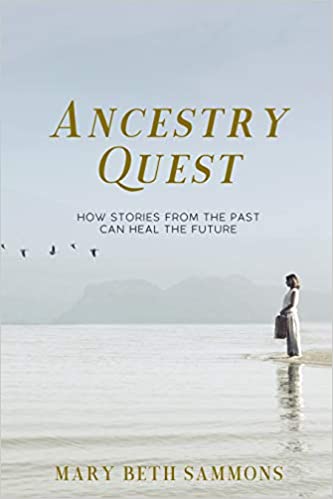 The author's story
Mary Beth's ancestors came from Ireland. As an inquisitive child, she loved to read and ask questions. Her relentless curiosity was one of the reasons she grew up to be a journalist. At one time she lived with her grandmother who would talk about her journey to America but never answer questions about her husband, who was no longer in the picture.
Mary Beth's mother died when she was in her 80s, but before she passed, she asked her daughter to find out what happened to her father. He would have been born at least 120 years before and Mary Beth had no clue how to start looking for him.
5 years ago, her curiosity got the best of her and she decided to give it a try. She did some research and even traveled to Ireland several times to learn more. The first clue she found was that her grandfather left Ireland for America in 1926. One startling revelation was that he had been jailed in Minnesota for illegal immigration.
Later, she discovered that he worked for the British Merchant Navy as a radio officer and died in 1945 on a ship. It was hard to find much else between the time he immigrated and his death. However, she did find out that her great-grandfather was a member of the Royal Irish Constabulary, (police force) which was on the British side during The Troubles, and was killed in an ambush. It may have been why her grandfather came to America.
Chicago had a huge Irish population at the time, and they were funding the Irish Republic with money for guns. There's a chance that he would have been found out there and that may be why he left his family.
Her grandfather's story increased Mary Beth's interest in genealogy and was the catalyst for her to write her book. Some of her co-workers saw her interest in family history and asked her to help them research their own stories. She also gave people tips on how to discover their family heritage in libraries.
Often, they would tell her about the surprises they found in their search. After DNA tests became popular, an expert commented that there is a "growing epidemic of surprises." It's estimated that by 2024 there will be 2.5 billion people who have had their DNA tested.
Mary Beth's journalistic instincts intuitively told her to start gathering the stories she heard. Some people found out that a parent wasn't really their parent or a sister was their mother. She would always ask them how they were dealing with their discovery.
Ancestry Quest
The focus of the book is about healing deep-seated wounds and finding peace by knowing. They are encouraging stories about people learning more about themselves.
Sometimes you must understand where you came from to understand where you're going.
From the book
A woman from San Raphael, California knew she was adopted but always wondered who her biological parents were. She discovered her biological mother when she had a DNA test done and contacted her. Her mother and half-sister met her for lunch and she could see the resemblances.
Her mother told her that she had been with several boyfriends before she got pregnant and didn't know who the father was. After their meeting, the woman and her birth family went on with their lives.
Six months later, her father, who lives in Australia, also had a DNA test and tracked her down. When they talked, they hit it off, and even though she was perfectly happy with her adopted parents, she developed a friendship with him. He told her never knew he a child until she was matched to him.
---
2 Chinese infant sisters were adopted by separate sets of parents who lived in the U.S. The sisters lived on opposite sides of the country and didn't know the other existed. As adults, they unknowingly moved within 10 miles of each other.
Both had DNA tests and were matched to each other as siblings. When they met, they found out that they shared many of the same interests, had kids the same age, and even coached their children's soccer games. The two sisters bonded immediately and started a business together to stay connected.
---
A woman who lived in Chicago grew up with an Irish name and her family always celebrated all the Irish holidays. As an adult, she made trips to Ireland and proudly wrote about her travels and heritage in her blog. She was alarmed to find out from her DNA test that she was conceived through artificial insemination and had no Irish blood at all.
Don't get discouraged when you search your family history
There will be times when you hit a brick wall trying to piece your family's story together. Oftentimes, a clue will pop-up out of the blue that will help you make progress. When Mary Beth was traveling in Ireland, she found the house her grandfather lived in. She has also located relatives who have given her a treasure trove of information about her ancestors.
A delightful discovery was when she found out that her great-great grandmother's sister is the great-great-grandmother of comedian Jimmy Fallon.
If you stick with it and if it is meant to come to you, it usually does.
Dealing with ancestral shame
Ancestry Quest is filled with family stories and surprises, but Mary Beth has also talked to experts on how to handle information that could be traumatizing.
If you make a troubling discovery about living family members and want to make a connection, experts suggest that it's better to have someone other than yourself handle the approach. Let's say your mother did all she could but had to give you up for adoption. Have a neutral person contact her to avoid an uncomfortable situation that may upend her life.
Read the book
If you have always had an interest in family history you will find the book and its stories compelling. I've done my own DNA test and family tree. Every time I make a discovery it's always been exciting.
I also have friends who have told me some of their family discoveries. One of them was surprised to learn her mother had been fooling around and that her father wasn't her biological father. Adoptees have found lost relatives and important information relating to their health.
It's good to know your family history with or without "surprises." I hope you read this book because I thoroughly enjoyed it and know you will too.