I'm a featured writer on the website SixtyandMe.com and wrote an article called 7 Reasons Having a Network of Girlfriends is Important As We Age. One thing I noticed in the comments was that some women happily embrace having friends or are open to meet new ones, while others feel isolated, alone, and sad. It was easy to see who viewed life as half empty or half full.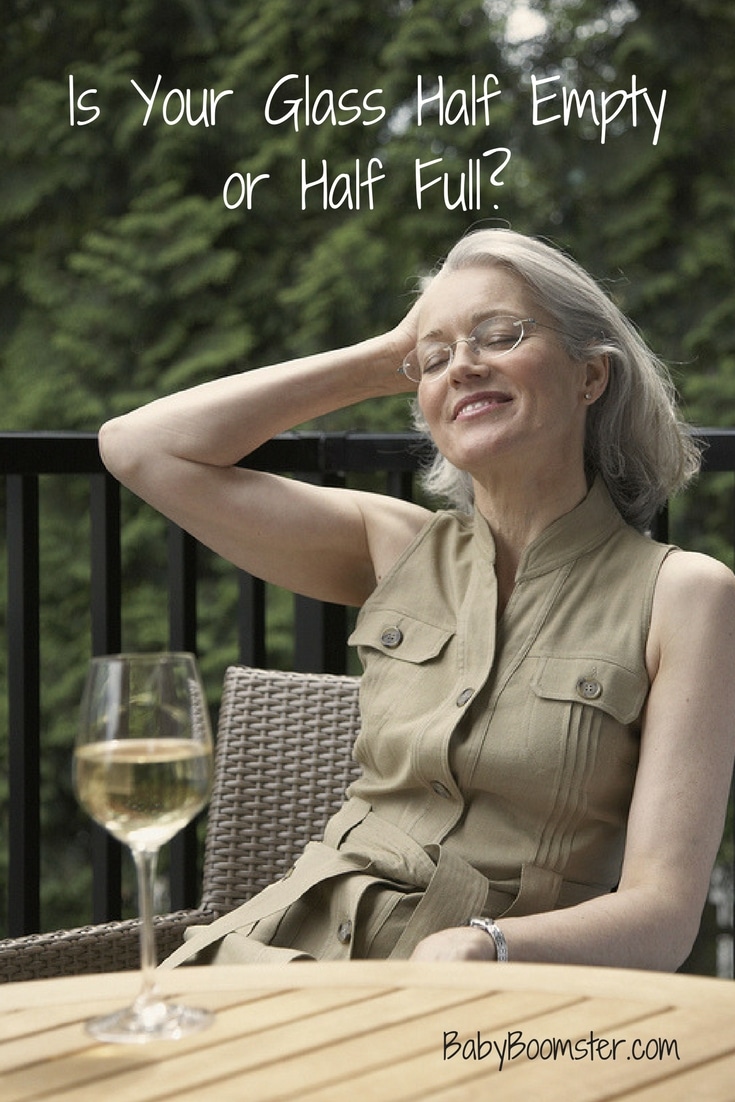 Having a flock of friends isn't a magic recipe for happiness. Some people enjoy spending time alone.  If you see life as half empty, you may feel lonely, sad, and take on a victim mentality unless you take steps to improve your outlook. Victims chronically wallow in misery and refuse to open themselves up to new possibilities that will bring them more happiness.
At the end of my post, I asked my readers if they had a girlfriend network for support and encouragement.
The women who viewed their lives as half empty left comments like the ones below:
No friends. Years of working and chronic illness made it so my friends drifted away.
My best friend of 42 years died two years ago and I am so lonely.
I don't have anything in common with the people of my town.
All of my friends left the planet years ago.
Those who saw their lives as half full and had a more positive outlook offered solutions like this one. . .
FYI start your own 60+ Girlfriends group. Invite some ladies over for snacks and laughs. Treat it like a show for fun happiness and party hard. Those who laugh and join in are ready. Next, have another BUT only with the laughers from the 1st party. Go on, give it a try.
. . . and others highlighted the benefits . . .
Yes! I'm in a book club and two quilt groups. We are very close and supportive of each other and have lots of fun together. We often go on "field trips" and an occasional retreat. My life would be very dull without these ladies!
Viewing life as half full is a result of learning to love yourself
If you're filled with self-hatred and embrace your victimhood, it's impossible to view life as half full. I have always loved this quote:
What you think about, you bring about.
Negativity feeds misery but a positive outlook will help you overcome the most challenging obstacles. However, just thinking positive thoughts will not change anything unless you take action to manifest your outcome because it's crucial to the process. If you want to improve your situation or achieve a goal – you have to get out of your comfort zone – at least a little – and pry yourself out of your deep dark hole.
A new friend will not mysteriously materialize until you let them in the door. But first, you need to clean up the mess they'll see when they walk in. If they find a cranky, miserable fusspot, they'll exit, stage left, and you'll never see them again.
Other ways to switch your thought processes from half empty to half full
Don't compare yourself with others – Instead, think of each other as different with your own set of gifts and purpose. To overcome negative self-talk, focus on doing what you love and follow where your path leads you. Work on improving your skills and satisfy yourself in knowing you're doing your best.
Enjoy your own company – You can't be friends with others until you are friends with yourself. What activities do you enjoy doing alone? Get to know yourself and never be totally dependent on anyone else, including your family and friends. Some will leave, others will die, and you'll be forced to adapt. Nurture your social and family connections, but practice self-care so you'll be happy in your own skin.
Let go of your past and embrace the future – You may have had a despicable past, but it's what you do with the future that counts. I wrote a post about a man who had endured and survived numerous death camps and other atrocities during the Holocaust. After he was released, he became a wealthy real estate developer and philanthropist. He has led a long, purposeful life and was able to thrive because of his half-full attitude.
Is your glass half empty or half full? Please leave a comment below.