You can choose to stay young at heart or grow old. It's all a mindset. But if you'd love to appear more youthful and attractive as you age, here are a few pro-aging beauty secrets that are easy to implement and will help boost your confidence.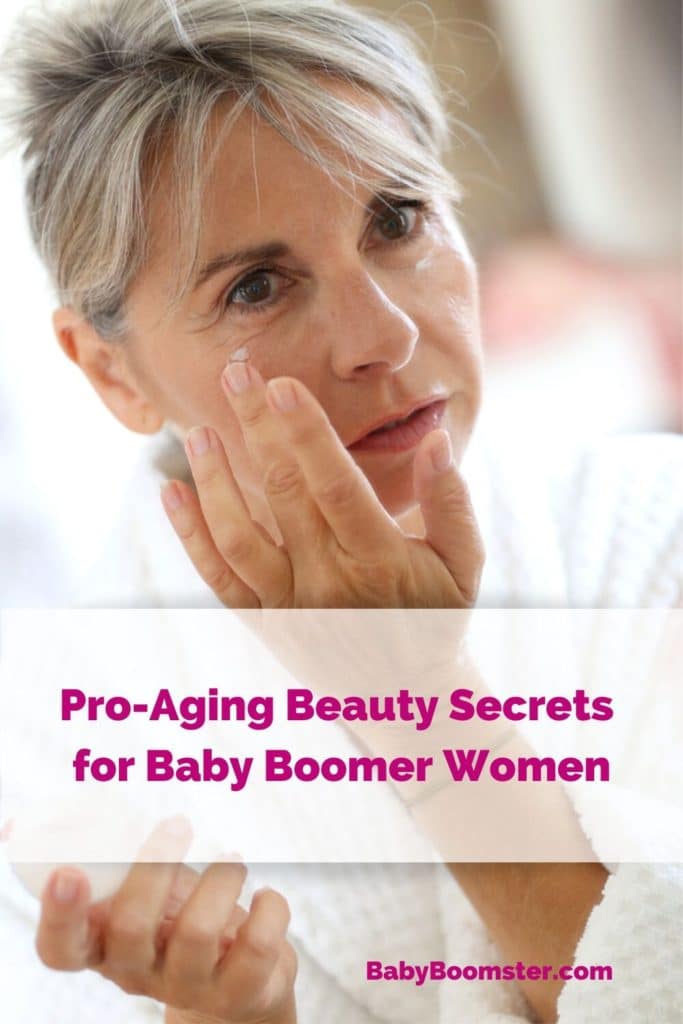 Wear age appropriate makeup
About every ten years or so, you should assess your makeup style for your ever-changing skin to make sure you're wearing makeup that works best for you. One of the top beauty secrets for Baby Boomer women is to keep your facial makeup simple because too much makeup will make you look older. Choose a light and dewy foundation that matches your skin color, apply a little mascara and complete your routine with a gentle lipstick.
Thinning eyelashes are an unfortunate part of the aging process. If your lashes don't have the same length and fullness they once did, you may want to find a salon that does natural-looking eyelash extensions.
Be generous using night cream
Most night creams have pro-aging properties that will regenerate your skin and delay the aging process. Your skin is subjected to pollution and stress throughout the day so it needs to be repaired and rejuvenated. As you age, your skin starts to lose its elasticity. That's where night cream comes into play.
Night creams work while you sleep and over time, they nourish, replenish and clarify your skin. Your skin's power of absorption increases at night. Using a night cream is a beauty secret that should be a part of every older woman's routine. When applied regularly, your wrinkles will smooth out and your skin will be softer and more supple.
Try using toner
There are various types of toners to choose from but the best type for older women is one that'll hydrate and rebalance your skin. Look for a brand that is infused with rich moisturizing ingredients like natural botanicals and peptides. Peptides are amazing for your skin because they're formulated with chains of amino acids that can renew your skin cells and repair environmentally damaged tissues.
It's best for older women to use a toner that doesn't contain alcohol because that can dry out your skin. An alcohol-free hydrating toner like Murad Resurgence will restore your skin's natural pH balance and neutralize its surface impurities. If you haven't used a toner before, it's a beauty secret you may want to try.
Regular Exfoliating
Your skin renews itself every 28 days, and it's normal for dead skin cells to build up. Exfoliation removes your dead skin and reduces large pores to reveal more youthful skin. Try a chemical exfoliator or scrub to exfoliate your face and body. but make sure to choose one that's best for your skin type. Exfoliation will also detoxify your skin and improve the penetration of your skin care products.
Try a little contouring magic
To look younger, you can add volume and depth to your face by using dark and light shades of powder or cream to de-emphasize prominent features like your nose or to add a highlight to your face. Contouring techniques vary depending on your face shape and individual needs.
Face masks can work miracles
To make your skin look younger and smoother, apply a face mask at night to wake up with radiant and glowing skin. During the night our skin loses moisture. A mask creates a layer of protection, allowing the active ingredients to penetrate while you get your beauty sleep. Murad's Replenishing Multi-Acid Peel works well for mature skin.
Facial and body massage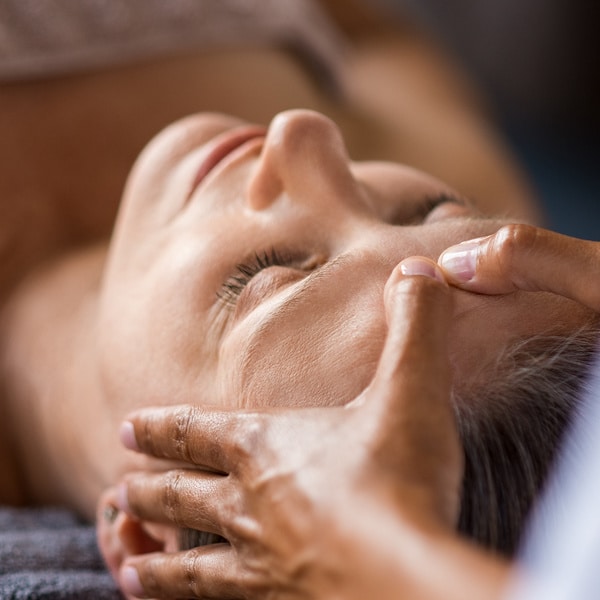 A gentle face massage or facial will improve blood circulation and reduce premature wrinkles. A full body massage is an amazing way to relieve stress. Once you relax and the stress is gone, you'll look years younger.
Update your hairstyle and color
Another beauty secret to looking younger is to find a more flattering hairstyle. Are you still wearing the same style that you wore in high school? If so, have your stylist cut your hair to suit your face shape and personality.
Loose waves tend to give you a more youthful look, while super straight hair can be aging. Play around with face-framing layers to give your hair softness and movement. Layers make your hair appear fuller and more appealing.
Then there's the question of whether to go gray or keep dying your hair. Some women look amazing with silver locks. For others, you may prefer coloring it. If that's you, one beauty secret is to choose a hair color that's close to your original color but add some highlights for more pizzazz!
Teeth whitening
One of the first places that show our age is yellowing teeth. It never hurts to have a professional teeth whitening at your dentist. To maintain your pearly whites, don't smoke and rinse your mouth immediately after drinking coffee, tea, or wine.
Wear clothes that flatter you
A good beauty secret when it comes to choosing clothes over the age of 50 is to stick with classic style as it's always ageless. But you can also add accessories and colors that bring out the uniqueness of you. Although clothes made for 20-year-olds may not be appropriate, a cheetah print or fabulous scarf will make you stand out. Shop at Nordstrom or Lands' End for classic pieces and then go on Etsy to find handmade or vintage items.
Are you getting enough vitamins?

Adding vitamin E and Omega 3s to your diet is a good way to keep your skin, nails, and hair looking great.  Vitamin E improves blood flow and revitalizes your tissues. And vitamin C is an antioxidant that promotes collagen production to help your skin preserve its elasticity. 
Drink plenty of water
One of the biggest beauty secrets of all is to drink water to keep your skin hydrated. Try to consume 8 glasses of water a day for clearer and more youthful skin. Staying hydrated helps eliminate dark spots and gives your skin added moisture. It also detoxifies your skin to help you avoid acne and other skin issues.
Drinking water reduces wrinkles and rejuvenates the skin because it improves blood flow. According to scientific studies, water regenerates and revitalizes dead skin cells and eliminates wrinkles.
Meditate your stress away
Meditation removes stress and anxiety and leads you on the path to healthy aging. Spending a few minutes a day meditating fills your being with soothing energy and puts you in a state of deep relaxation. Meditation practice over time helps heals the cells of your body. so you'll radiate good health and well-being.
Focusing on breathing during meditation enhances the cellular health of your body and sends needed oxygen to your skin rejuvenating it. It energizes the cells and tissues of the body in addition to balancing your body and mind.
You'll find that regular meditation will improve your skin and slow down the aging process. It lowers your blood pressure and makes it easier to deal with pain, insomnia, and other issues that come with aging so you'll feel younger and more vital.
Learn to meditate and other self-care techniques from Deepak Chopra here.
Start your morning off right
Begin the day with some sort of exercise. A regular daily exercise routine is essential for your health and makes you feel younger. Whether you stretch, do yoga, or run first thing in the morning it makes an incredible impact on your health in as little as a few months. There are exercises that can help you with every issue you have whether it's shoulder pain, varicose veins, or weight loss.
If you're the type who would rather sleep in and prefer your schedule to be open-ended set up a daily routine at a time that best suits you. It will improve your overall health, well-being, and productivity. Having a clear plan for the day and a morning routine helps you to become more organized, healthy and keeps you active longer.
Watch your sugar intake and eat healthy food
Are you a sugar junkie? Eating too many sweets can take a toll on your face and your health. It's best to eliminate as much sugar as possible from your diet. Eating foods with a high glycemic index can also lead to inflammation and aggravate skin conditions such as acne and eczema.
Instead, eat fresh, organic, healthy foods throughout the day to keep your skin smooth, and youthful. You'll also want to avoid fast-foods, fried and fatty items.
Do you have a beauty secret for older women? Please leave a comment below.