One of my biggest passions is to travel and if I could, I'd do it all year long. But traveling can be taxing for those of us over 50. We have to maneuver through crowded airports, squeeze ourselves into seats like sardines, and haul our luggage from planes into trains, buses, and automobiles. The actual "travel" part of traveling is what takes a toll on our heads, shoulders, knees, and toes. Still, nothing is more thrilling than getting on a plane and taking off to a fabulous destination. That's why it's best to travel light.
It's not always easy to travel light if you're a female
We like to dress to impress, especially if we're traveling on a group tour or cruise. But, the more we stuff in our bags, the more it's a pain in the neck. . . literally. That's why I've put together my recommended list of best travel accessories and essentials to travel light, so you can enjoy your trip and still be in style.
Carry a light and functional travel purse
I love my baggallini Crossbody Bag. It's light as a feather and ultra-practical. It has a side pocket to store a water bottle which is important because older people, especially, need to stay hydrated when traveling. Baggallini bags have multiple compartments and come with a detachable RFID-blocking wristlet, so your credit cards won't get scanned. It's a drag when you're relaxing in a gondola and a nasty thief is busy draining your bank accounts.
You can wear the bag over your shoulder or across your body. There's no need to worry about the straps breaking because they're strong and adjustable. And, the bag is made out of lightweight crinkle nylon making it water-resistant. If you smudge it, like I always do, you can easily wipe it off. A zipper pocket in the back easily converts to a sleeve that slips over the handle of your rolling bag.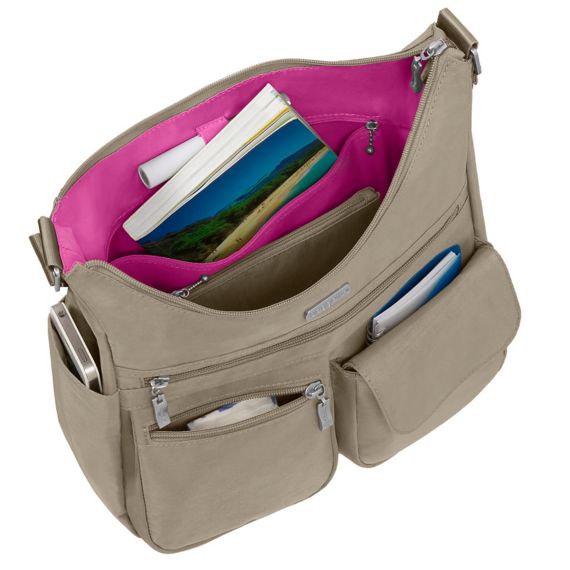 Visit the baggallini website here.
If possible, only take a carry-on
I like to travel as light as humanly possible and almost always just take a carry-on. That way there is less to schlep when you are trying to get on trains, subways, or going from hotel to hotel. I only take basics with me that are easy to wash and dry, when necessary.
A spinner suitcase has 4 wheels, rather than 2, making it easier to haul around in different directions. eBags has a wide variety of quality spinner carry-ons at an affordable price.
View all the luggage available on eBags here
Another option is a light duffle bag like this Novel Duffle from Herschel Supplies.
View the entire Herschel Travel Collection here.
What about those bulky winter clothes?
I've taken several European trips in Nov/Dec when the weather was chilly. It's not as easy to travel light when it's freezing outside and you need a warm, toasty coat.
One thing I learned is to NEVER pack bulky sweaters or wool coats. One big sweater fills up an entire suitcase? Instead, I bring a nylon down jacket that will squish into a small bag if needed. For extra warmth, silk undershirts are wonderful because they don't take up space in your luggage but more importantly, don't add bulk to your figure when you are taking photos.
Find a variety of base layers on the Columbia website by clicking here.
When it's cold it's all about your jacket
I love Columbia outerwear and wore my Mighty Lite Insulated Hooded Jacket on several trips during the winter.
Find Columbia insulated jackets here.
This Women's Bugaboo™ II Fleece Interchange Jacket by Columbia is a 3 in 1 that has a waterproof outer layer and fleece inner layer. You can separate the layers if you get too warm or warm up if you get a chill. It comes in aquarium blue, beet, (shown here) dusty iris, and twilight.
Travel tip – Carry your down coat on the plane so you can use it as a pillow or to snuggle up in. Airplanes are notoriously chilly.
You may also enjoy: 10 Winter Travel Tips for Baby Boomers
Use packing cubes to organize your suitcase
Eagle Creek has a large selection of packing cubes so you can separate items in your luggage and make them easier to find. They come in a variety of colors and sizes. They're also perfect for storing dirty or wet clothes
See them on Eagle Creek by clicking here
If you want to be hands-free, carry a backpack
Backpacks are handy, especially on tours because they don't get in the way when you're shooting photos or shopping. However, if you're over 50, don't try to carry one that is too large or you'll end up with a backache.
Travelon anti-theft backpacks have padded iPad/tablet sleeves, RFID blocking card slots, and pockets for an umbrella, or water bottle. Some also have compartments for your cell phone, sunglasses, paper money, and important papers.
Don't forget your camera
When I travel, I love to take lots of photos. Even though my smartphone has an excellent camera, it doesn't have a zoom lens. The problem is, a camera can be heavy and strain your neck. That's why I like to carry a lightweight Canon PowerShot. It not only takes amazing shots but is affordable as well.
Keep your clothing options simple
My travel uniform is usually a pair of comfortable black pants and a black top. I wear black because it hides most of my flaws in photos. I also like to choose a fabric that's easy to rinse out and dry. To change up my look, I might wear a reversible jacket or accent my outfit with a colorful silk infinity scarf so I don't have to worry about tying it.
If you're traveling from city to city there is no reason to make multiple outfit changes so a small collection of clothing you can mix and match that is no-iron is easy to pack and saves a ton of space. It's also a good idea to pack a simple dark-colored travel dress that can be accessorized for either a casual or more formal occasion.
Wearing comfortable shoes should be priority number one
Traveling usually means lots of walking which is healthy so a pair of sturdy walking shoes is a must. To prevent getting blisters, wear some type of sock to protect your skin. Your feet will thank you and you'll have much more fun.
You may also want to pack a pair of flat loafers, ballet slippers, or sandals depending on the weather and your location. It's usually best to leave your stilettos at home to avoid any accidents that could ruin your vacation.
Here are some suggestions for travel shoes.
A packing tip – Take no more than 3 pairs of shoes and fill the insides with your socks or undies to save space in your suitcase.
How do you travel light? Please leave a comment below.