Christmas in Europe is gloriously festive, especially if you are able to visit the Christmas Markets. There's nothing as magical as walking among medieval buildings decorated and dressed up with lights for the holidays. Dozens of wooden huts stand in old town center squares filled with holiday ornaments, steaming hot food, sweets, and warm Glühwein. (traditional hot mulled wine) that's served in a cheery holiday mug.
The warm and spicy aroma instantly puts you in a happy mood and is the perfect way to stay warm on a cold winter's night. Glühwein is drunk openly in the streets in Germany and Austria. If you want to take it up a notch, you can always ask the vendor to mix in a little rum or schnapps.
And, although it may have been impossible to visit the markets in the last two years, we can still feel as though we were there.
Enjoy some Christmas cheer this recipe.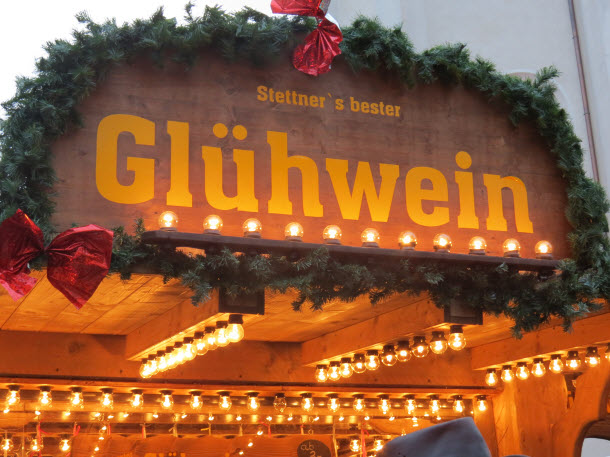 Glühwein – Hot Mulled Wine
Glühwein keeps you warm on cold European days and nights at various Christmas Markets in Germany, and other countries. Cheers!
Ingredients
3

cups

red wine

2

Tbsp

sugar candy

½

cinnamon stick

3

cloves

2

orange slices

1

Tbsp

rum
Instructions
It's best to use a glass heat resistant pan if possible or you can use a saucepan.

Pour the wine into the pan and add all the other ingredients.

Bring to a boil.

Strain

Fill up decorative heat resistant mugs and serve.

Happy Holidays
Plan ahead to take a trip to the European Christmas Markets during the holidays in the future. Enjoy the tastes and smells of the cities that host them.  I wasn't sure what to expect, but I loved every minute of it and delighted in all the culinary and sensory pleasures.
We arrived too early for the Christmas markets in Poland and Hungary, Some decorations were up, but, typically, the markets aren't in full swing until after Advent. Once we made it to Vienna at the beginning of December, we were able to enjoy the flavors and festivities in Austria, Germany, and the Czech Republic.
AmaWaterways Christmas Markets Danube Tour
Our river cruise aboard AmaWaterways Amacerto started in Budapest and ended in Prague. After a brief stop in Melk, we landed in Vienna.
See the top Christmas Markets in Europe here.
Vienna
Vienna in itself is a stunning city even without sparkling holiday decorations. There were several Christmas markets interspersed throughout the main center of town, but we were taken to the largest one at the Rathausplatz. It had over 150 stalls with Christmas decorations, Glühwein, sausages, gingerbread, chocolate, gifts, and hot chestnuts.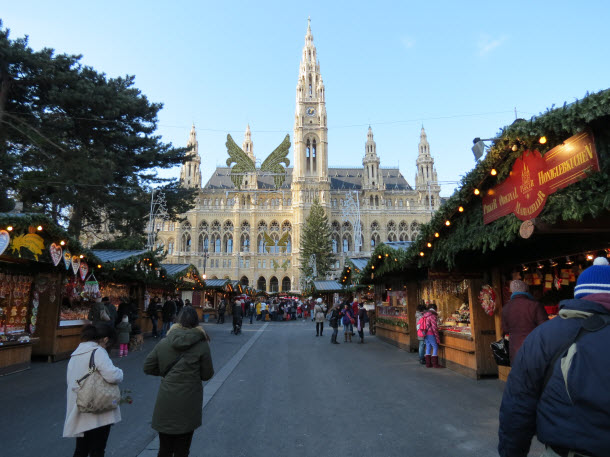 Children, dressed in snowsuits, who had been doing artwork in the Rathausplatz, came out and enjoyed all the goodies at the Christmas market afterward.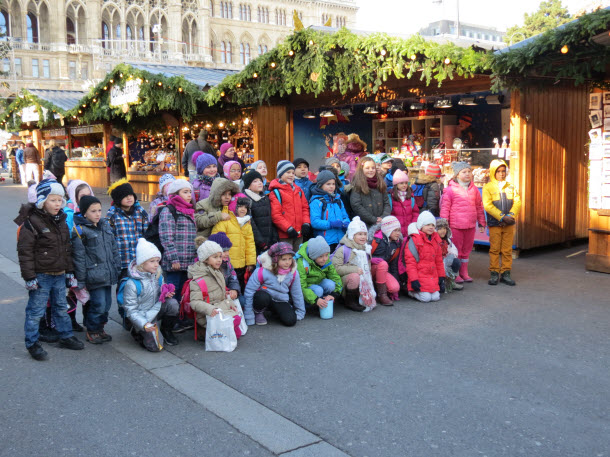 The next day, we took a tour of the Schönbrunn Palace, a former imperial summer residence of the Habsburg monarchs. The market in front glowed with the huge Palace in the background.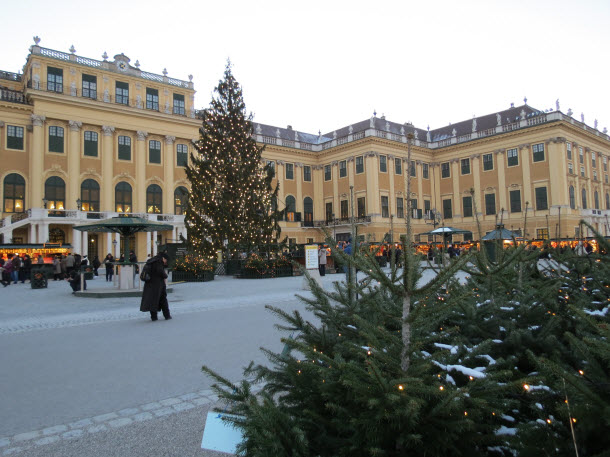 I couldn't help but taste some of the sausages at the market including the famous Vienna sausage. (Click on smaller images to view full size)
And there were so many sweet goodies it took everything I had to resist!
All the Christmas Markets we visited in Eastern and Central Europe had their own version of sausage made mostly of pork.  In fact, I lovingly called our trip the "Pork Tour."  Granted, I'm of Jewish heritage, but our family has always been pretty lax when it came to dietary rules.
Salzburg
It's hard to think of Salzburg without thinking about Christmas. It's also where Mozart was born. After Vienna, we took an excursion there and our guide showed us a very old Chocolate shop called Furst that's is the premier shop in Salzburg to buy "official" Mozart Chocolate. (MozartKugeln) Apparently, there are copycats. Mozart chocolate is considered to be the best chocolate in Austria and comes packaged in round balls. The "official" brand, and most expensive, comes in silver and blue packaging.
We peeked into the Festival Hall Complex, which is where the Von Trapp family escaped in the film "Sound of Music." On our way back to our Ama Waterways River Boat, our guide told us all the "lies" about the film. The Von Trapps escaped from Austria before the war started. If they had actually "climbed the mountain," they would have ended up in Germany. Also, contrary to what the song says, Schnitzel is never served with noodles. I still love the movie anyway.
I met the Von Trapp great-grandchildren several years ago. They have a singing act as well, and when I watched them perform, they were just as wonderful as their grandparents.
Scenes from Salzburg, Austria during winter – Click on images to view full-size – For more photos of Austria click here
Regensburg
Our next Christmas market was located in the charming and perfectly preserved medieval village of Regensburg, Germany. Regensburg is a UNESCO World Heritage site. The village is known for its Christmas markets, but the one that's especially beautiful is "The Romantic Christmas Market." Located in the courtyard of the beautiful Thurns and Taxi Palace, it is steeped in atmosphere. There were fire torches lining the path, little campfires to huddle around, and colorful lighting. You can enjoy Bavarian treats, music, and purchase unique holiday gifts.
The market featured a Biergarten and kids could pet adorable baby llamas.
There was even a Saint Nicholas.
One highlight of Regensburg is its 900-year-old sausage stand called the Wurstkuchl, the first fast-food restaurant in Europe.
Nürnberg
Nürnberg has one of the world's premier Christmas markets. It's located on Hauptmarkt Square in Old Town. The Old Town is practically all reconstructed due to extensive damage during WWII, but you'd never know it. One thing that's impressed me in cities like Nürnberg and Warsaw, which were heavily damaged during the war, is the attention. The original architecture and atmosphere have effectively been brought back to life. The Nürnberg Christmas market is huge, with over 200 vendors offering traditional wares, German Lebkuchen (gingerbread), bakery items, and other gifts. I ate the sausages, sauerkraut and drank Glühwein with glee.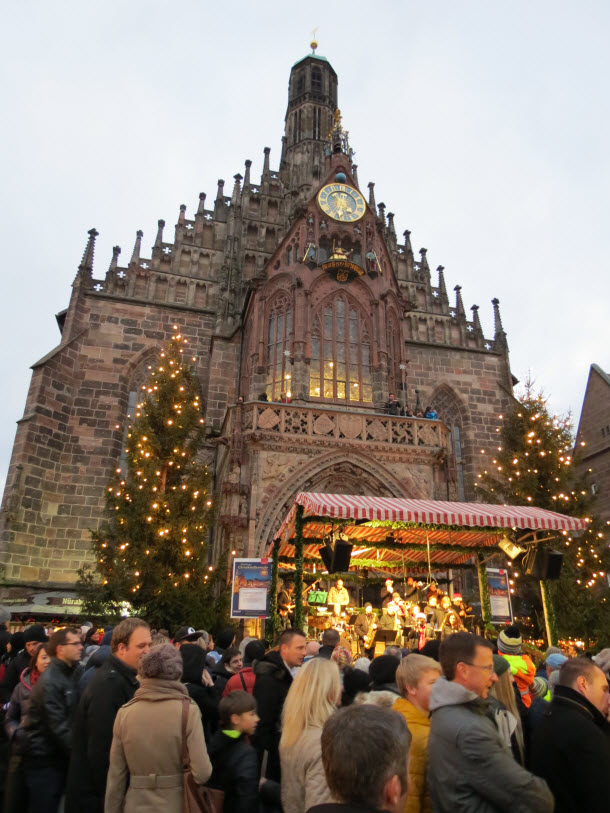 We purchased traditional ornaments made out of dried fruits called "Nürnberg plum people" that are famous in this market.
Nürnberg is spelled in several different ways. Nürnberg, Nurenberg, Nuremberg. I'm not sure which one is the official spelling but I guess it doesn't matter.
Prague
The last of the Christmas markets we visited was in Prague in the Czech Republic. Like Poland, it was under Communist rule but is now a breathtakingly beautiful and free city. I love how the people there have reclaimed their heritage. When we arrived, the city was fully decorated for the holidays. Our guide told us that despite the decorations, the majority of people who live in Prague are agnostic. Even still, they have taken great care in preserving their cathedrals and religious symbols.
On the Charles Bridge, there's a sculpture of a crucifix with Hebrew letters on it. A Jew, Elias Backoffen, had sneered at the statue and was made to pay for an inscription to be added to it which was, "Holy, holy, holy Lord of the masses" in Hebrew letters. Unfortunately, most of the statues on the Charles Bridge are not originals.
The main Prague Christmas market is located in Wenceslas Square near the Astronomical Clock. Vendor stalls feature decorations, bakery, and food items, as well as Czech glasswork, ceramics, and raffia designs.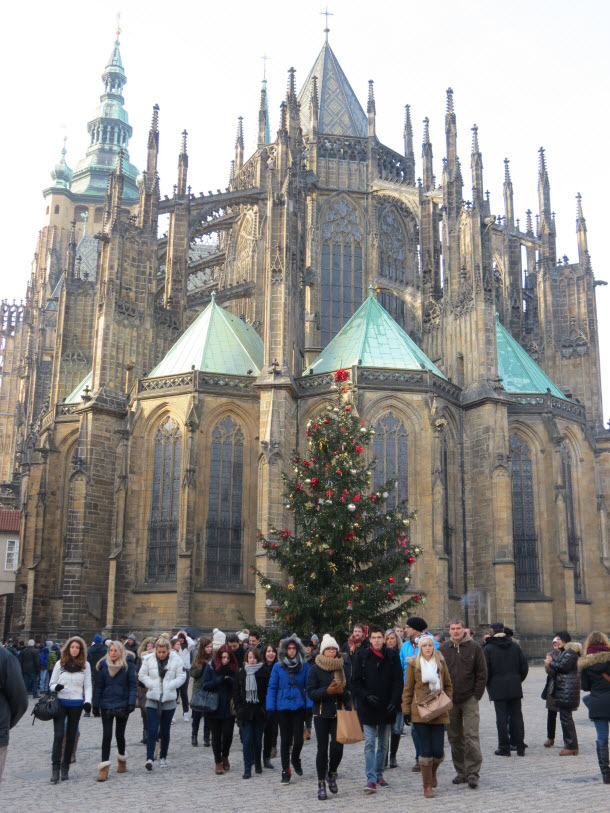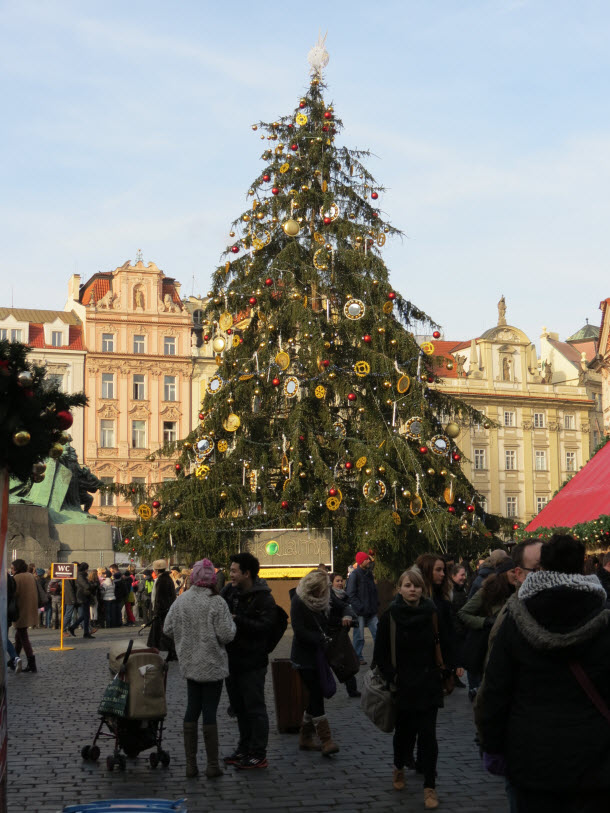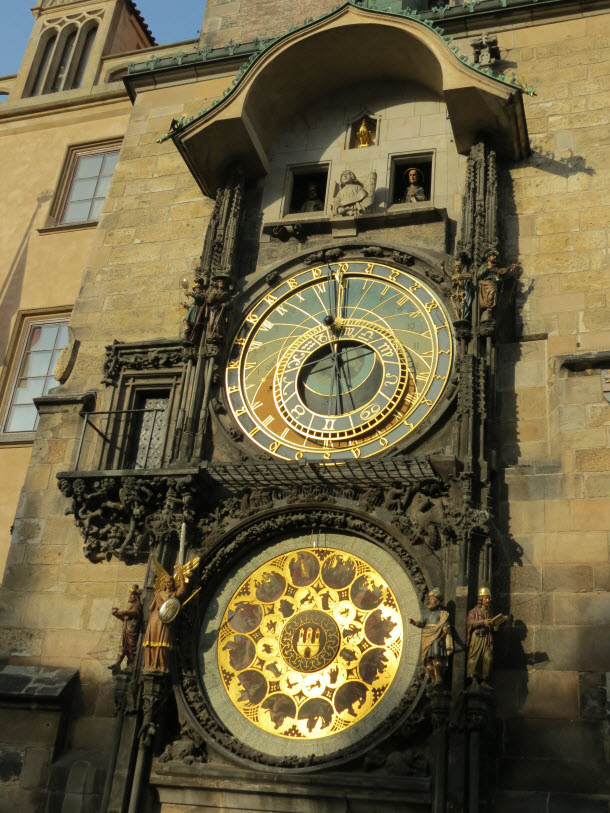 I'd like to thank Ama Waterways for the remarkable time we had on our Christmas Market river cruise from Budapest to Prague. River cruising is the way to go! And, a shout out to our cruise director Monika who was amazing!
Book an AmaWaterways Christmas Market River Cruise here.
Have you been on a Christmas Market River Cruise? Would you like to? Where would you want to go? Please leave a comment below.