I've been a blogger since 2008 and I love what I do. Blogging is creative, fun, keeps my brain stimulated, and makes me extra money. As a Baby Boomer, I know that having more income is always a good thing, and what I make from blogging is passive. It ka-chings while I sleep . . . literally! That's just one of the reasons I believe anyone who wants extra income should start a blog.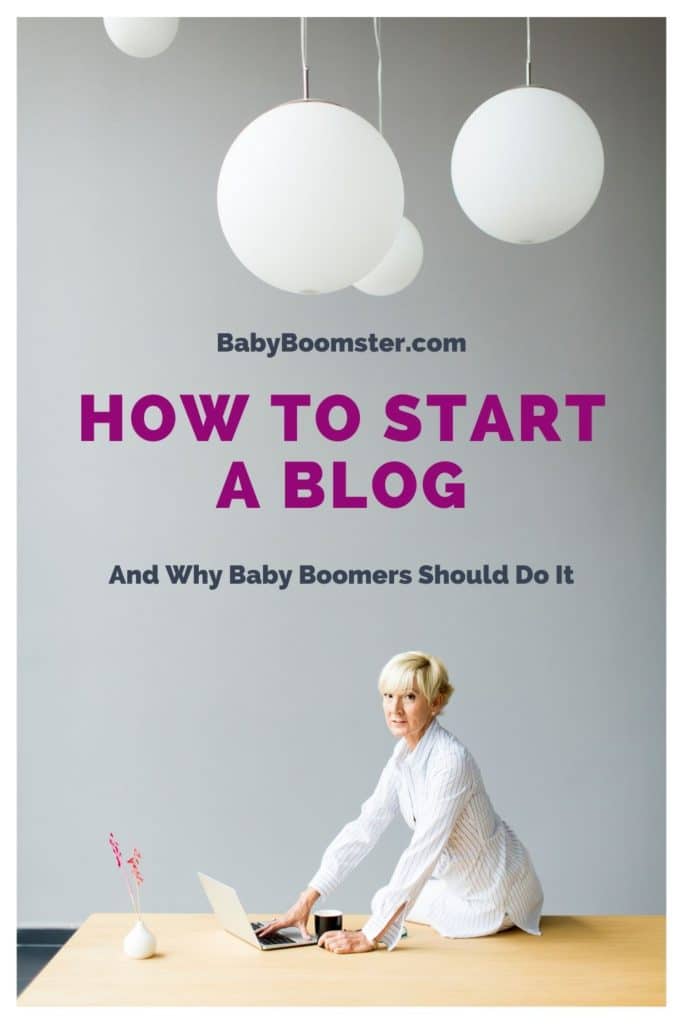 If you're a Baby Boomer like me you've been on this Earth for decades and may be experts in your field. You can share your wisdom and what you've learned throughout your life to mentor others.
Or, you may want to reinvent yourself to fully live your passions and pursue new interests.
The fact that blogging requires little overhead makes it even more attractive as a business. It costs almost nothing to get started as opposed to other businesses that can take a chunk out of your retirement savings.
Blogging is flexible and has endless possibilities
I'm going to briefly show you how to start a blog and get the best results so you can avoid making some of the mistakes I made along the way. I taught myself how to blog by taking online classes and for a decade had a business helping others set up blogs.
Now, I'm focusing on writing content that is helpful and inspiring to my readers to hopefully answer their questions and solve their problems. The most successful blogs focus on what your readers want to know rather than be all about you.
Making money with a blog
I earn extra cash by linking to products I love that I have affiliate and brand partnerships with. In doing so, I've been able to connect with fabulous people in all sorts of industries. As a perk, I get to try out and keep products to review.
I'm a single woman who has lost two partners to cancer and I've worked freelance all my life as an actor. I don't have a 401K or was given an inheritance. But, in addition to earning money from my blog, it's also become a fulfilling way to use my talents, meet colleagues online, help others, and, make my life a lot more fun!
If you're ready to start a blog, I guarantee these tips will make sense if you think you're technically challenged.
1. Choose a name for your blog
What you name your blog or website is important so think carefully before you choose one. Keep it short and always use .com if you can unless you are promoting a non-profit organization in which you can use .org. When you use .com your website will come up in search when it's typed into a browser so a visitor can click directly to your site. That doesn't happen with .net, .info, .me, etc.
Think about the future of your website. A mommy blogger will someday become an empty nester Midlife bloggers will become seniors. When I chose the name BabyBoomster.com it was not only fun but reflected my generation. I can be 100-years-old and always be a Baby Boomer.
I buy my domains at GoDaddy.com. They have an easy search engine for domain names and are affordable and reliable. However, I host my site elsewhere.
2. To create a serious business online, use WordPress as your blogging platform
The best way to start your blog off on the right foot, whether you want to make it a business or have a professional look, is to have a self-hosted WordPress site. WordPress is the premier blogging platform online today.
But, be aware that there are two types of WordPress software.
WordPress.com is a free platform and is hosted by WordPress. It has restrictions for posting ads and affiliate links and has limited functionality.
Unless you purchase a custom website address, (domain) you'll find yourself with a long website address like www.myboomerblog.wordpress.com. The same thing will happen if you use Blogger, (Blogspot) which is hosted by Google.
Free sites like that are okay if you're blogging strictly as a hobby or simply want an online diary. But, if you want to start a business, promote a project, and/or look professional, build your site with WordPress.org. You can install it for free with a few clicks once you establish your hosting account.
3. It's important to have control over your content
A hosting account allows you to have access to your files in a safe place. I have been hosting all my sites on Bluehost for years. To be upfront, I must disclose that I have an affiliate relationship with them. That means that if you click on this link, I will receive a small amount of compensation if you purchase an account at no extra cost to you.
Affiliate income is one way bloggers make money.
4. Set up your hosting account
When you sign up with Bluehost you will receive one free domain name and WordPress will be automatically be installed as soon as you complete your purchase.
Another reason I recommend Bluehost is that they keep their servers up to date on the backend. I've had clients who have hosting accounts at other companies that had to migrate to a new server because it was old and not up to speed for emerging technologies.
Bluehost's customer service has always been excellent for me especially when I call them directly. They have helped me fix issues that occasionally occur on my sites over the years.
5. Find a stylish WordPress theme for your blog or business website
Once WordPress is installed, you can start blogging or promoting your business right away. When WordPress is installed, it comes with a default theme that's okay, but pretty basic. If you want your site to reflect who you are and what you are about, you can choose a WordPress theme to fit your needs. A theme is a template that will give your site the look and feel you're looking for.
There are thousands of WordPress themes to choose from and many are free if you Google them on the Internet. I prefer using a premium theme because most of them offer support. With free themes, you're on your own to figure out how to configure them.
6. Ask yourself, "Why do I want to start a blog?"
Not everyone has the desire or need to write blog posts on their website even though blogging is one of the best ways to get traffic and gain followers. A WordPress site can also be used as your online home to promote an existing business or project or to promote an online business in a niche that interests you.
If you want to express yourself and write about what you love, you are a perfect candidate to start a blog. Some people write blog posts to organize their thoughts and eventually turn them into a book.
BabyBoomster.com was created to be an online magazine with topics that pertain to active Baby Boomer women over 50. It focuses on travel, wellness, entertainment, fashion, beauty, and how to have a fulfilling and fun lifestyle.
I also allow others to write guest posts if they are midlife and beyond or write specifically for the Baby Boomer demographic. They must adhere to my writer's guidelines to maintain the integrity of my site. Some are experts in topics I know nothing about like finance.
Blog gurus often insist that you choose a narrow niche to corner the market for your topic, but I'm grateful that I chose lifestyle. I love to travel, but I can't do it all the time, and the pandemic showed us how travel bloggers got hit hard because they were stuck where they were.
It's always best to write about what you are passionate about but leave your options open just in case.
If you already have a blog, here are tips to make it successful
Visitors will arrive on your site organically from Google search if you've formatted your posts and pages properly by inserting targeted keywords. For the best organic (not paid) SEO results, make sure your SEO (search engine optimization) is optimized. I use the Yoast SEO WordPress plugin to help me with that. They make it easy because it shows you what is needed on the post you are writing to optimize it.
You can learn about SEO on YouTube or other websites. One of my favorite SEO experts is Neil Patel. Click here to watch his video series.
However, SEO isn't always enough. If you write a blog post and want other people to read it and share what you've written, make sure you are writing valuable content that will appeal to and answer questions for your readers.
Boost your posts by creating social media accounts so you can share them on multiple platforms. WordPress.org has an array of free plugins that make it easy for you to install share buttons. I use the Grow by Mediavine plugin on this site because it's light and efficient.
1. Configure your share buttons correctly
Your share buttons should be large enough to be visible. Some are so teensy they get missed. If your demographic is midlife and beyond, remember we don't see all that well without our reading glasses.
Make your posts easy to share. This is one of my pet peeves. When I read a blog post and leave a comment, I also like to share it on Twitter. What often comes up when I click a share button to tweet looks like this.
"Blog post title – or no title – Website URL – via @shareaholic." Unless your Twitter handle is Shareaholic, you won't ever know that someone shared your post. (Shareaholic is a sharing plugin)
Tip – If you have a blog, click on your Twitter share button to see what it looks like when someone clicks it to share your post. Then, go to the settings of your share button plugin in your WordPress dashboard and make sure it looks the way you want it to. If you don't know how to do this Google your plugin on YouTube for a tutorial.
I always try to be nice and will usually edit my tweets so people know what it's about and who posted them but most people won't do this. They'll either tweet the post as is or not bother at all.
It also helps to have links to your social media accounts visible on all your website pages so that others can follow you if they want to.
2. Make your site readable for older eyes
The size and style of your content's fonts can make your readers stay or leave your site. If the text is so small it's hard to read, visitors will look elsewhere. I recommend using a font size of 16px or larger depending on which font your WordPress site is styled with. And as much as you want your blog to be colorful, a white background behind your text is EASIEST to read.
Script-style fonts are also hard to read. They may be fine for Titles and headers but the main content of your site should be styled with an easy-to-read web-friendly font similar to Helvetica or Ariel. Click here for more suggestions.
You can install a WordPress plugin like Easy Google Fonts to style your fonts without coding them into your theme.
Don't worry, there are videos on YouTube that will help you configure just about any WordPress plugin. Type in what you are looking for in the YouTube search bar and find the most current video.
It's best to leave the styling in your WordPress post editor for individual posts alone. When you add color or font changes each time you write a post, it adds unneeded code that will slow down your site. It also looks unprofessional. Set your style before you start writing posts so that all your content is uniform.
Most people skim rather than read an entire article especially if it's a long post. It's recommended that you break up your text using header styles, (like H2, H3) bullet points, numbers, italics, quotes, etc. The last thing you want is a long block of text because it's hard to read.
If you write a super long post, like this one, you can use a table of contents plugin like Easy Table of Contents. It will pick up your header tags so readers can click on the section of your post they want to read about.
3. Valuable and optimized content is best to create traffic
You can have a high-trafficked and popular website without ever using social media if your content is written well, solves your reader's problems, and contains searchable keywords. However, if all you write about is you, your blog will have a limited appeal and will not be very searchable.
A good post should be at least 300 words long but is even better if it's 600 words or longer. Add internal links to other posts within your blog to keep readers on your site and add reference links to highlight important information they may need to know.
4. Use social media strategically to give your posts a boost
You don't have to spend endless hours promoting your posts on every social media channel there is. Find one that works best for your content and focus on that. My best traffic comes from Pinterest. It's an image-centric search engine that is popular for niches like travel, food, fashion, home decor, and other lifestyle interests. My images are linked to my blog posts.
If you sign up for Pinterest, it's best to get a business account that you verify using your blog's web address.
When setting up your social media handles use either your brand name or your real name if they're available. You may want an account for both so that no one takes it.
There's someone out there hanging onto the Twitter handle @babyboomster and their profile picture is the Twitter egg. She never tweets but won't give up the handle even though I've offered her money to close her account. I'm not sure why she's so stubborn about it because I own all the domains for BabyBoomster. For now, I have to use @baby_boomster on Twitter.
You can also boost your traffic using Facebook, Google, and other paid ads if you can afford it. Just remember, the more you write valuable content that is searchable, the more opportunities Google has of finding your pages on the Internet without the need for you to spend extra money for ads.
5. Optimize your content for search
If you're using the Yoast SEO plugin on your WordPress site it will help you optimize your posts and pages for Google search. Your Google listing for each post and page can be tweaked to stand out when someone enters a search term in their browser.
For instance, when I put in the term "Best Clothes for Women over 50" this is what my Google listing looks like. It's the most popular page on my website.

As you can see, my listing is a mini-ad for that page. Rather than have Google take an excerpt from my first paragraph, which could be gobbledegook, it grabs the title and description I have entered in my Yoast plugin snippet for that page.
Google sometimes changes how much of the title and description it will show. You can see in the screenshot that my title cuts off a little, but Yoast gives you the parameters that usually work best for SEO.
If you type in site:https://www.yourdomainname.com in the address bar of your browser, Google will bring up all of your posts and how they appear when someone searches for them.
Try to use compelling headlines – You get up to about 70 characters.
Your title should include the main keyword you're focusing on for that page and the same keyword should also appear in the description.
Imagine what a blog title like "Oh my Gosh!" would look like in a Google search. No one would know what your post is about and they wouldn't have a compelling reason to click on it.
6. Schedule your social media shares
I use Hootsuite's paid version to share my posts at various times of the day and week. I also share manually when I have time. I pay slightly less than $10 per month to use Hootsuite but there is a free version as well if you are only promoting one site. It has a built-in scheduler that will post at optimal times rather than in real-time so I don't have to be available when a post goes out.
It helps me schedule posts to my Twitter accounts and to post Instagram photos. Because I'm over 60, I find it's easier for me to write an Instagram post on my computer rather than try to squint and do it on my little smartphone.
I can also upload a photo from my computer to Hootsuite that's been edited on my computer. However, I don't use Hootsuite for Facebook, even though you can.
Posting on Facebook – Auto-posting using 3rd-party software doesn't work well on Facebook. You'll get better results and more views if you post on Facebook directly or use their native scheduler.
Also, if a tragedy happens in the world you won't look like a jerk if you auto-post something goofy or blast an ad to sell a product, while everyone is grieving. This happens a lot and is so obvious.
7. Blog commenting
Please make it EASY for people to comment on your blog. Commenting shows Google that your readers are engaged with what you write. What I hate is when I have to log in to comment, try to decipher captcha codes, click on where a bus is in a photo, or jump through other hoops before my comment gets published.
It's especially hard to comment using my phone. I get frustrated if I have to wait until my comment is approved before it shows up. All of these things turn-off commenters.
I have my comments set to automatically post. If I get a spam comment or something inappropriate, I will delete it later. To avoid spam comments, I use the plugin Akismet so that my site doesn't get hacked.
Akismet is installed with WordPress but you have to connect it to your site through WordPress.com to activate it. It's simple to do, but not everyone bothers to go through the steps.
8. A good blog design is easy to navigate
When you start a blog, you can organize your navigation bar menu items so that people can click on categories. This helps if you write about multiple topics or want to add specific pages to your menu.
9. Check your spelling and grammar
I use a free app called Grammarly with my Chrome browser. It checks my spelling, grammar, and punctuation on my blog, Facebook, Twitter, and Word Docs. I don't know what I'd do without it.
When I first started using it I was alarmed at all the mistakes I made in old posts and went back and fixed them. It also catches extra space and other flubs you may make when you're typing.
10. Collect email addresses to build your list
Building a list is crucial if you are using your blog for business. Most website owners use some type of form on their site to collect email addresses from willing participants.
Sending regular emails to your readers helps you connect with them and will send them back to your site to read new posts or to offers you want to promote.
Popups are annoying but are an effective way to add new subscribers. If you use a popup, set it to appear after a visitor has been reading your content for a while rather than immediately after they land.
This gives them a little time to get to know you first. If you use an email service provider like MailChimp or AWeber, they have scripts that will create a pop-up opt-in form or embedded forms for free.
GDPR – The General Data Protection Regulation was implemented in May of 2018. It's a data privacy law that was introduced by the European Union but affects website owners globally. It protects users' privacy when it comes to data collection. I won't try to confuse you with all the details but it's something all website owners need to comply with.
If you're using the latest version of WordPress you can automatically generate a privacy page on your site that's pre-written. However, it's a template and you'll want to tweak it for your business.
You must post a link to your privacy page and ask your visitors for permission to collect data via email opt-in, contact form, and shopping cart information. For more information on how it applies to bloggers, click here.
Some of this can be accomplished using a GDPR plugin that pops up on your footer when someone arrives on your website. A visitor must accept your terms and is invited to view your privacy page before continuing.
Bloggers are also supposed to implement GDPR rules when readers subscribe to their email list. MailChimp has a specific GDPR opt-in form you can use as a link on your site. It has boxes that subscribers can check to receive the information they desire.
My form only has a post updates checkbox. When I switched over to GDPR, I lost a huge chunk of my list because my subscribers had to re-opt-in and I hated that! However, those who did opt back in were much more loyal readers.
Some bloggers never bothered to comply and didn't lose their subscribers. I recommend that you comply from the start because GDPR may be more strongly enforced in the U.S. and you don't want to upset your email apple cart when it is.
If you aren't on my email update list currently, PLEASE click here and SUBSCRIBE. I would LOVE that!
Just FYI, Most of the email opt-in box plugins out there are not compliant with GDPR requirements. Hopefully, they will be soon.
11. Make sure your blog is mobile-friendly.
Many people view websites on their phones or tablets. Google will penalize you in search if your site isn't mobile-friendly. You can do this by using a responsive theme or a mobile plugin if you have an older website. A responsive theme configures itself to the device a visitor is using to view your site and makes it easier to read and function.
Check to see if your blog is mobile-friendly by clicking here.
My site passed but has some errors due to some of the ads I run. You can't always be perfect.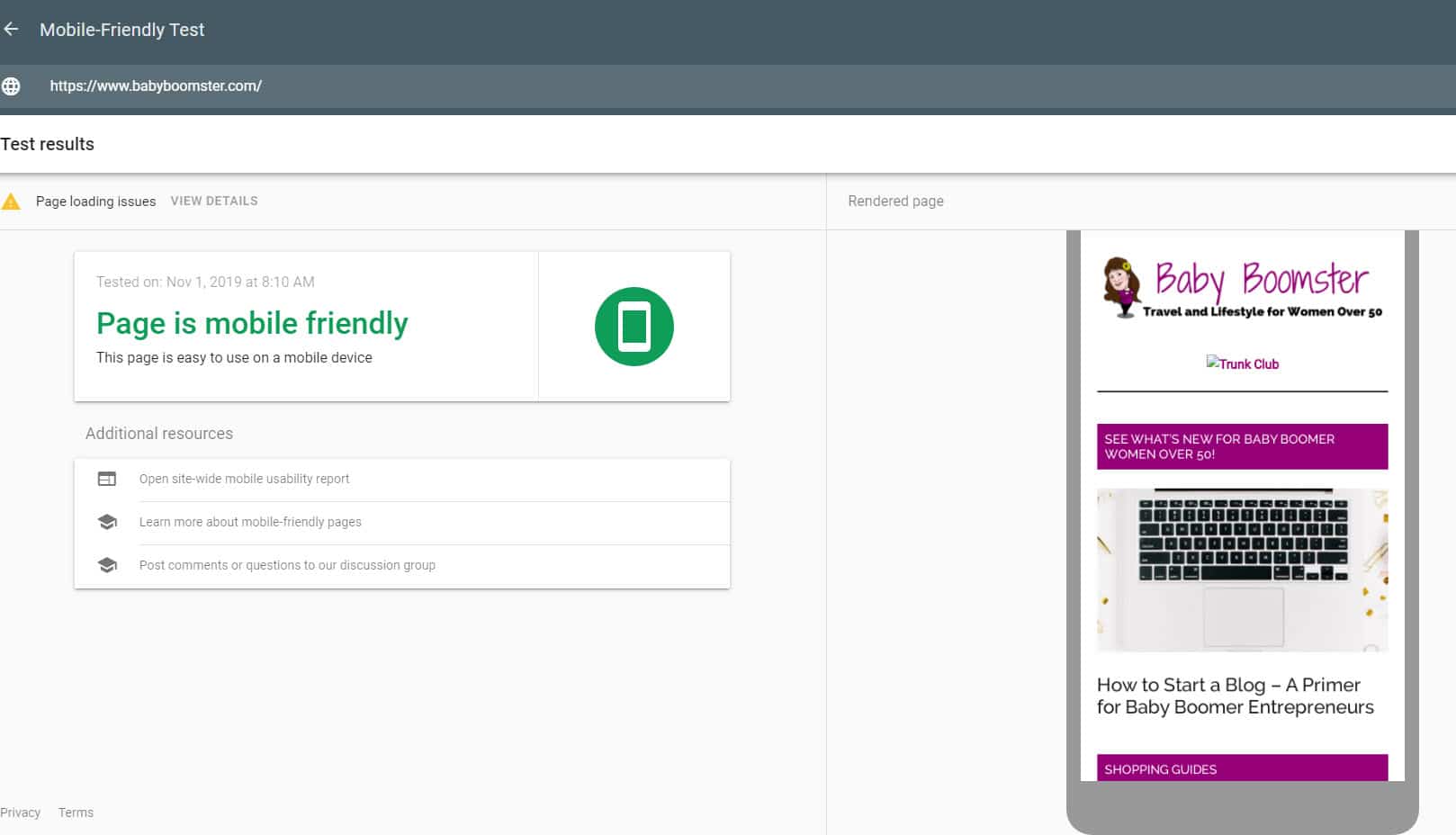 A mobile plugin will change the entire appearance of your site on your phone so make sure to take a look at it to make sure it's working correctly.
This is what BabyBoomster.com looks like on my phone: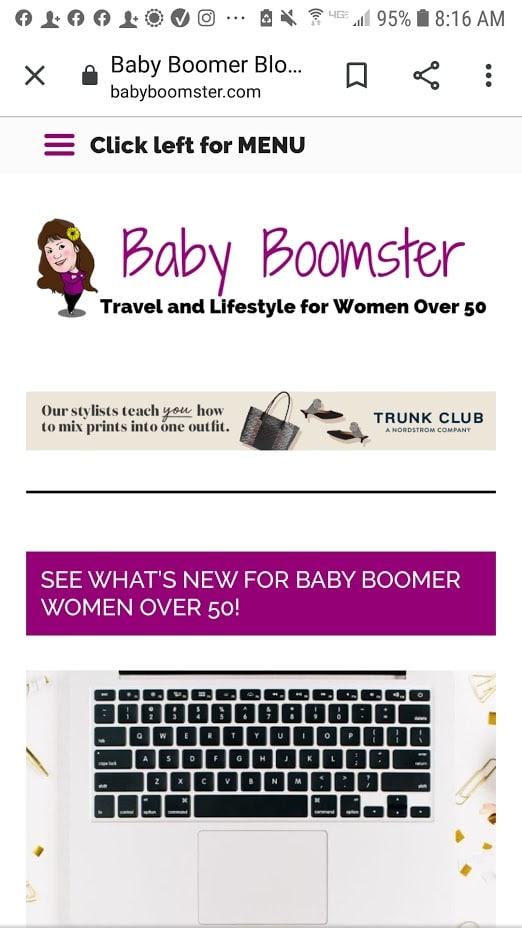 12. Site speed is mucho important
When you upload large files like images, it makes your site slower to load. This is frustrating for readers, especially if they have pokey Internet. Always resize your images first before uploading them to your site.
I use www.picmonkey.com. It's a free photo editing site that's easy to use. Never upload your images directly from your camera because your files will be huge! Rename all your images using target keywords before uploading them to the media center on your site.
Camera image file names are all numbers that do not give Google any useful information for search. When you upload your image to your media center you can fill in the alternative text title, description, and caption. (if appropriate)
I post multiple images on my site, so I use a plugin called Imagify. Another good alternative is WordPress Smush Image Optimizer. (both reduce the file size of images so they load faster) You can also use a paid caching plugin called WP Rocket to speed up my site.
13. Web design doesn't have to be expensive
If you're just starting out as a blogger there's no need to spend an arm and a leg to have a functional and attractive site. And, don't let anyone talk you into custom coding your website from scratch. It isn't necessary and can even be detrimental.
A website designer can easily customize a well-coded WordPress theme by changing colors, adding images, and tweaking fonts at a reasonable cost.
The problem I've encountered with clients who have had their sites custom coded is that they are often "user-unfriendly" and can't be updated especially if the designer goes AWOL.
Some are downright mediocre and I feel bad that the client spent a fortune having it designed.
14. Keep your site updated to avoid hackers and so it will function properly
WordPress and its respective plugins have new versions that come out often as well as bug fixes. This prevents your site from hacks and other problems. You can purchase WordPress managed hosting from Bluehost that includes backup and keeps everything on the server-side updated.
If a web designer tells you that you should never update your site be suspect. It's best to always keep your site updated but make sure you do a backup first either on the server end or by using a backup plugin.
15. Don't be afraid to make money blogging
There are multiple ways to earn income as a blogger and I love that I can run a passive income business even if I'm traveling. Unlike owning a brick-and-mortar company, or promoting a direct sales product, (my previous reinvention) there is very little overhead.
A starter hosting account will cost you about $100 per year unless you upgrade because you have a lot of traffic. You can spend money on web design to add whatever bells and whistles you need, but you can also do a lot of it yourself for free as I did by learning how to do it myself.
There's nothing wrong with making money on your blog and there are multiple ways to do it.
16. How to monetize your blog
Below are just some of the ways bloggers make money on their sites:
Sell a physical product if you have one by writing about it and promoting it. You can add a shopping cart plugin like WooCommerce, a PayPal button, or link your products from your blog to a shopping site like Etsy.
Write sponsored posts – This is when a brand asks you to try out their product or service and contracts you to write a post about it. You must add a disclaimer in your post that you are doing this and that your opinion is your own. Be honest in your reviews so your readers won't lose trust in you.
Make affiliate income – Find products you LOVE, and join their affiliate programs for free. Then, add links or banners to your site. If a visitor clicks on a link and makes a purchase, you will earn a small commission. The best way to make this work is to write reviews with embedded links. I have affiliate accounts on major networks like CJ Affiliate, Rakuten Linkshare, Shareasale, Awin, Impact, Pepperjam, Partnerize, and others. Fashion bloggers often use Shop Style Collective to create widgets and looks they can embed on their blog.
Banner ads are not as effective as text links as people are more suspect to click on them.
If you are an affiliate marketer, you must add a disclaimer that reads something like this: This post contains some affiliate links and I will earn a small commission if you click on them and make a purchase.
You may want to start with an ad network like Google Adsense at first. (You have to apply to it) All you have to do is insert a snippet of code on your site where you want the ad to appear (you can use a plugin to do this) or run auto ads. Ads will be generated based on your reader's searches and preferences.
Once you get more traffic you can upgrade to an ad network like Ezoic that will make you more money than Adsense.
Amazon Associates is also an easy affiliate program to join and you can add links to any products you talk about on your blog. However, they have recently cut their commission rates.
Other ways to create income on your blog:
Sell eBooks or insert links to your published works. (Amazon, Barnes, and Noble, etc.)
Create an online course – Link your site to a CMS learning site to teach others what you know or build one on your site using a plugin. (that's a little more complicated) You can create a course on Udemy, Teachable, Thinkific, or other online teaching sites and link it to your website.
Sell customized products that are printed and shipped by companies like Red Bubble.
Build membership sites using a membership plugin – Readers pay a monthly fee to view exclusive content that only members receive.
Sponsorship Ads – Allow brands or business owners to purchase advertising space or place banner ads on your site.
Podcasts, YouTube channels, IGTV – Sponsors pay to have you create video or audio to promote their products. You can embed these on your website in posts.
Generating additional income, especially passive income, is important especially as you get older unless you have a very healthy nest egg, or were born rich. Why not make some and have fun doing it?
For more blogging resources, click here.
Contact me
Pheww! This post is already way too long, but if you want more information on how to start a blog or have questions about the WordPress platform itself, please feel free to contact me by clicking here.
This post was updated 02/23/2021