Europe sparkles in the winter and Christmas decorations are everywhere. It's a magical time to travel. While I was there I tasted authentic German gingerbread which inspired the recipe you see below. German gingerbread is quite different than the kind we have here in America, so if you can't go there to taste it, you can make it at home.
Enjoy this recipe!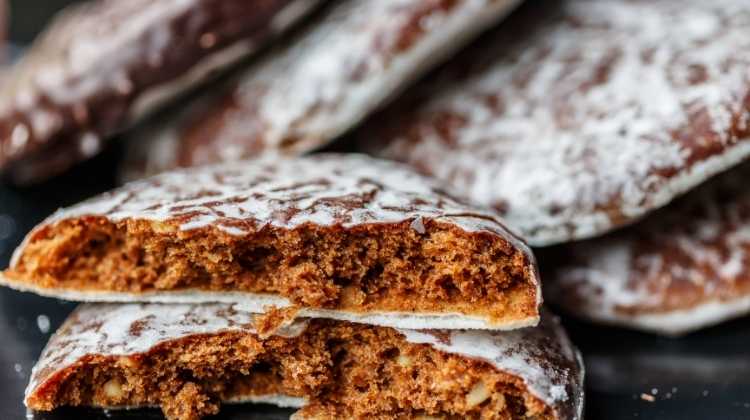 Gingerbread – German Lebkuchen
Traditional German Gingerbread doesn't usually contain ginger or hardly any flour.
Ingredients
3

eggs

½

lb

sugar

1

Tbsp

vanilla sugar

½

lb

hazelnuts lightly toasted and ground

⅛

lb

candied lemon rind

finely chopped

½

lb

candied orange rind

finely chopped

¼

cup

milk

lukewarm

1

Tbsp

flour

1

Tbsp

ground cinnamon

½

tsp

ground cloves

1

lemon rind grated

round wafers approx 2 inches in diameter

almonds peeled and halved

candied lemon rind sliced

2

oz

powdered sugar

sifted

1-2

tsp

hot water

2

Tbsp

Rum
Instructions
In a heat resistant bowl, placed over a pot of boiling water, heat the eggs, sugar, and vanilla sugar until they are very foamy. The mixture should only get lukewarm at most.

Take the bowl off the heat and add the hazelnuts, grated lemon rind, orange rind, milk, flour, cinnamon, cloves, and grated lemon rind, mixing them carefully.

Spread the mixture on the round wafers, keeping it approx ½ inch thick in the middle and sloping toward the sides.

Decorate with the almond halves and sliced candied lemon rind.

Let the rounds dry slightly before baking

Bake them slowly (20 minutes) at 270 degrees F (You should be able to press the underside in slightly, or they may come out too dry)

Mix the powdered sugar with the hot water and Rum

Glaze the tops of the rounds with the mixture while they are still hot.

Let the rounds cool and store them in a metal box.
The festive European Christmas Markets
I can't help but reminisce about a river cruise we took in November and December with AmaWaterways. Starting in Budapest, we floated up the Danube, disembarking to visit glittering Christmas Markets in Germany and Austria and ending in the gorgeous city of Prague. Stops included Melk, Vienna, Passau, Linz, Regensburg, Nürnberg, and a side trip to Salzburg.
Vendors with German Gingerbread, sausages, dark chocolate, festive decorations, and yummy treats were everywhere set against old-world buildings and cathedrals.
Lebkuchen
German Gingerbread, called Lebkuchen, is a whole different experience from American gingerbread. For one thing, it doesn't contain ginger. Big rounds of sugary goodness are decorated with nuts and candied fruit. They also use rum in the glaze although you can also use a liquor called Arrack, which is from the Middle East and Sri Lanka.
Lebkuchen originated in the towns of Franconia, Nürnberg, and Ulm in Germany during the 13th century and was invented by Monks. The emperor at the time, Friedrich III, invited almost four thousand children to a special event and presented Lebkuchen to them decorated with his portrait. Some German Gingerbread is sweet and some are spiced with aniseed, coriander, cloves, cardamom, or ginger. The ingredients are placed on large round wafers called Oblate.
Nowadays, in Nürnberg, bakeries keep their recipes a secret. Lebkuchen German Gingerbread has a protected designation of origin and must be produced inside the city to be official. A league was formed in 1643 called the "League of Lebkuchen-Bakers that created strict guidelines to preserve the tradition.
Check current prices on hotels in Bavaria here.
On our trip, we saw Lebkuchen hanging in Christmas market stalls mostly in Germany but also in Austria. It's such a wonderful experience to wander through the rows of decorated brown huts tasting savory sausages and sipping Glühwein. (hot mulled wine)
Click on the images below to see them full-size in a gallery
See the top Christmas Markets in Europe here.
Make sure to plan a trip to visit the Christmas Markets during the holidays and try authentic German Gingerbread. You will never regret it.
Have you traveled to Europe during the holidays? Please leave a comment below.