I interviewed author Travis Luther, author of the new book The Fun Side of the Wall: Baby Boomer Retirement in Mexico. It's not a how-to book about moving to Mexico and becoming an expat but rather a sociological study of Baby Boomer retirement in the United States and what has been driving them to leave the U.S. to live there. It addresses ageism, consumerism, and finances.
Travis Luther is also a podcast host and entrepreneur who lives in Denver, Colorado.
The idea for the book started when Travis was working on his master's thesis project for Sociology in 2008. He was interested in why people were leaving the United States and where were they going. That got paired down to a group of expats in Lake Chapala, Mexico. He surveyed and interviewed them on what they liked about Mexico and what motivated them to move from the U.S.
We're all aware that people are fleeing violence-stricken poor countries to come to the United States but what he found was that most of the expats in Mexico were affluent and highly educated.
Over the last 2 years, Travis has expanded his research and surveys and has made numerous trips to areas in Mexico popular with expats. In December 2019, he published his finished work that consisted of over 500 surveys of Baby Boomer expats in 8 expat enclaves.
I mentioned to him that I was in Los Cabos a couple of years ago, and seriously thought about moving to Mexico because it was such a pleasant environment.
There are different geographies in Mexico that attract expats. The more famous the location, like Los Cabos or Puerto Vallarta, the less affordable it is to move there. Often, the cost of living in those areas is comparable to living in the United States.
The more inland you go or to less populated or lesser-known areas, the more affordable it is.
How does it affect our U.S. retirement benefits?
You don't have to worry about losing your Social Security benefits if you become an expat in Mexico because almost all payments are made by direct deposit. The tricky part is that Medicare and Medicaid will not cover treatment outside of the country. (not just in Mexico)
What most expats do is come back to the U.S. at 90-day or 6-month intervals to pick up their prescriptions and then go back home. The cost of healthcare for most procedures in Mexico is less than some deductibles in the U.S. For those who don't have a long-term chronic illness, it's not as much of a concern.
Safety in Mexico
Although Mexico can be dangerous because of drug trafficking, it hasn't affected the majority of expats so far. Those who have been murdered have been almost exclusively Mexicans who were involved in the drug trade, police officers, or government officials. Even though we may occasionally hear about the murder of a U.S. citizen in the news, it's extremely rare. You would be more likely to be shot in a Chicago street than in Mexico.
Most tourist or expat deaths are the result of car or motorcycle accidents. From what I've experienced in Mexico, I can see why. I've been in some Mexican taxis that were like Mr. Toad's wild ride.
Of all the people Travis interviewed, he only found a few who were concerned about their own safety living there. Over half felt safer in Mexico than the United States and the other half felt it was about the same.
Ageism in the U.S. is real
Before Travis began work on his thesis, he assumed people who moved to Mexico had lower incomes and were seeking a more affordable lifestyle. What he found was that most Baby Boomer expats were upper middle class and highly educated. One reason they left the U.S. was that ageism had pushed them out.
American television programming, magazines, and other media focus more on youth culture. Another reason for leaving was that they believe retirement in the U.S. has become commodified. For example, you reach a certain age and are expected to end up in an over-50 community or a Soviet-style block room in an assisted living or group care facility where your whole day is scheduled for you.
The expats in Mexico prefer living where they have and are a part of an authentic community. Most work hard to assimilate themselves into the culture of the area rather than just be isolated in a pocket that keeps to themselves. They are respectful of the communities they're living in because they don't want to anger residents and get pushed out.
They are learning Spanish, making themselves familiar with the holiday calendar, and participate in local events and festivals. Some have started businesses with Mexican community members and others have married them.
Being a single woman living in Mexico
Travis wrote an article on his own blog about the singles scene in Mexico. What he found surprising was how many single women move there. Women were far more likely to make the move by themselves than a single man. Most male expats moved to Mexico with their wives. Some women went as far as to leave their husbands because they refused to move to Mexico.
San Miguel de Allende, in particular, is a hotspot for independent women who have left the U.S. to make a new life for themselves in their 50s and 60s.
Popular expat destinations
Beach cities like Los Cabos, Puerto Vallarta and Cancun are more expensive to live in but are also neighborhood specific. For instance, one area would be more like Beverly Hills while another would be like living in the San Fernando Valley.
San Miguel de Allende is more inland and less expensive but you may be in one area where you can experience an amazing Day of the Dead Festival and spend about $30 per person for dinner and then go a couple blocks off the main street where you can have a bottle of wine and a beautiful meal for 2 hours that might cost $20 per person.
12 – 15 thousand year-round expats live in San Miguel de Allende and there are always plenty of American and Canadian tourists so English is spoken by most merchants and service providers.
San Miguel de Allende comes in second in popularity for expats to Lake Chapala, which is 30 miles south of Guadalajara. There are 25-30 thousand U.S. year-round expats living within its boundaries. It's an easy area to get around and is reminiscent of Santa Fe with plenty of Baby Boomer hippie types and artists.
Puerto Vallarta and Tulúm in the Yucatan Peninsula are other choice locations for Baby Boomer expats. Playa Del Carmen, south of Cancun is also popular. Mérida, which is on the point of the Yucatan Peninsula is a fast-growing, and affordable place to live in, with a population in total of 200,000 and only 45 minutes from the beach. It has more of a Spanish Colonial, cobblestone-type vibe to it.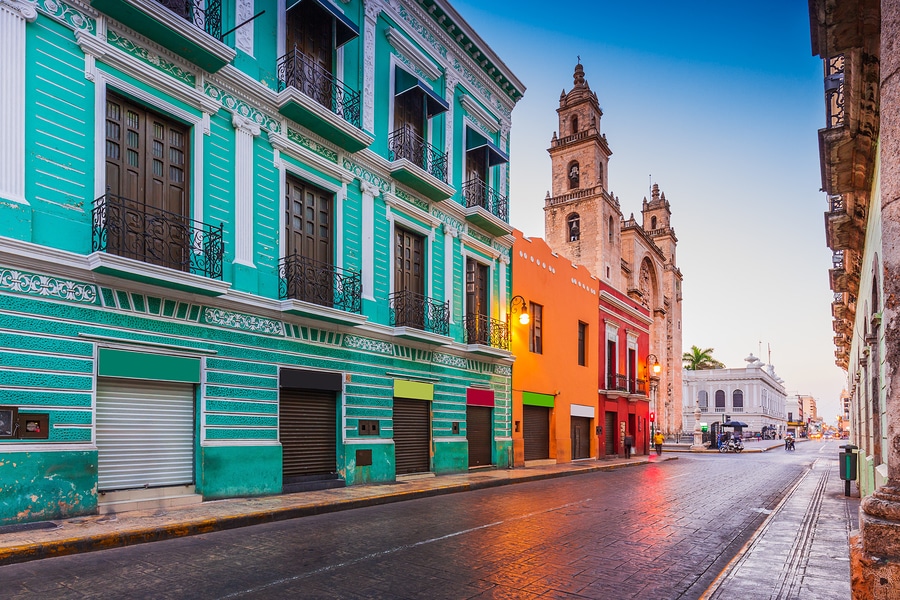 A couple can live high on the hog in Mérida in a rented house with housekeeper and a pool, and everything they need for about $1500 – $1800 per month.
The Yucatan Peninsula is probably the fastest-growing location for Americans living in Mexico and the least expensive. San Miguel de Allende and Lake Chapala are the most densely populated with expats, while Los Cabos, Puerto Vallarta, and Sayulita provide a more western-style of living.
To purchase Travis Luther's book click on the button below.
Have you given any thought to living outside of your home country as an expat? Are you doing it now? Please leave a comment below and tell us about it.