The Camerimage Film Festival takes place in Bydgoszcz, Poland and we were invited to spend 4 fun-filled days there as guests of the festival. This charming mill town is located in the Northern part of the country on the Brda River.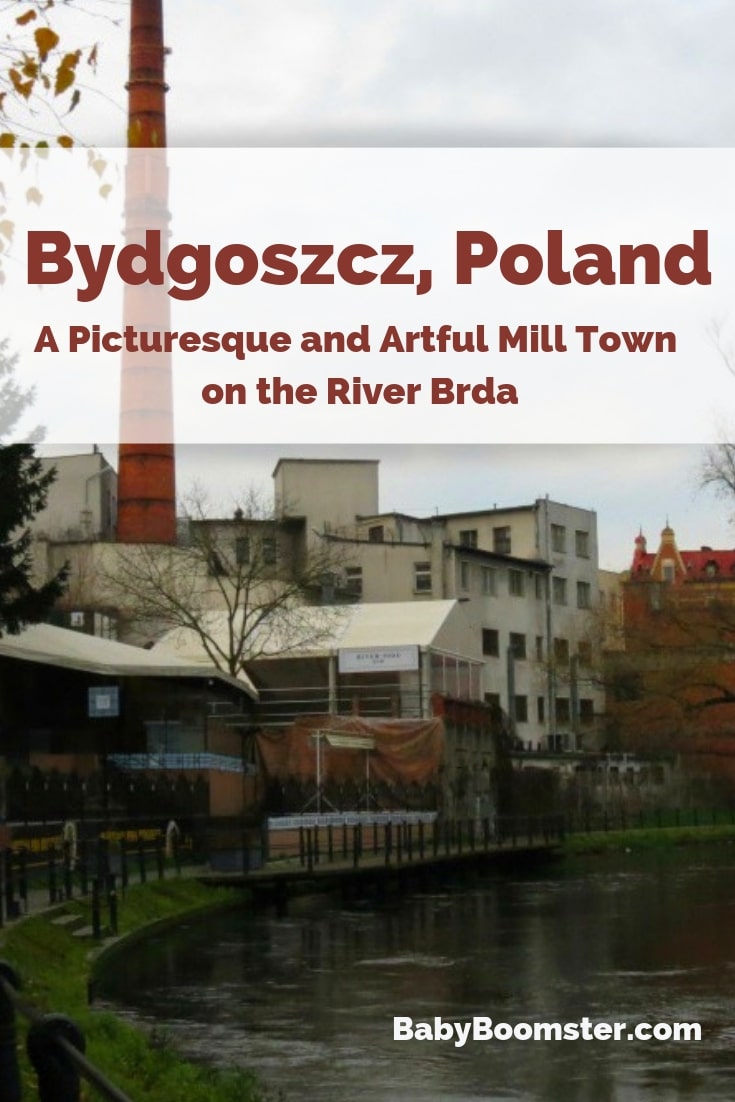 We arrived after a 10-hour flight from Los Angeles to Frankfurt, a 1 ½ hour flight from Frankfurt to Warsaw, and a 4-hour taxi drive from Warsaw. In retrospect, we should have landed in Gdańsk because it was much closer, but our itinerary was booked through the film festival.
Arriving at our hotel
We stayed at Hotel Sloneczny Mlyn, which is a comfortable and conveniently located hotel near the Opera House where the festival was taking place. As soon as we checked in, we were whisked away by our designated handler, Basia (Barbara), who escorted us to the festival and then to a sumptuous party with a feast of Polish cuisine.
The city's modern Opera House is next to the River Brda and is a state-of-the-art facility.
Buffet Polish style
Each morning, we went downstairs to the dining room to graze at the hotel's breakfast buffet. In true Polish fashion it featured specialties like Bigos, (hunter's stew) pierogi (dumplings with various fillings) fish, cheeses, button mushrooms, cucumbers, tomatoes, pastries, and delicious coffee. My kind of breakfast!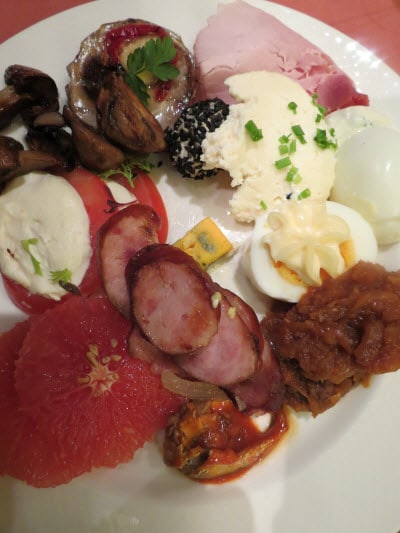 A quick tour of Bydgoszcz
We had some time to spare so Basia took us on a tour of the old section of Bydgoszcz. (Pronounced Bid – Ghost with a ch on the end) It took me a while to spit that out correctly. There was a war memorial in the Old Market Square to commemorate residents killed during WWII.
Saint Andrew Bobola's Church in Bydgoszcz was built in 1903 in the Gothic Revival style. I was immediately mesmerized by the mystical insignia at the portal.
This is the colorful ceiling and pillars of the Bydgoszcz Gothic Cathedral Church that was built in 1466 on the site of a wooden church burned down by Teutonic Knights.
More photos of our tour of Old Town
Click on the images below to view the full-size photo gallery.
See more photos of our trip to Poland here.
Lunch at a centuries-old Polish restaurant
Our tour worked up an appetite so we stopped for lunch at a rustic old restaurant called Karczma Młyńska (Mill Tavern) housed in a 300-year-old building. It's located on the Brda River on Mill Island and is decorated with antiques from Germany, Austria, and Italy.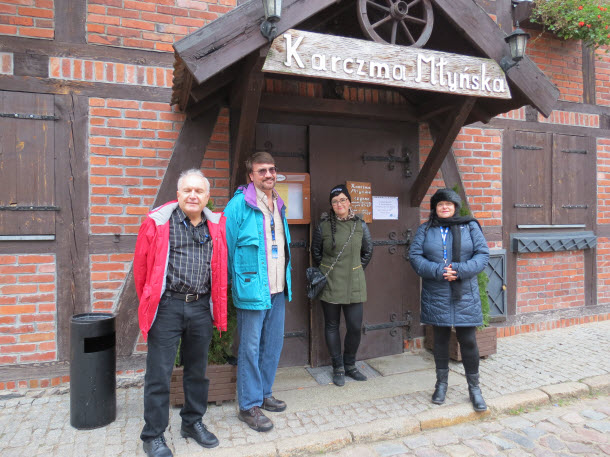 The first item they served was a small pot of pork fat that you spread on freshly baked bread. At first, the idea of it sounded horrible, not to mention the fact that it isn't very healthy, but it was tasty. (Click on smaller images to view full size)
I also had a bowl of Zurek soup made with soured rye flour and meat (usually boiled pork sausage or pieces of smoked sausage, bacon, or ham). and a shot of cranberry vodka. It was a perfect warm-up, especially for a southern California girl who'd just left 90-degree heat.
My companions dined on stuffed pierogi with ham and Barszcz. (beetroot soup)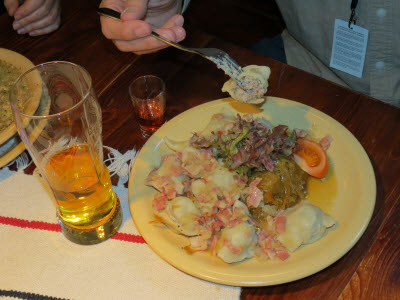 Meat is a big thing in Poland
Most of the restaurants in Poland feature Kielbasa or other types of sausages. In small Polish butcher shops, you'll find fresh handmade sausages that are free from all the fillers and junk that are in American made sausage. Goose, duck, pheasant, and rabbit are also popular menu items in Poland.
One dish that I have no desire to try is duck's blood soup. Sorry, even though I'm a raving foodie, I just can't go there.
A brewery by the river
On one of the days the guys were off doing their presentations, Basia took me sightseeing along the river Brda and we ate lunch at a local brewery.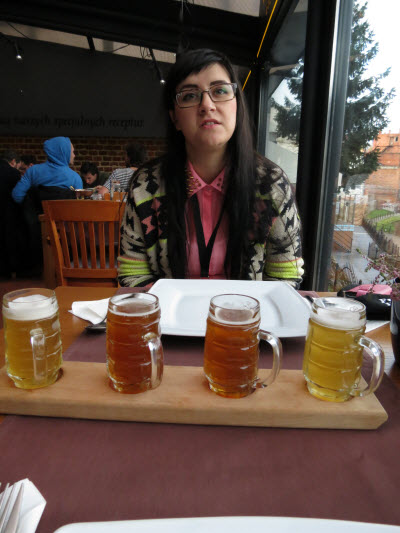 The next day, the guys joined us there. Did you say beer?
More from our time there
When you don't speak the language
Many older people in Poland don't speak English. However, students in school are now required to learn English so if you need directions ask someone under 30. Barbara was able to help us pick out what we wanted to eat on "Polish only" menus and decipher train schedules. I wish we could have taken her with us when we left for Warsaw and Krakow.
Changing times, more conscious nutrition
I asked Barbara if heart disease was a big problem in Poland because of their meat-heavy diet. She didn't think so but I later found out that heart, respiratory disease, and cirrhosis of the liver, due to drinking lots of vodka are common problems for Poles. Their diet may not be the healthiest in the world, but their food is still delicious to eat.
Cabbage, wild mushrooms, and beets are cancer fighters after all. I love stuffed cabbage, cabbage soup, Barszcz, and anything with sauerkraut! The Poles also love to eat wild berries and other fruits when they're available.
Barbara said there are vegetarian and vegan restaurants popping up in Poland for those who are more health-conscious, but because the weather is harsh, and it gets dark as early as 4 pm in the winter, that probably explains why they love eating so much meat. It keeps them warm on long winter nights!
Bydgoszcz was charming and visiting a smaller town in Poland is a wonderful way to learn more about the people and their culture. I hope we get invited back again.
Check here to see the best things to do in the area.
What's your favorite Polish dish? Please leave a comment and let us know.