If you're visiting the country of Poland, you'll no doubt find a restaurant that serves Polish sauerkraut soup. I'm a big fan of sauerkraut so that's why I love it and it's incredibly good for your gut. If it isn't your thing I totally understand, but if it is, you'll love the recipe below.
Enjoy this recipe!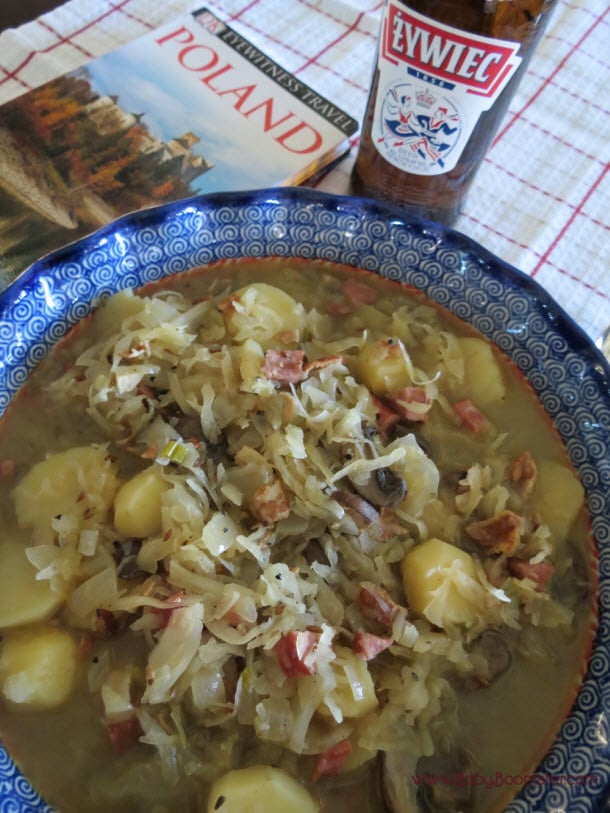 Polish Sauerkraut Soup
Polish sauerkraut soup can be made with bits of smoked meat and bacon or strictly vegetarian. It's your preference.
Ingredients
Broth
2

lb

small rib pieces of pork

fat trimmed

Water

2

carrots

1

onion with peel

2

ribs celery

Sprig of parsley

Salt and Pepper to taste
Soup
1

onion chopped

2

cups

of sliced brown mushrooms

dried imported wild mushrooms are even better – soak 20-30 mins and then and boil them in a small amount of water before adding them to the soup

4

cloves

of garlic minced

2

lbs

of fermented sauerkraut

German sauerkraut is the best drained.

2

cups

of boiled and sliced potatoes

Since they will simmer in the soup they don't need to be completely done

6

strips of bacon

optional or substitute 1-2 Tbsp of olive oil

1/2

of a 2 foot smoked Kielbasa sausage cubed

optional

Black pepper to taste

1

tsp

of ground allspice
Instructions
Broth
Brown the small rib pieces of pork.

Add the rib pieces to a large saucepan and cover with water.

Add 2 carrots, 1 unpeeled onion, 2 stalks of celery, parsley, salt and pepper to taste

Bring to a boil and simmer for several hours.

After the broth has cooled put it through a sieve and set aside.

(if you don't want to make homemade broth, use 48 oz store-bought meat or vegetable broth.
Soup
Fry the bacon strips in a skillet until the bacon is crispy. Remove the bacon and set them on paper towels. Leave the drippings in the skillet. (If you prefer not to use bacon, simply heat the olive oil in the skillet instead)

When the bacon is cool chop it into bacon bits.

Saute the onions, mushrooms, and sauerkraut until the onions are translucent.

Add the garlic and saute for about 1 minute

Take the onions, mushrooms, sauerkraut and garlic off the heat and set the mixture aside.

Add the broth, allspice, and pepper

Add the boiled and sliced potatoes

Add the Kielbasa and bacon bits (or leave out if you prefer vegetarian)

Bring the mixture to a simmer and let it cook on low for about 30 minutes or more.

Lastly, add the onions, mushrooms, sauerkraut, and garlic back into the pot and cook until heated.
Notes
I didn't use salt because the sauerkraut is fairly salty. Taste before you salt.
Also, I originally added a sprinking of caraway seeds but was told that caraway was more Czech than Polish. However, according to a reader, caraway helps cut the gas. Add it if you like. I personally love it.
The inspiration for this recipe started with an organ concert in Kraków, Poland
While we were in Poland we spent two nights in Kraków.  We were looking for things to do so I went on the Internet and found a free organ concert that was taking place that evening at the Kraków Academy of Music. The Kraków Academy of Music was founded in 1888 and is located just outside the old medieval city gates and within walking distance of our hotel.
Krakow is a hauntingly beautiful and huge medieval city with a perfectly intact Old Town Square that is one of the largest in all of Europe. It survived WWII although it was on the brink of being blown up. If you ever get a chance to visit, you will be awestruck at its beauty. Poland is also an affordable city to visit because its currency is not on the Euro.
Our pre-concert snack
We arrived too early for the concert so we decided to walk and find someplace to get a snack. We found a pub nearby called "The Dog in the Fog." It looked cozy and rustic and because it was winter we thought it would be a nice place to warm up. Who could resist a pub named for a dog?
The pub was popular with students who attended several of the schools near the old town square. We sat down to have a glass of beer and I ordered a bowl of authentic Polish Sauerkraut soup which turned out to be a tantalizing concoction of sauerkraut, potatoes, and sausage. I vowed to find a way to replicate it and think I did a pretty good job in the recipe above.
Music is a universal language
After we ate, we headed back to the Academy of Music to listen to the concert. No one spoke English so we couldn't understand a word they were saying, but that didn't matter because the talented students of the Academy performed beautifully. It was a delightful way to spend the evening and take part in the local culture.
Old Kraków is not to be missed if you're in Poland
Old Town Kraków is a UNESCO World Heritage Site dating back to the 7th century. Most of Poland's prestigious artists and academics got their start there and it's where archbishop Karol Wojtyła was elevated to the position of Pope of the Catholic Church. The oldest school in Poland, the Jagiellonian University, is located in Kraków and was founded in 1364 by Casimir the Great.
More photos from Krakow, Poland
Click on images to view full-size.
Check here for the best things to do in Krakow.
This post was originally posted on 1/14 and was updated on 9/2021. Have you ever tried Polish sauerkraut soup? Please leave a comment below.