My daughter had credit card points saved up and suggested we both go to Miraval Resort and Spa to get away from all the noise that's been stressing us out this past year. Of course, I said yes. Who wouldn't? Miraval is a luxury wellness getaway 45 minutes from Tucson airport. It was recently acquired by Hyatt Hotels.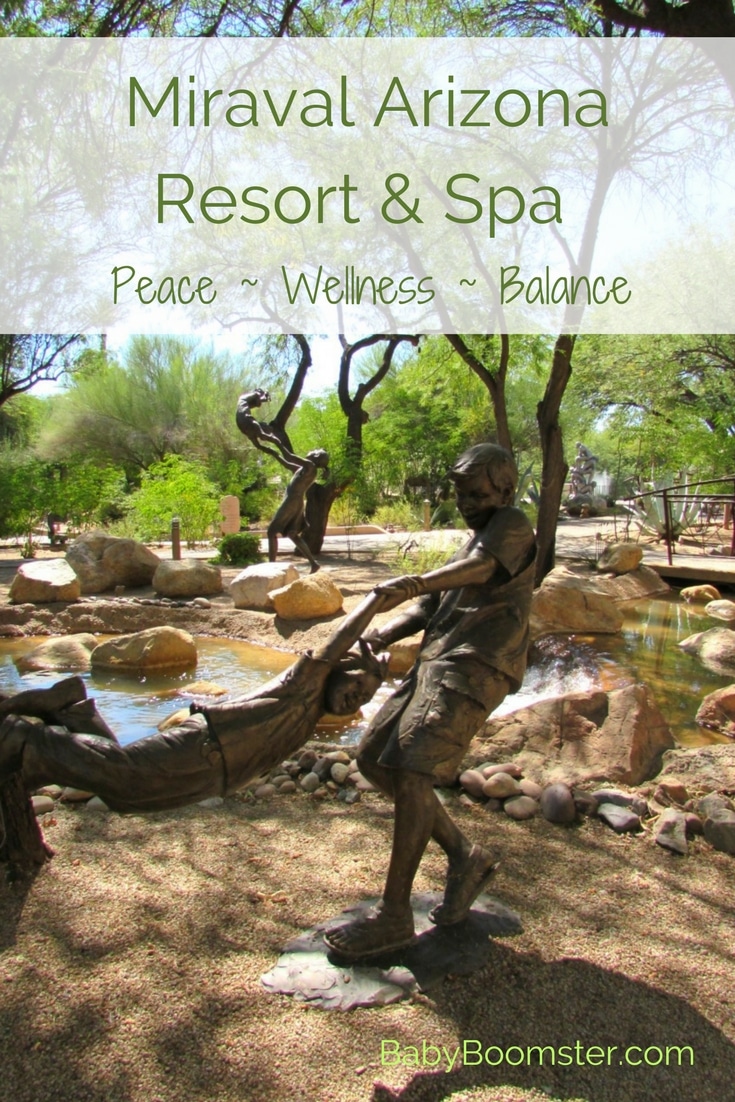 Arrival at the resort
We flew in from LAX in the evening and stayed at the Hyatt Place Hotel next to the airport. The next morning, Miraval sent a shuttle bus to pick us up. Our driver handed us program guides with a card to write down our intention for our stay there. Relaxing new age music played on CD as we drove through Tucson and on to the resort.
As soon as we arrived, we were each given a Miraval canvas tote bag along with a reusable water bottle. A guide took us on a tour to get our bearings and led us to our room where our bags were waiting at our bedside.
Miraval policies
There's no tipping allowed at Miraval and all our food, (except for alcohol) and a wide range of activities are included in the price. Spa services and certain classes can be scheduled ahead of time at an additional cost. Aside from an amazing 50-minute relaxation massage and a fun "Getting Saucy" cooking class, we spent our "too short" two days, taking advantage of included classes and lectures.
Cell phone and electronic media usage are limited to an area at the Fountain Courtyard, parking lot, and in private rooms and patios to ensure the environment's tranquility. It's perfectly fine to use your cell phone to take pictures of the scenery but they ask that you not use them to take lecture notes.
Pads and pens are available instead. A sleeping bag for your phone is provided in your room to encourage you to be present at the moment and be one with the natural surroundings.
Our room
Check current prices for Miraval Resort and Spa here
Our lovely room had a magnificent view of the Sonoran desert and nearby Santa Catalina mountains. It also had an outdoor shower.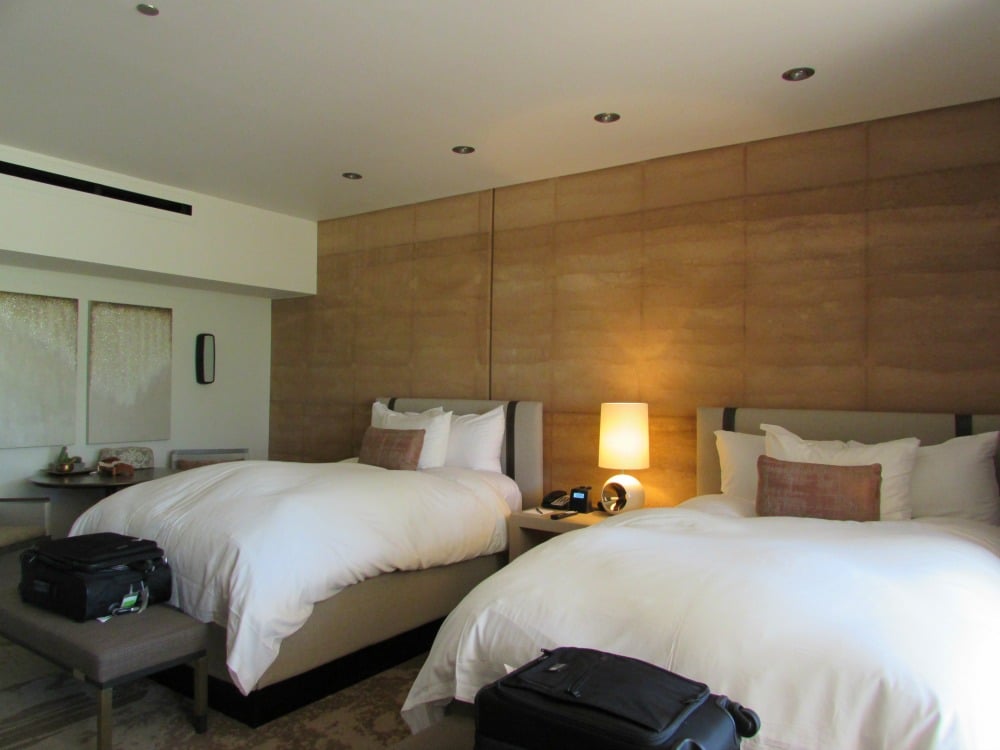 The food
Soon after settling in, we walked to lunch at the resort's Cactus Flower Restaurant where we enjoyed a buffet of grown-on-site organic vegetables, fruit, and Prickly Pear cactus tea. Specials of the day include wild-caught fish or free-range poultry dishes.
There is plenty to choose from for vegetarians and vegans, but it isn't the type of spa that limits what you eat or drink. The restaurant and Brave Bill Lounge offers an extensive list of wine and a full bar. After all, you're there to relax, be in the moment, find balance and unplug.
Our activities
My daughter was on a mission to get me in shape even though I power walk for an hour every day. We both had a 50-minute relaxing massage the afternoon after we arrived and afterward I took a slow flow yoga class. The next day, we woke up early to take a 2-hour guided hike in the Sonoran desert next to the property.
It was a beautiful cool morning and the scenery was gorgeous. My power walking paid off because I kept up with ease even though we walked at a quick pace on the desert terrain. I was proud to say I only got stuck with a cactus once. LOL
Click on images to view the images full-size in a gallery.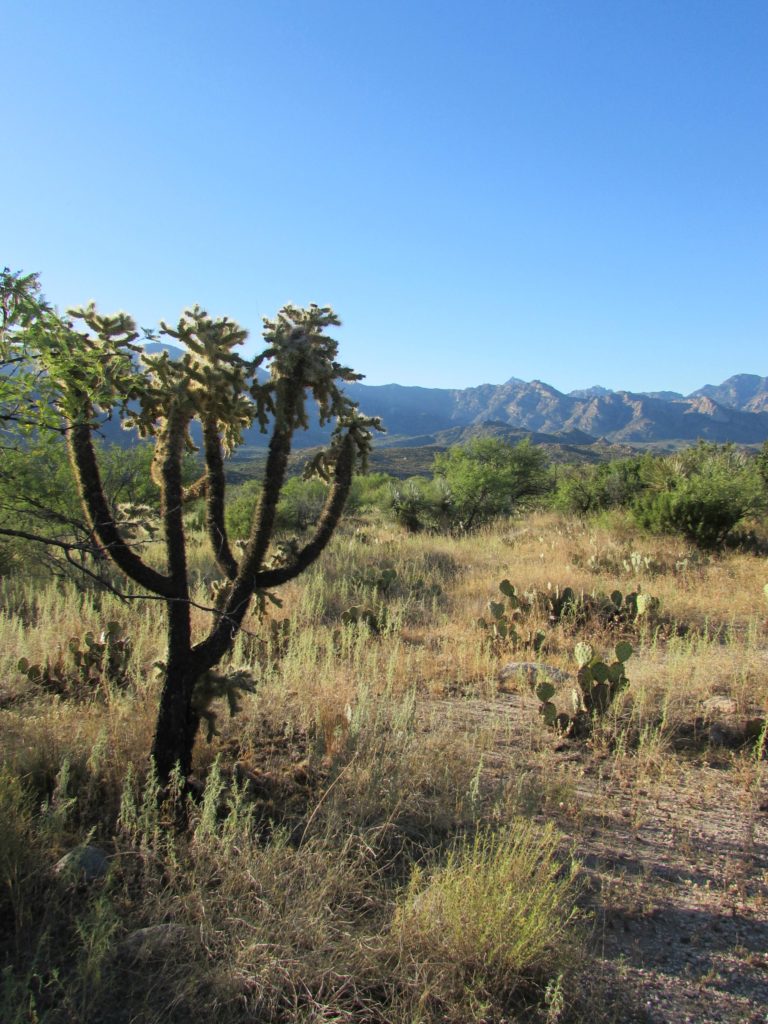 My daughter did the aerial tightrope on the last day we were there. I was at stretch class so I wouldn't freak out watching her. She loved it!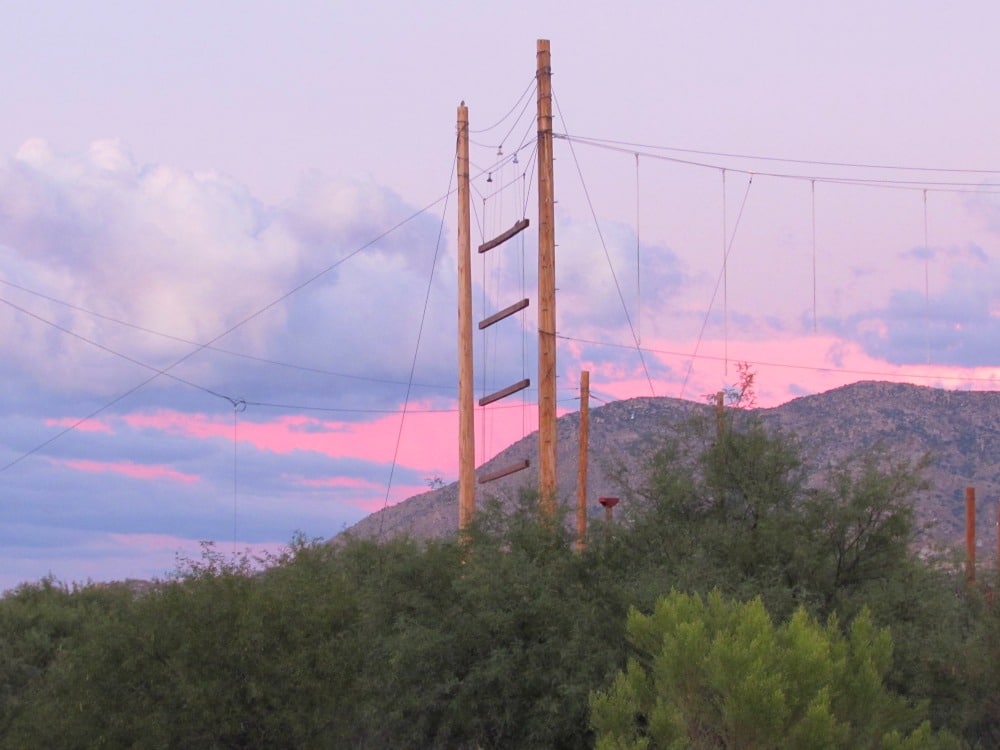 After my first class, I did an hour of dance fusion and then a PiYo class. PiYo is a core and muscle-strengthening class that combines Pilates and yoga. It's low-impact but intense. Three workouts in one day were challenging but I enjoyed every minute of it.
Treatments
Miraval offers amazing spa treatments that I would love to take advantage of if I get the chance to come back again. One is called Naga, which is a Thai-inspired massage with silk wraps to help stretch out your body. I'm a huge fan of Thai massage.
They also offer Equine Yoga, Floating Meditation, spa services, culinary classes, wellness lectures, photography strolls, various workouts, and much more. The program guide was almost overwhelming to read.
You have to be careful not to do too much so you have time to relax and be present. I squeezed in a Blood Orange Pedicure because my feet needed it – bad – and learned that everything I had been doing was wrong. Hmm, sounds like a future blog post!
Getting Saucy
One of the highlights of our stay was our "Getting Saucy" cooking class. Chef Gabe demonstrated how to make salsa using garden-grown vegetables and peppers. It also included a wine-tasting.
Several of the participants, including my daughter, helped cut, grill, and crush the salsa. After it was done, Chef Gabe sautéed sweet scallops and topped it with the salsa. Yum!
I hated to leave
With so much insanity going on in the world lately, a trip to Miraval is at the top of my list of recommended destinations for women over 50 (and any age) to escape and de-stress.
It's where you can reconnect with your inner self, center your being, and renew your body. Men can come too, although I left mine at home with the dogs.
Read also: How to Express Gratitude to Lift Your Spirit and Improve Your Life
I did come across this bad boy on the path on my way to a class. Don't freak out, though. Security relocated him immediately.
That's life in the desert!
Do you love spa retreats? Which one is your favorite? Please leave a comment below.