During the pandemic, I was invited to attend a virtual tour of Tempe Arizona put on by the Tempe Tourism Office. And with the emphasis being put on traveling local post-pandemic this was perfect because it's only about 6 hours away from where I live in Los Angeles.
A convenient desert base camp
Tempe is only about 5 minutes from the Phoenix Sky Harbor International Airport and is the home of Arizona State University. It borders Phoenix, Scottsdale, and Mesa and sits on the gorgeous Sonoran desert.
During normal times, this college town hosts sporting events, festivals, and has amazing food. But for now, there are fun and relaxing things to do in wide-open spaces like hiking, kayaking, and golfing.
I've been to Tempe several times because my parents and one of my brothers lived there 25 years ago. It was a nice place to visit then but is now a much more appealing destination and is a convenient place to stay in the Phoenix Metropolitan Area.
You may want to consider it as a base camp for day trips to Sedona, the Apache Trail, and other places of interest.
Taking a virtual tour of Tempe on Zoom is not the same as being there but our hostesses made sure to make us feel welcome and give us the best experience possible. They even shipped us a box of beer to taste from Four Peaks Brewing Co. as well as other cool items from participating vendors on the tour.
Let's start this party off with the beer!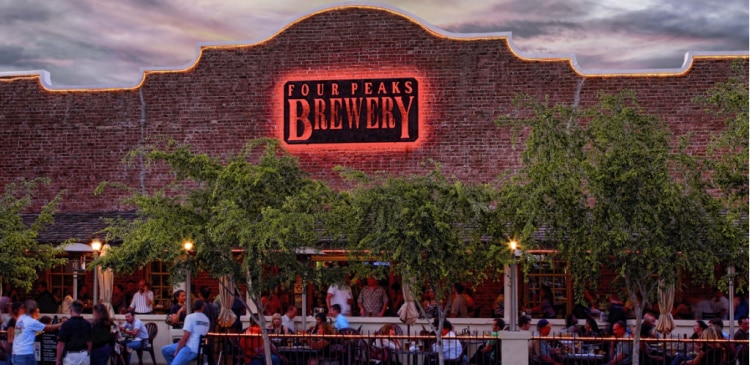 You can't go to Tempe in the summer without a frosty glass of beer in hand, right? The idea was to taste each craft brew from our box as we toured the brewery on Zoom. I didn't want to open each selection and waste what I couldn't drink since I'm all by myself, so I'll chug it gradually.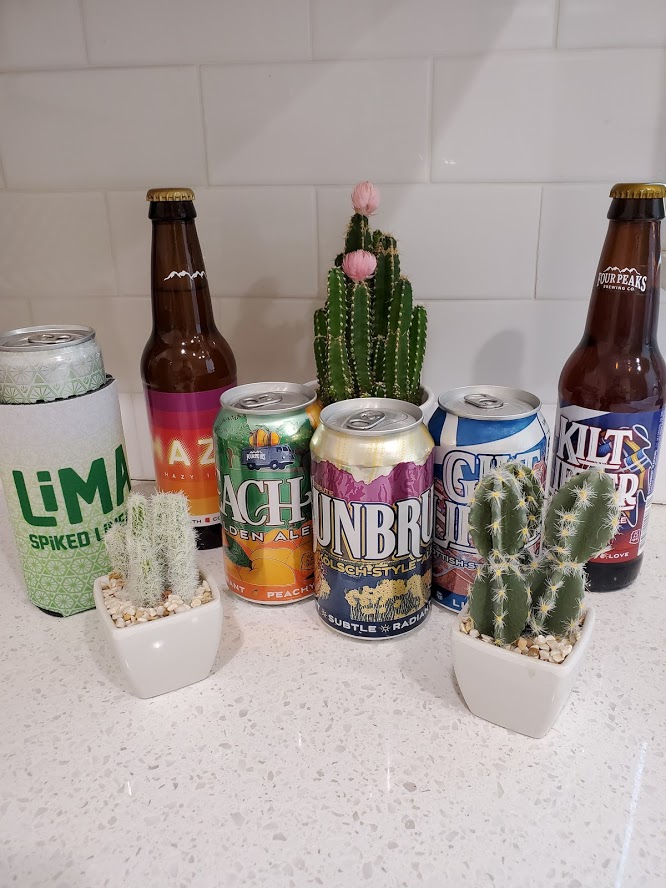 The mission-revival-style building where Four Peaks Brewing Co. is located was built in 1892 to house the F.A. Hough Ice Factory. Later, the Borden Milk Company took it over to produce dairy products and it became known as The Creamery. It has also been used by the Tempe-Mesa Produce Company and as a recording studio for big-name talent like Stevie Nicks.
You can tour the brewery to learn more about the building and how their beer is made.
Many of their IPAs are styled after popular beers from around the world. What I found fascinating was that they add just the right minerals to replicate the water in that region.
I love amber and reddish ale so I went straight for the Kilt Lifter Scottish-style Amber Ale. Don't you just love that name? It was refreshing and tasty.
Tempe art brightens up the streets with color and creativity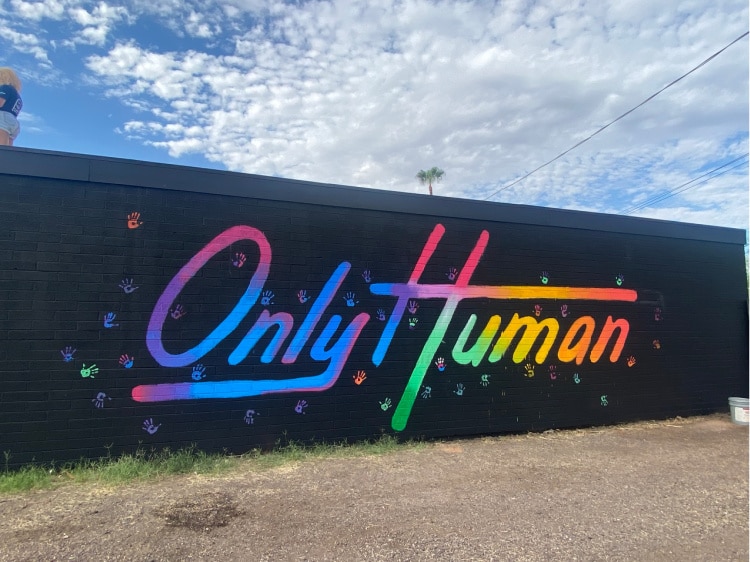 The next stop on our tour was a visit to the studio of Jayarr Steiner, a local large-scale artist He talked about the thriving art community in Tempe and showed us some of his latest projects.
I don't remember Tempe so ablaze in colorful murals and Jayarr's work is prominently featured on the streets and in galleries. You can see his whimsical and positive messaged art on murals, wall paintings, stickers, tee-shirts, and even city buses.
Jayarr was working as a screen printer and then decided to start his own yoga studio. However, he soon realized that creating art was what he was put on Earth to do.
One of his most popular designs features the phrase "You are amazing!" .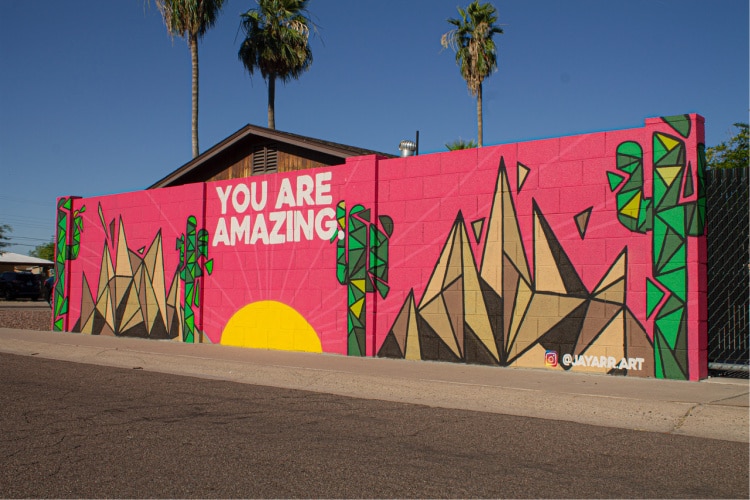 It's obvious by his enthusiasm that he loves what he does and has boundless energy. I asked what he considered his style to be and he replied, "Simple and childlike. It's there for people to take Instagram photos."
Recently, he started teaching art to kids at Alice Cooper's Solid Rock Teen Center for Foster Children and Vision Gallery.
Take a look at some of Tempe's murals in the video below.
If you're in town, stay at Canopy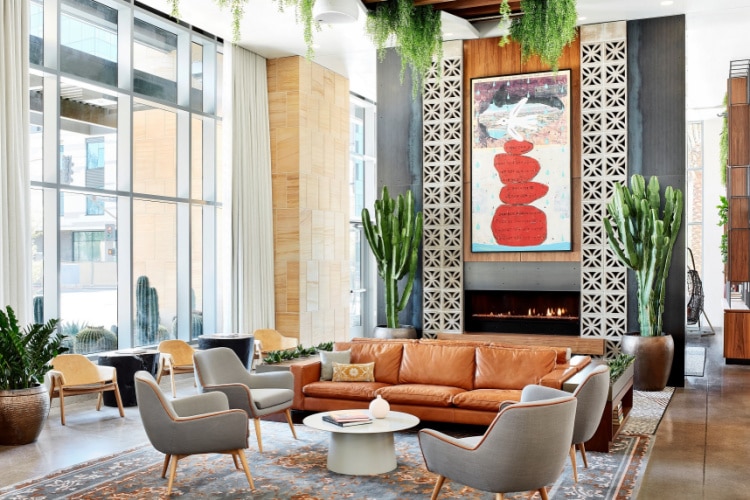 Canopy is a Hilton Hotel Lifestyle brand. Canopy by Hilton Tempe Downtown is an intimate 198-room boutique hotel located next to the University. The décor is an eclectic mix of contemporary style.
If you are staying at the hotel for business, you can take advantage of a variety of meeting spaces with incredible views.
Take in spectacular desert sunsets on the 14th floor and enjoy artisan cocktails and appetizers poolside.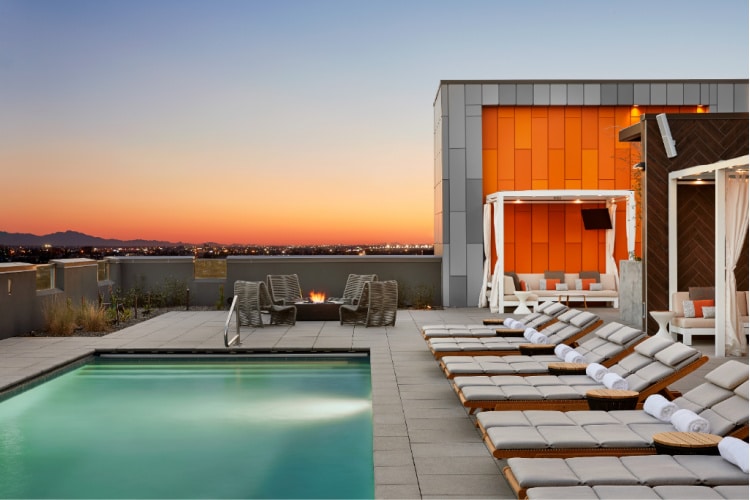 Alter Ego on the ground floor is known for its fusion cuisine and has an open kitchen. We were told they make a mean Mai Tai using Tequila. Sounds like something I could use right now!
One of the advantages of staying at a Hilton Property during these precarious times is that they have implemented CleanStay to ensure your safety during your visit.
The best time of year to visit Tempe
The Phoenix area gets insanely hot during the summer but has glorious weather from November through April. One of my favorite places to visit is the Desert Botanical Garden. It's located in the red sandstone rocks overlooking the city and has an outstanding display of desert succulents along its nature trails.
What a perfect way to commune with nature and practice social distancing.
During normal times, the garden hosts events, and light festivals.
The Botanical Garden is part of Papago Park which offers a variety of extraordinary outdoor experiences. If you love hiking there are trails for all levels. Take in the desert wildflowers during the season or view the magnificent sandstone buttes that rise from the desert floor.
The Phoenix Zoo, Hall of Flame Museum, and the Papago Golf Course are also within the park.
After you play, savor a meal
Favorite Tempe restaurants include Crêpe Bar, Ghost Ranch, and Top of the Rock at the Marriot.
I'm ready, are you?
I remember flying to Phoenix many times from Burbank to the Phoenix Airport and it only took about 45 minutes. Then, it was a quick 5-minute drive to my parent's house in Tempe. But since it isn't the best time to jump on a plane, a quick 6-hour drive from LA is doable for me. How about you?
For more information about Tempe visit TempeTourism.com
Please share this image on Pinterest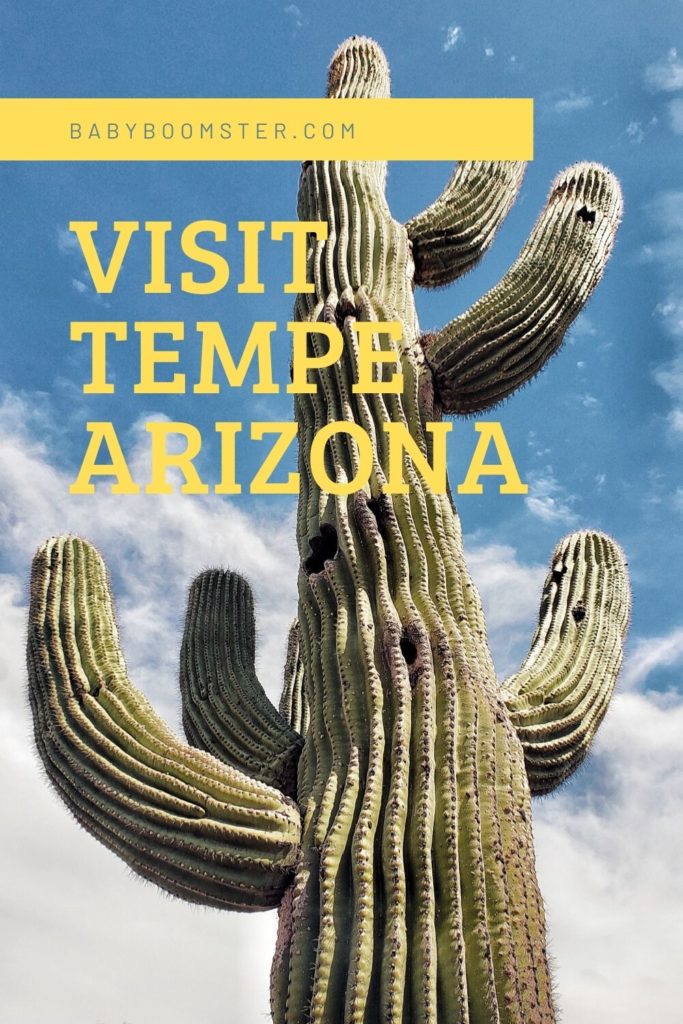 Have you ever been to Tempe or other areas in the Sonoran Desert? What do you like to do when you're there? Please leave a comment below.