Many people think of RVing, road trips, and camping as a summer activity. While it's true that June, July, and September are the most popular months for RVing, don't count out RVing in the fall. There are many benefits to it that you can enjoy, especially if you're looking to join the ranks of the snowbirds.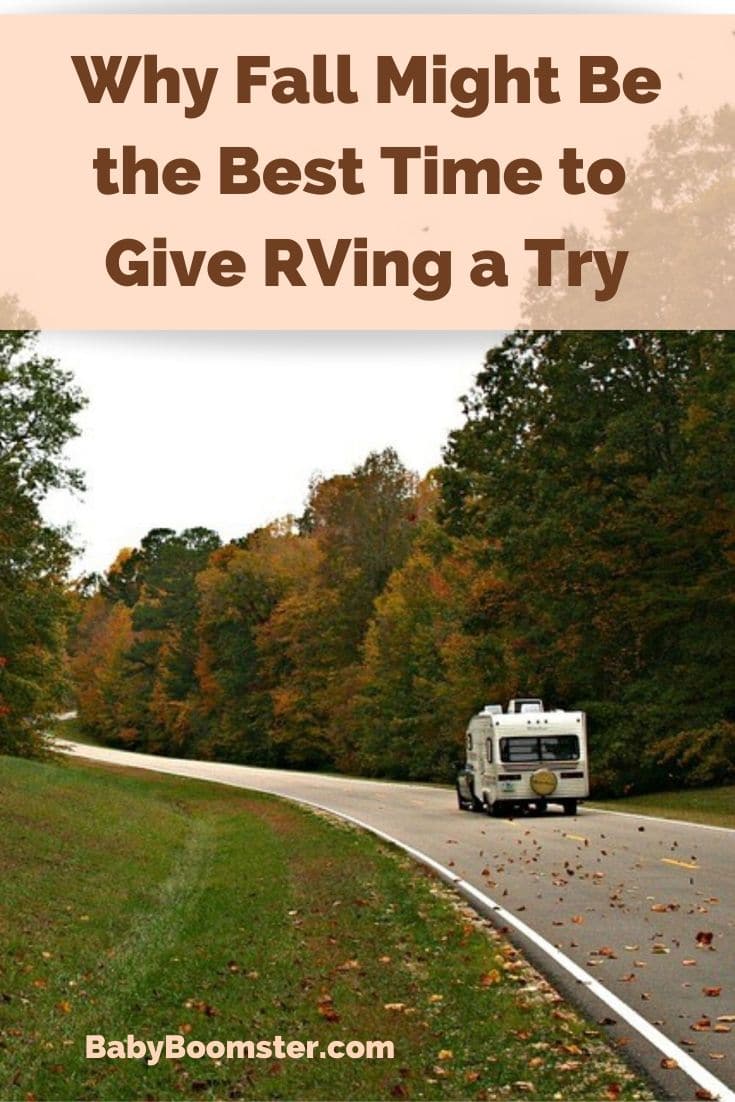 To give RVing in the fall a try, there are just a few things you need to keep in mind. First, you need to decide whether you want to rent or purchase a rig. The early and mid-fall months can be the best time to rent if you're new to RVing; it will give you an opportunity to see if you'd like to make a more serious commitment and buy an RV for yourself.
You also need to know what kind of setup you're looking for. Do you want a fifth wheel or travel trailer? Why not give both a try throughout the season?
Finally, RVing in the fall will give you a chance to learn the ins and outs of life on the road while enjoying the beautiful scenery and taking advantage of fun activities across the country.
If you've never loaded up and gone RVing in the fall, this is the year to start. Let's talk more about why:
Is the RV Lifestyle Right for You?
RVing isn't necessarily for everyone, but many people who do own an RV are diehard fans for a variety of reasons.
People are often hesitant when it comes to trying out RVing because there are so many myths and misconceptions surrounding the lifestyle. Again, renting can help you to dispel some of these myths by letting you try it out for yourself. Before you get behind the wheel, though, here are a few you should know about:
Parking an RV is hard: This isn't true. It just takes practice. Once you get over your initial hesitation based on the size of the vehicle, it's really no more difficult than parallel parking a car.
RV camping is boring: While it's true that camping in a tent can be exciting, there are so many more opportunities when you choose to take your rig on the road. You can access a variety of different adventures that you wouldn't be able to by just packing up a tent and heading to a campsite. Besides, tent camping can become ever more uncomfortable as you age.
RVs are cramped and outdated: For some reason, when many people think about RVing, they think about rigs of the past. Today, RVs have incredible amenities, and many of them are just as nice as small homes, which is why some people choose to be full-time RVers!
Tips for Driving Your Rig in the Fall
Planning an awesome fall road trip in your RV is something you'll never regret. You can plan ahead by using foliage maps across the country that will allow you to schedule your trip around the peak color season. You can also research fall festivals across the country and go on a unique road trip you'll never forget.
The roads in the fall are less crowded, and you'll be able to enjoy the beautiful scenery even while you're driving. But there are a few safety tips to keep in mind in order to ensure the experience is enjoyable.
First, you should learn basic troubleshooting skills for your rig. It's important to expect the unexpected when it comes to HVAC issues, plumbing problems, and water damage. Some issues may need the assistance of a professional, but the more you can do on your own, the sooner you can get back to your trip.
If you're not physically able to make repairs, make room in your budget to hire someone should the need arise.
It's also important to understand your surroundings in the fall and know that the elements can play a factor in where you go and how you drive. As fall changes to winter, you'll have to be prepared to drive in potentially hazardous conditions. Investing in snow chains and using your best judgment in snowy weather will help to keep you and your passengers safe.
Finally, you should always have a backup plan. Temperatures can get cooler in the fall (especially at night), and you don't want to spend your time shivering inside your rig. It's a good idea to invest in a backup generator that will help to keep you warm and keep your food from spoiling if you should ever lose power.
"Falling" in Love With RVing Year-Round
With temperatures falling and leaves changing, now is the perfect time to rent an RV and hit the road. When you rent, you can take the time to compare how RVing lines up with your traditional vacations, including cost, travel time, and more. Additionally, you can decide if the possibility of alternative housing is right for you.
RVing doesn't have to be a vacation choice — it can be a lifestyle that allows you to see the country while living on just a few thousand dollars a month. It's the perfect retirement adventure!
If you've already rented and you're ready to take the plunge, fall is also the perfect time to buy an RV. Sales are typically slow during the fall, so manufacturers are eager to slash prices and offer great deals. If you walk into a dealership that sells RVs, you're likely to get a lot of extra attention and care during the fall, so you can ask extra questions and make sure you're getting the right rig.
Whether you rent, buy, use it for a vacation or choose to live in it year-round, RVing is a great way to reconnect with nature, reconnect with your partner, and try something different. If you've been considering it but haven't pulled the trigger yet, fall is the perfect time to give it a try.
Have you tried RVing yet? How did you like it? Please leave a comment below.