How to make a Bushwacker cocktail
We know that some of you want to go straight to the recipe so here it is. Flora-Bama's Bushwacker recipe is top-secret. This recipe only has three liquors, not five. But, hey, it's a start.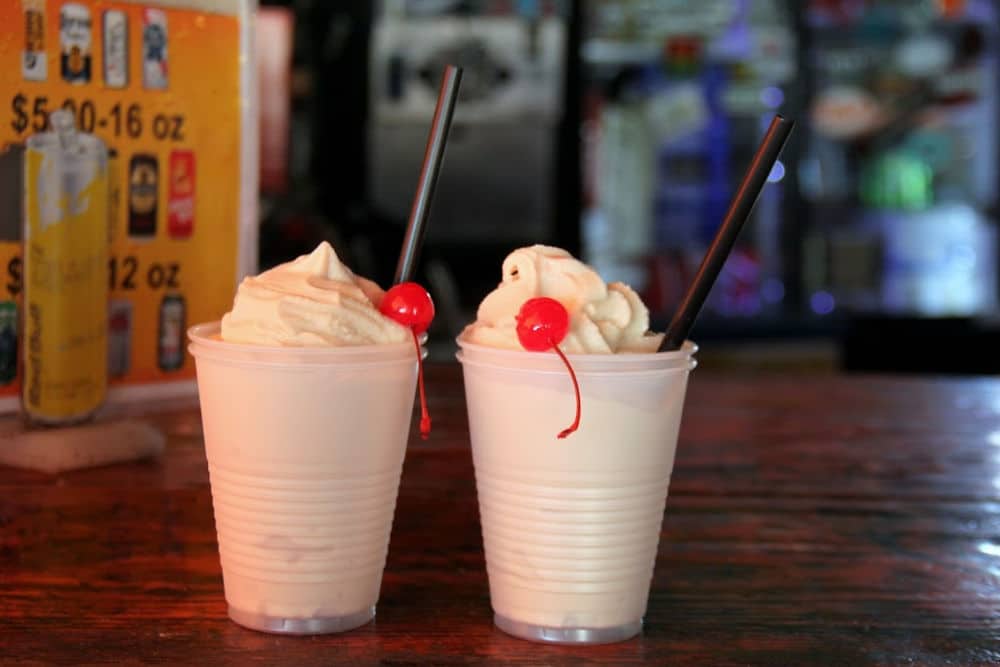 Bushwacker Cocktail
Enjoy this Bushwacker on a hot day.
Ingredients
1

cup

ice

1

ounce

dark rum

1

ounce

coffee liqueur

1

ounce

dark crème de cacao liqueur

2

ounces

cream of coconut

2

ounces

milk
Instructions
Add ice in a blender and blend until smooth and frothy.

Pour it into a hurricane or tall glass.
The Flora Bama Mullet Toss
I had no idea what to expect when I accepted an invitation to Flora-Bama's annual Mullet Toss.
"Do you want to throw one?" my host, Mary, asks as she drives towards the beach on a gorgeous Sunday.
"Uh, first you need to tell me what it is," I reply.
"It's a dead fish. People throw them across the Florida state line during the competition. They need to land in Florida. Whoever throws theirs the farthest, wins a prize."
And, okay, although I've never heard of the legendary Flora-Bama Lounge's highly anticipated mullet toss before that moment, it seems like everyone we run into that afternoon is enjoying their second, third, or fourth visit to the event.
In 1962 the State of Florida gave the State of Alabama two miles of white sandy beachfront property in return for the construction of Perdido Pass Bridge. The Tampary family (a father and two sons) built a small package store on the new state line. The road was completed two years later, as was the Flora-Bama.
At the time, the little bar was pretty much the only thing in the area. Like everything else that happens with progress though, as traffic increased the business grew, and new buildings were added one by one to accommodate Flora-Bama's success.
When Joseph Gilchrist purchased the place in 1978, he added live music – 365 days a year. In 1968 he became partners with Pat McClellan. Together the pair's created numerous events – the mullet toss being just one of them.
In 2009, John McInnis and Cameron Price became co-owners of Flora-Bama, alongside Joe and Pat. The foursome works hard to make it a place where everyone feels at home during their visit. People come from all over the world to visit.
As far as the mullet fish goes, it's one of the more plentiful fish in the area. It's the only fish with a gizzard. Some folks claim it possesses mystical properties. I'm not sure about any of that, but I do learn that a portion of the $15.00 charge for each fish flung across the state line goes to the surrounding Local Youth Charities.
The annual toss is the first thing we do after parking the car. A boy about four or five years old is ahead of me. He chooses his fish from a cooler, lifts it to his face, and suddenly kisses it! Right on the mouth! The scene's hilarious. The crowd cheers as he tosses the fish a few inches and runs towards his mom giggling.
I toss my mullet fish, after informing everyone that there's no forth-coming kiss. It lands seventeen feet away. I'm pretty excited. The next reveler sprints up, grabs a fish and throws it 36 feet across the state line. Yikes.
"Let's go try a Bushwacker," Mary says. I'm ready.
Flora-Bama may be the most famous bar along the Alabama coast but the Bushwacker, its signature drink, is a close second. The milk-based concoction boasts five types of liquor blended into the frozen drink, lending it quite a punch.
We wander through one bar after another, treated to the sounds of country, rock, dance and beach music. License plates from every state in the country have been here. Pieces of them hang on a wall, spelling out the words of a popular Kenny Chesney song.
One room even has a clothesline overhead, covered in colorful bras left behind by revelers. From the top floor, patrons place their tips inside an old tin can. A pulley system brings it down to the band playing on stage.
In Maine, they'd call this place red-neck. In Massachusetts, they'd yell 'Wicked cool!' And it sure is.
Outside, the skies are a powder-puff blue, perfect weather for the 30,000 people attending events over the weekend. We hear laughter all around us and see smiling faces wherever we look. Every day people, from all walks of life, enjoy every minute of this celebration. I'm thrilled to be part of it.
Check out the best Alabama beaches here.
Have you tossed any fish lately? Please leave a comment.