If you're like me, you hate being called a senior. I'm in my sixties and aside from a few physical kinks here and there, I still feel young. But age has its advantages and there are plenty of perks available to our age group, known as Senior Discounts. You may have been avoiding them because of the insinuation that it means you're old but here's why they're cool.
This post was updated 2/2022.
I took an Amtrak trip from Los Angeles, to visit a friend who lives in Orange County. When I went to book my train ticket online, I found out I was qualified for senior discounts. Yee Haw! It saved me a few bucks and I was thrilled.
The age eligibility for senior discounts varies depending on the company or service. Amtrak starts at 62, but the LA Metro line is 65. Greyhound (62+) and Trailways (50+) also offer senior discounts.
The point is, take advantage of perks whenever you can. The longer we live, the more money we need and God knows I'll be working for the rest of my life unless I win the lottery.
Organizations that offer perks and senior discounts for Baby Boomers and seniors
I've been a member of AARP ever since I turned 50 and membership will give you access to a wide variety of perks. Signing up for AARP is more important than ever because it fights like crazy to make sure we don't lose our Medicare and other services that are critical as we age.
AARP offers senior discounts on insurance, healthcare, travel, and a variety of other services.
For those of you who feel AARP is too liberal for your political tastes, you can join AMAC. (Association of Mature American Citizens) They offer senior discounts, although not as many as AARP.
Amazon Prime Discount
If you have an EBT card (SNAP) or are on Medicaid, you can get 1/2 off your Amazon Prime Membership.
Lower your smartphone bill
Chances are you're paying way too much and you may have senior discounts available.
AT&T has a Senior Nation Plan that you can take advantage of for $29.99/mo. 200 Anytime minutes, mobile to mobile minutes, and nights and weekends. There aren't any roaming or long-distance charges.
Verizon Wireless – Check to see if they offer a 55 plus nationwide unlimited talk and text service plan in your area.
Consumer Cellular – If you are an AARP member over 50 you are eligible for exclusive savings on monthly smartphone service charges and discounts on accessories.
Boost Mobile – The Boost mobile Unlimited plan is $50 per month with unlimited talk, text, and high-speed data. If you are a tech-savvy senior, this plan is for you.
T-Mobile – This company really caters to those of us who are over 55. Their Magenta 55+ and Magenta MAX 55+ plans offer 50% off the leading competitors' basic unlimited plans and it's available in all 50 states, Washington, DC, and Puerto Rico.
Retail Stores:
Goodwill – On Tuesdays, seniors get 10% off.
Kohls – On Wednesdays, people over 60 get a 15% discount.
Jo-Anns – They offer occasional senior discount days. Check on their website.
Rite Aid – Seniors receive 20% off on the first Wednesday of the month if you are over 65.
Ross Stores – has a 10% off day every Tuesday for anyone over 55. I went in there on a Tuesday and it was a zoo, but that 10% can make a difference.
Dressbarn – 10% off one day a week depending on the store's location if you are over 55.
Restaurants:
Applebees – 10% off your bill
Burger King – 10% off your bill
IHOP – 10% off your bill.
Dennys – Order off the senior menu and get 10% off.
Subway – 10% off
Outback Steakhouse – 10% off with an AARP card.
Many other restaurants offer early bird and senior discounts. Just ask. Get discounts when you use Restaurants.com.
Entertainment
AMC Theatres – 30% discount if you are 60 +. Bring your ID.
Regal Entertainment – Up to 30% off if you are 60 or older off the regular adult ticket price.
Landmark Theatres – Check for senior discount prices at your local Landmark theatre.
Kindle E-Books – Save 50% off if you are an AARP member.
Ticketmaster – Enjoy discounts on tickets (depending on the attraction if you are a senior over 65.
US Museums – Seniors 50 and over can get discounts and special offers at select museums.
Medical and Pharmacy:
Other:
Ancestry offers a 30% discount with an AARP card.
Then there's TRAVEL – my personal passion
Travel is expensive so make sure to take advantage of every discount you can.
Travel companies with senior discounts include:
Airlines:
American Airlines (call to apply – (65+)
Southwest Airlines (call to apply – (65+)
British Airlines (Via AARP)
United Airlines (call to apply – (65+)
U.S. Airlines (call to apply – (65+)
Cruises:
Carnival Cruises (55+)
Norwegian Cruises (55+)
Celebrity Cruises (55+)
Royal Caribbean Cruises (55+)
Hotels:
Best Western Hotels (Via AARP)
Clarion Hotels (60+ or VIA AARP)
Comfort Suites (60+ or VIA AARP)
Crown Plaza (62+)
Days Inn (60+)
Hampton Inn & Suites (VIA AARP)
Hilton Hotels (VIA AARP)
Howard Johnson Hotel (60+)
Hyatt Hotels (62+)
Knights Inn (60+)
La Quinta Inn (65+)
Motel 6 and Super 8 (VIA AARP)
Marriott (62+)
Sleep Inn (60+)
Travelodge (VIA AARP)
Wyndham Hotels (VIA AARP)
Car Rental:
Alamo Car Rental (Via AARP)
Avis Car Rental (Via AARP)
Budget Rent-a-Car (Via AARP)
Payless (Via AARP), and more.
Uber -Seniors 65+ can ride twice for free at the beginning of the month.
How it works with Uber:
Open the Uber app
Enter promo code UBERSENIOR in the Promotions tab
On the first day of each month, the Senior icon will appear
Request a ride from Senior
Show a valid senior citizen ID to the driver-partner when you get on the ride
Have a good trip!
Auto Discounts:
Pep Boys – 10% if you are over 55.
Jiffy Lube – 10% off if you are over 55
National Parks and Camping:
If you're 62 or over you can get an interagency pass to get a $20 annual or $80-lifetime pass to the National Parks and federal recreational lands and 50% off other park and forest services including camping.
If you are into fishing, find out what states offer free or discounted fishing licenses for seniors here.
The best thing you can do is ask
Whenever you go to a restaurant, attraction, hotel, or store, ask if they offer a senior discount. Make sure to join AARP for access to their opportunities as they change often. Enjoy the savings and have fun.
This post was originally published in 2017 and updated in 2021.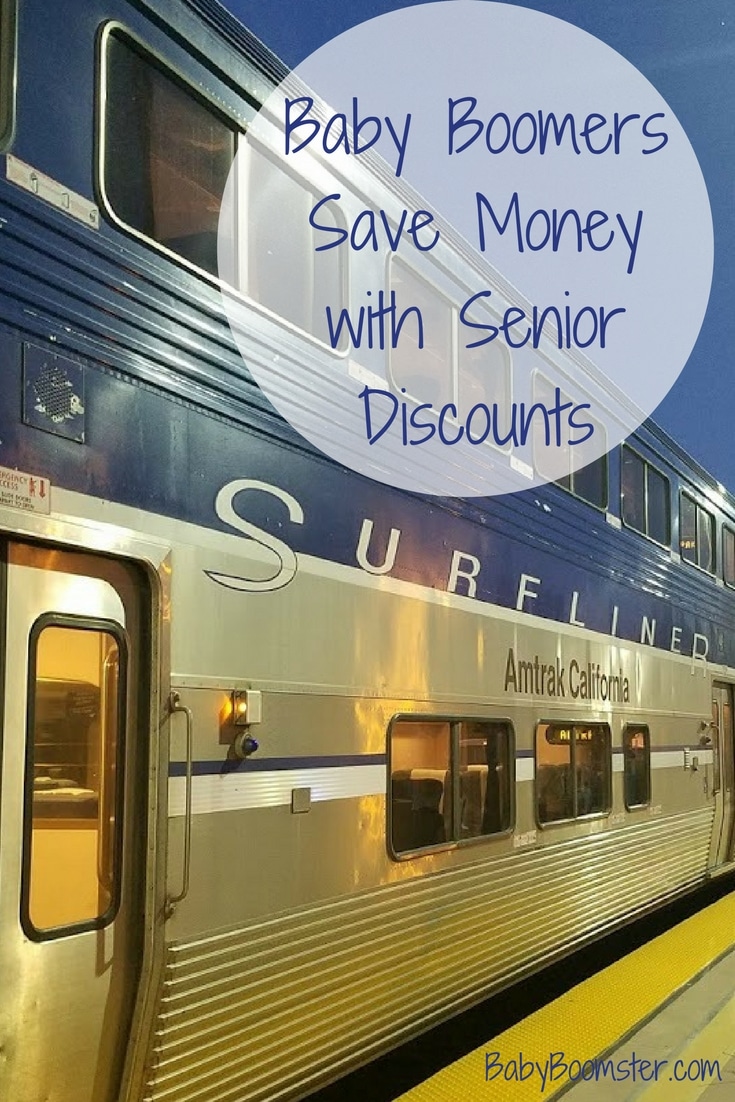 More Shopping
Fashion Over 50 | Beauty & Skincare |Travel | Blogging and Tech | | Special Occasion Gifts | Life Long Learning Health | Etsy | Favorite Amazon Books