After spending a couple of weeks in Rome and Tuscany, during the months of November and December, we drove down south where we spent 4 nights in serene Sorrento. Of course, we took a tour of the stunning Amalfi Coast and went on a wet but amazing stroll through the rainy and mysterious city of Pompeii.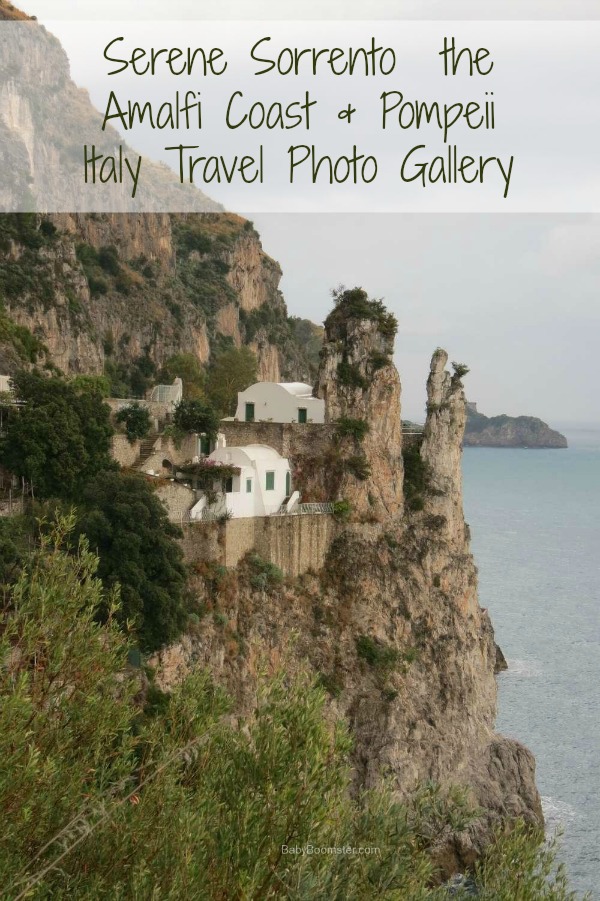 Despite occasional rain showers, which are normal during the winter months, the carefree seaside village of Sorrento was dressed up and buzzing with holiday frivolity. Our home base was the Hotel Antiche Mura, a conveniently located boutique hotel perched on top of a deep ravine. It was only a block from the Piazza Tasso, a cafe-lined square in the center of town.
Sorrento was busier than usual because an Italian film festival was being held during the time we were there. Filmmakers and their entourages filled the cafes and crowded the sidewalks as they networked and made deals. We used our film industry connections to score passes to the festival and some of the parties even though we didn't understand a word of Italian. It was Felliniesque, to say the least.
On one of the days we were there, we hired a driver who took us on an all-day tour of the Amalfi Coast and Pompeii. As far as I'm concerned, that's the best way to maneuver the winding coastal roads. Our driver was familiar with the terrain, knew exactly where to go, and was laid-back and relaxed. He took us to an olive oil tasting and then to the towns of Positano and Amalfi.
The road was closed off after Amalfi because of a landslide, so we took the mountain route over to Pompeii. Despite the fact that rain began to pour, we traversed through the sparkling wet ruins in wonder. I think it made some of our photographs even better.
Sorrento, Italy
Sorrento is located on the coast of southeastern Italy, facing the Bay of Naples on the Sorrentine Peninsula. Below are some of the images I collected on our trip to Sorrento and the Amalfi Coast.
To view the images below FULL SIZE, click on individual photos below.
The Amalfi Coast
The stunning Amalfi Coast is a 50-kilometer stretch of coastline along the southern edge of Italy's Sorrentine Peninsula, in the Campania region, and about an hour from Sorrento.
We stopped in Positano and Amalfi along the way. During the summer both of those towns are packed with tourists, but we were traveling in winter so it was easy to walk around and explore without the crowds.
Pompeii
When Mount Vesuvius erupted in 79 A.D. it covered the city of Pompeii in ash. Now it's a vast city in ruins in southern Italy's Campania region. We visited it during a rainstorm but it made it even more mysterious and sparkly in these photos. Pompeii is only about 40 minutes from Sorrento.
Going to Sorrento and the Amalfi Coast in the winter has the advantage of fewer crowds and friendlier service, according to some locals we talked to. It's just as beautiful and much more laid back. For the most part, the weather was comfortable but not bikini weather. I'd do it again in a heartbeat because there's nowhere better to enjoy a class of Limoncello and people watch.
Favorite Restaurants in Sorrento
Ristorante Il Convivio – Via Correale, 19 Sorrento 80067 081 877 3530  Owned by a man and his daughter.  They had fresh whole fish that they would cook and then filet at the table. We had delicious homemade Scialatelli pasta (native to Sorrento) with fresh local fish. They don't have a website but it's well worth finding this wonderful restaurant.
Ristorante Da Filippo – Located up in the hills of Sorrento, this restaurant is a local favorite and popular. They came and picked us up from our hotel because it's hard to find. Excellent food.
Ristorante Pizzeria Tasso – Via Correale, 11d Sorrento 80067 +39 081 878 5809