The Travel Adventure Show takes place in Los Angeles every year and I always try to attend if I can. At previous shows, I've learned expert travel tips from speakers Rick Steves and Patricia Schultz. This time I listened to Samantha Brown, who's the host and executive producer of Places to Love on PBS.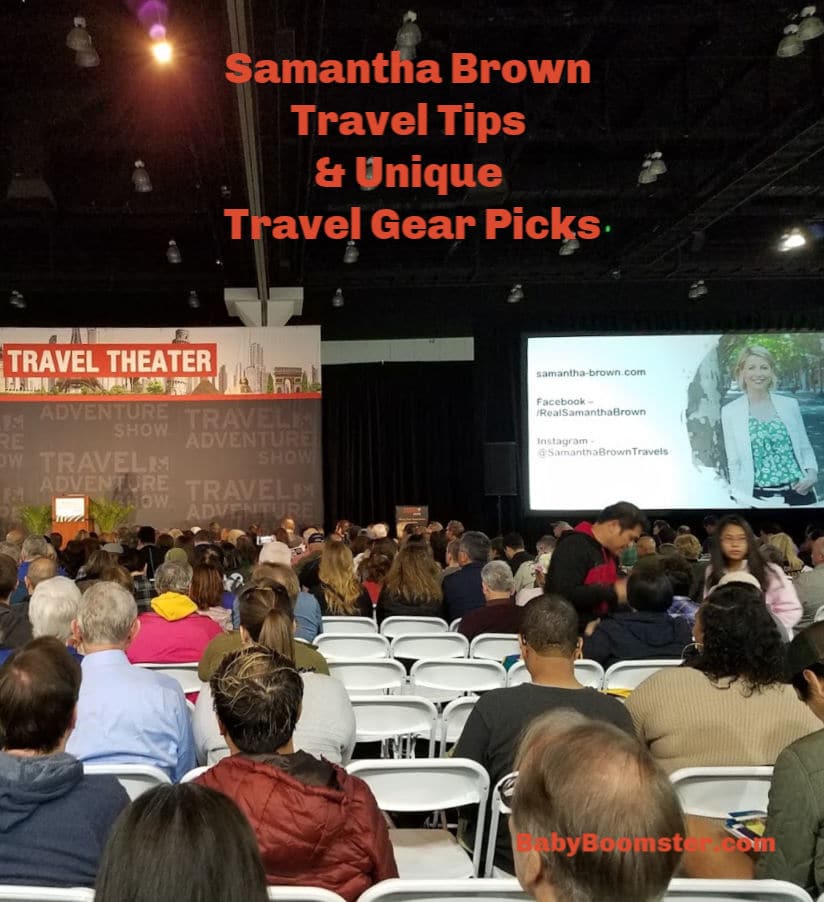 Samantha Brown talked about how each "place" was chosen to be featured on her show.  The most important consideration is that it must be accessible to everyone and not a V.I.P. destination only available to TV hosts.
Taking on the role of an executive producer is rare for women in the travel arena and it's a hard job. Samantha Brown doesn't make any money from the show because it's on public television. She has to raise all the funding herself through sponsorships. Her reward is being given "the best audience in the world." Two of her sponsors are AmaWaterways and AAA.
Samantha Brown's Travel Tips
After traveling for over 20 years, she has a lot to share.
When you focus on connecting with locals, you become less of a consumer and more a part of the community.
Food halls and markets are fabulous places to eat fresh local food but if you want to take some of it home, haunt local supermarkets. They have all your favorite local packaged foods with prices that haven't been jacked up for tourists.
Always bring cookies to offer the airport check-in agent, especially if you have a lot of bags. They'll appreciate it and give you better service.
The historical significance of a destination is always fascinating but so is learning about the way things are now. Look for modern experiences that will give you insight into how things have evolved. Examples might be an immersive art installation, a local musical event, or restoration efforts. When Samantha Brown was in Strasbourg, France looking for experiences she could use for her show, she found out about a workshop tour at the Cathedral. Visitors can watch restoration artisans at work using the same tools they did when the Cathedral was built.
Create separate emails for your travel alerts. They can easily get buried in your regular email and you may miss out on a good deal.
Use Twitter as a travel tool for customer service by connecting with airlines, cruise lines, and any other travel needs. Make sure to follow @askTSA and message them if you lose something at the airport.
If you're signed up for Global Entry or TSA-Pre and don't see it on your ticket give TSA a call. They'll be able to tell you what went wrong. It may be that you or your travel agent were off a number when you entered your Global Entry or TSA-Pre number. Then you can ask the airline to uncheck you and then recheck you in using the correct number so your status will be restored.
Arrive at the airport an hour and a half before your flight's BOARDING TIME. (rather than your departure time) It's even better to get there 15 minutes before that so you have time to pick up magazines, water, snacks, and use the restroom.
Plan your return to the airport as soon as you arrive at your destination. Look around the airport to find out where the departure gate is. It's probably at or near the same gate you arrived at. Find out what restaurants are in the terminal if there's a place to get a massage, and what you can buy at the gift shops so you don't have to schlep gifts around with you while you travel.  Make a note of where the drop-off locations are for rental cars, shuttles, or trains. That way you'll know how much time you'll need to get to the airport when you return. Some terminals are massive so make sure to take that into account as well.
If you're traveling with small children, DON'T PREBOARD. Most of us Baby Boomers no longer have to worry about traveling with kids, but you may be traveling with your grandchildren. Samantha Brown recommends that you do not board until the last passenger is on the plane. If you're traveling with another adult, have them preboard to secure carryons, car seats, & diaper bags while you and the kids hang out in the waiting area.  Once you're all seated, the plane will take off within 10 minutes and the kids won't have time to get cranky. I recommend that you give this information to anyone traveling with small children.
If you want to avoid crowds in tourist areas, keep an eye out for where others are walking. Then, veer off into side streets so you can enjoy a more local experience.
If you have old running shoes, an old sweater or other old clothes, pack them. When your trip is over, throw them away before you leave for the airport. That will free up room in your suitcase to bring home purchases or lighten up your load.
The most unappreciated hotel room amenity is the ironing board. Take it out of the closet to give yourself 4 more feet of counter space. It also makes a great standup desk.  You can lower it and use it as an activity table for kids or use it as a TV dinner table.
Samantha Brown also has recommendations for her favorite travel gear on her website here.
What are your favorite travel tips? Please leave a comment below.