As a Southern Californian, Minnesota wasn't exactly on my travel bucket list. We don't hear much about that part of the U.S. here other than it's an icebox in the winter. But while I was there for a conference, I was both surprised and impressed with Minnesota's immense beauty and down-home hospitality. We took a sidetrip to the town of New Ulm, a German-American outpost outside of Minneapolis.
Our first stop was the Hermann Monument honoring Hermann the Cherusci. (Hermann the German) He was an ancient hero who liberated Germany from the Romans in 9 A.D. The striking edifice is a smaller replica of the monument that stands in Detmold, Germany. Its first cornerstone was laid down in 1888 by the fraternal order of the Sons of Hermann and was designed by Alfonz Pelzer in Ohio. It was delivered to New Ulm and officially dedicated in 1897.
A History of New Ulm
New Ulm was founded in 1854 by German immigrants who were seeking to form a utopian society in America. Many of its current older residents are descendants and have lived there since childhood. One of them, George L. Glotzbach, now in his eighties, met us at the town's Glockenspiel dressed in full lederhosen. A walking library of knowledge, he regaled us with the history of New Ulm. You could tell he truly embraced his role as the town greeter.
The 45-foot-tall Glockenspiel, dedicated in 1980 stands in Schonlau Park in the center of town. Bells chime and 12 colorful characters emerge three times a day depicting New Ulm's colorful past. They are interchangeable by a Nativity scene. The tower's set of 37 fully chromatic three-octave bronze bells were cast in Holland and can be played electronically or with a keyboard.
We sat outside under a stunning blue sky with deep-green foliage surrounding us and enjoyed a performance. The temperature that day (in May) was between 75-80 degrees. Pretty perfect if you ask me.
Click on images to view full-size in a gallery.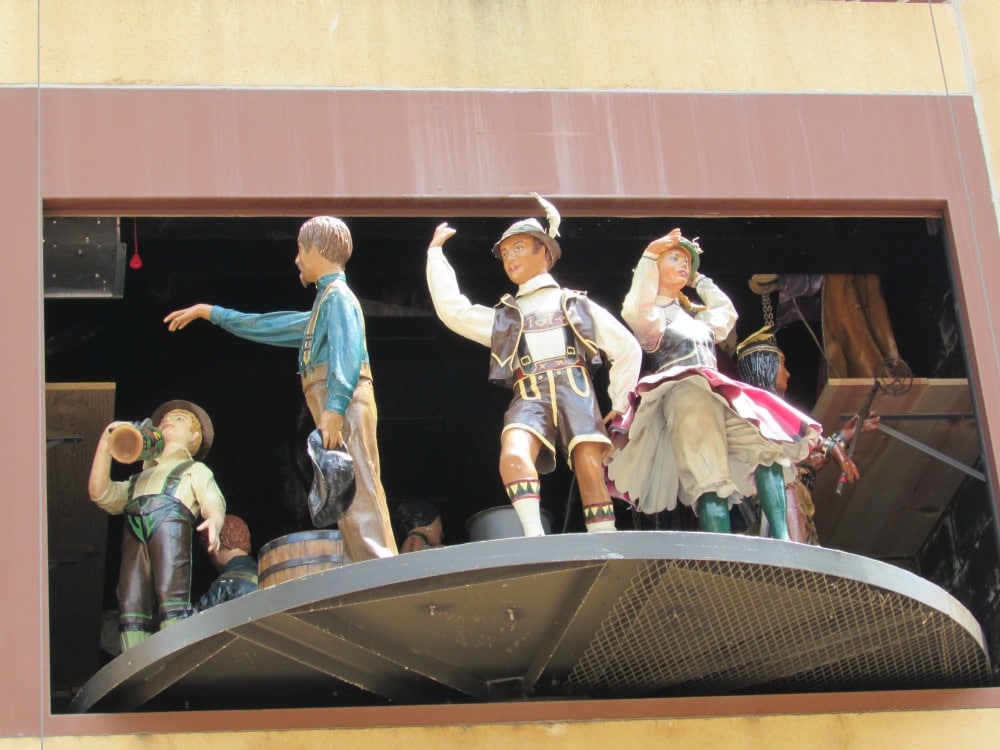 An authentic German lunch
If you're in New Ulm, you must have a meal at Veigel's Kaiserhof, a traditional German restaurant established in 1938. George encouraged us to try the BBQ ribs, his favorite meal at the restaurant. He's been dining there ever since he was a small child. I opted for the special, which was German sausage, sauerkraut, and potatoes washed down with a glass of local beer. There wasn't a drop left on my plate when I was done.
Historical buildings
The Kiesling House, built in 1861, was one of only 3 buildings to survive the Dakota War of 1862 when 75% of the buildings in New Ulm were burned by Indians.
Schell's Brewing Company
Our next stop was to the Schell's Brewing Company in New Ulm. It's the second oldest brewery in America and is located on the Cottonwood River. August Schell, who was an immigrant from the Black Forest of Germany, came to the area in 1856 and along with other German ex-pats founded New Ulm.
Being German and loving beer, he made the decision to start a brewery in 1860. The brewery also survived the Dakota War due to the fact that Schell and the Indians had a friendly relationship. By 1869 there were five working breweries in town.
The beginning of our tour started at the museum inside the brewery and I am proud to say I got carded before I went in.
The Schell family, who had been living in a modest house, built a 10-room mansion on the property surrounded by a flower garden in 1885. It is now listed on the National Registry of Historic Sites.
The brewery also survived Prohibition selling non-alcoholic beverages like soda pop and near beer. In addition to its original brews, it now produces a variety of craft and seasonal beers to keep up with changing tastes. We sampled an assortment in the tasting room and had giddy smiles on our faces as we walked back outside. The business is still owned by the same family and has been passed down for 6 generations.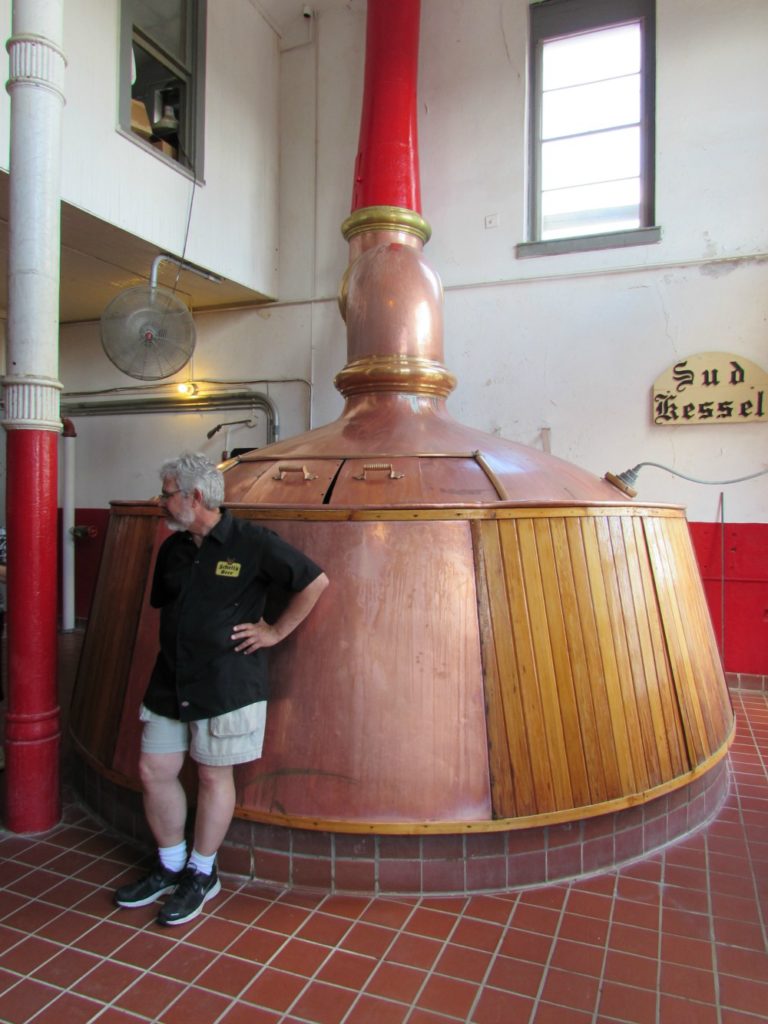 A Bier Garten was set up on the grass surrounded by large green trees. An accordionist entertained with traditional German tunes. It was an ideal setting to spend a slightly tipsy afternoon.
Click to view images full-sized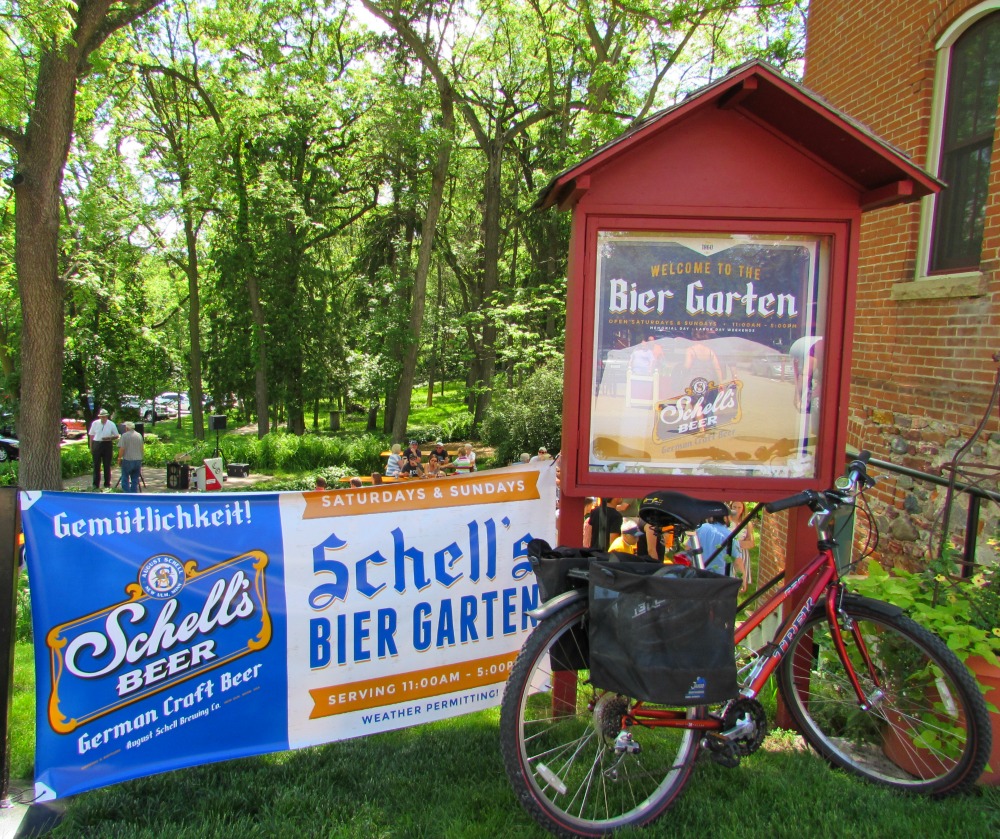 Schell's weekend summer Bier Garten takes place on weekends during the summer from Memorial Day through Labor Day. They also host a Rock Fest, Bavarian Blast, and Octoberfest throughout the year.
Minneopa State Park
On our way to New Ulm, we stopped at Minneopa State Park and hiked around its rushing waterfall and winding creek. Minnesota has 67 state parks throughout the state.
Click to view images full-sized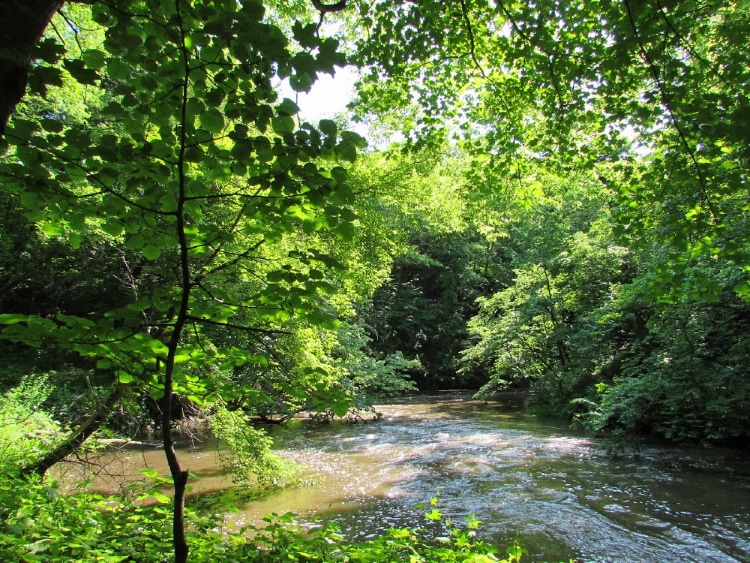 Seppman Mill in Minneopa State Park was built in 1862 and at the time, could transform 150 bushels of wheat into flour. It originally had windmill arms but they were torn off by tornados. When steam-powered mills came it, it closed in 1890.
A genetically rare bison herd was released into the park by the Department of Natural Resources and Minnesota Zoological Gardens (Minnesota Zoo) to expand the Minnesota Conservation Bison Herd.
Things to do when you visit New Ulm
I would gladly come back to this part of the U.S. again, during Spring or Fall, because my California thin blood is not quite ready for a Minnesota winter. Maybe next time I'll visit Minnesota's famous SPAM Museum. A big thank you to Explore Minnesota for hosting our trip. #onlyinmn #TBEXinMN