You can find street art in most urban cities and even in rural communities, but Los Angeles has such an influx of different cultures there is something for everyone. I found myself becoming more and more fascinated with the murals I came across so I started collecting photos of them.
Many came from Downtown and East Los Angeles but I've also found some beauties in the far outreaches of the San Fernando Valley.
What makes this type of art so appealing is that they give an artistic voice to our diverse culture, cause us to reflect, and express our sentiments in a BIG way. You never know what kind of street art you'll find in parking lots, on skyscrapers, inside commercial buildings, on restaurants, and in alleyways.
Read about the LA Arts District Graffiti and Mural walking tour I took.
Los Angeles Street Art – Downtown Los Angeles
DTLA, as we like to call our downtown section of Los Angeles, has undergone extensive renovations in the past few decades. Artists and other creative types have moved into commercial lofts, which were once abandoned and then refurbished and their artwork is everywhere. You can see some of these lofts at the Brewery Artwalk which takes place twice a year at the old Pabst Brewery. There, you can tour the artists in residence lofts, enjoy a beer and grab a bite.
When I go Downtown, I like to take the Metro Line so I don't have to deal with parking and love to spend hours walking around.
Here is some of the street art I found in DTLA.
Click on the images to view full-size in a gallery. Please share the ones you like on PINTEREST.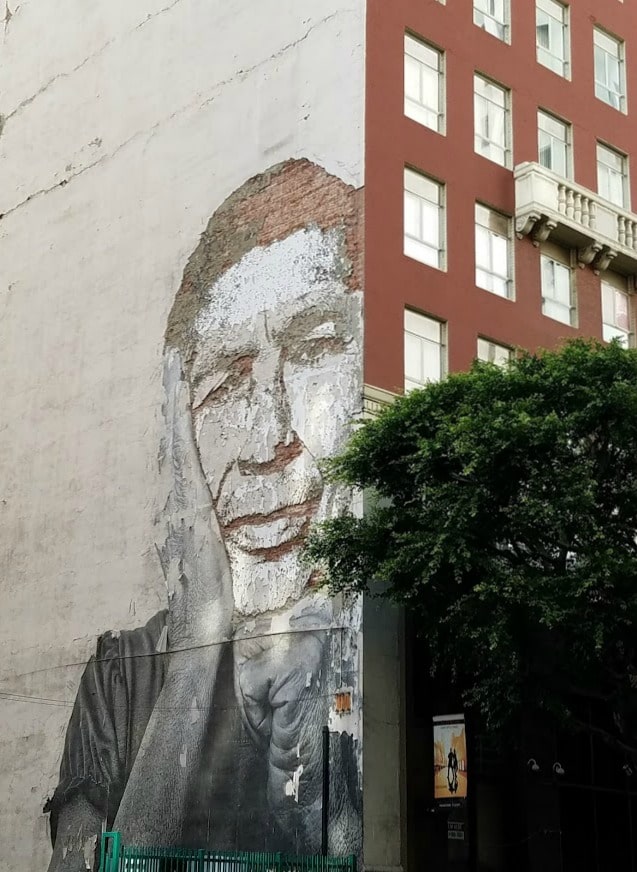 This is a Robert Vargas mural of a Geisha that's in front of the Kai Restaurant at The Spring Arcade between Broadway and Spring.
LA Arts District
The Los Angeles Arts District (see map) in DTLA runs through Little Tokyo and along the LA River. In addition to mural art, you can also enjoy amazing restaurants, quirky museums, and art galleries. One of my favorite places to stop is the Angel City Brewery. Its facade is street art in itself. Not far away is the Container Yard in the Arts District, which is a creative compound filled with wall art and art installations.
Here is some of the street art I found in the LA Arts District.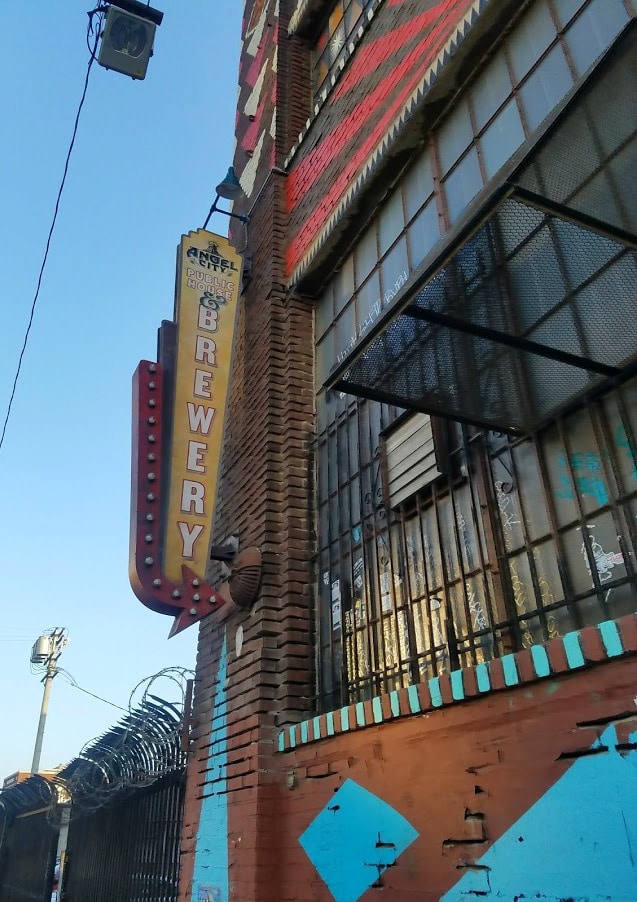 Chinatown
The Chinese in America are responsible for building America from the railroads, gold mines, and city businesses. Old Chinatown was razed to make way for Union Station and was re-established in 1939. But, before that, there was a history of anti-Asian hate and violence.
Boyle Heights
I've gone to Boyle Heights in East Los Angeles several times to review plays. Boyle Heights is primarily a Hispanic neighborhood and was once the oldest Jewish neighborhood in Los Angeles. There are several walking tours available by The Barrio Boychick. I took his Heritage Tour.
Here is some of the street art I found in Boyle Heights. See more here.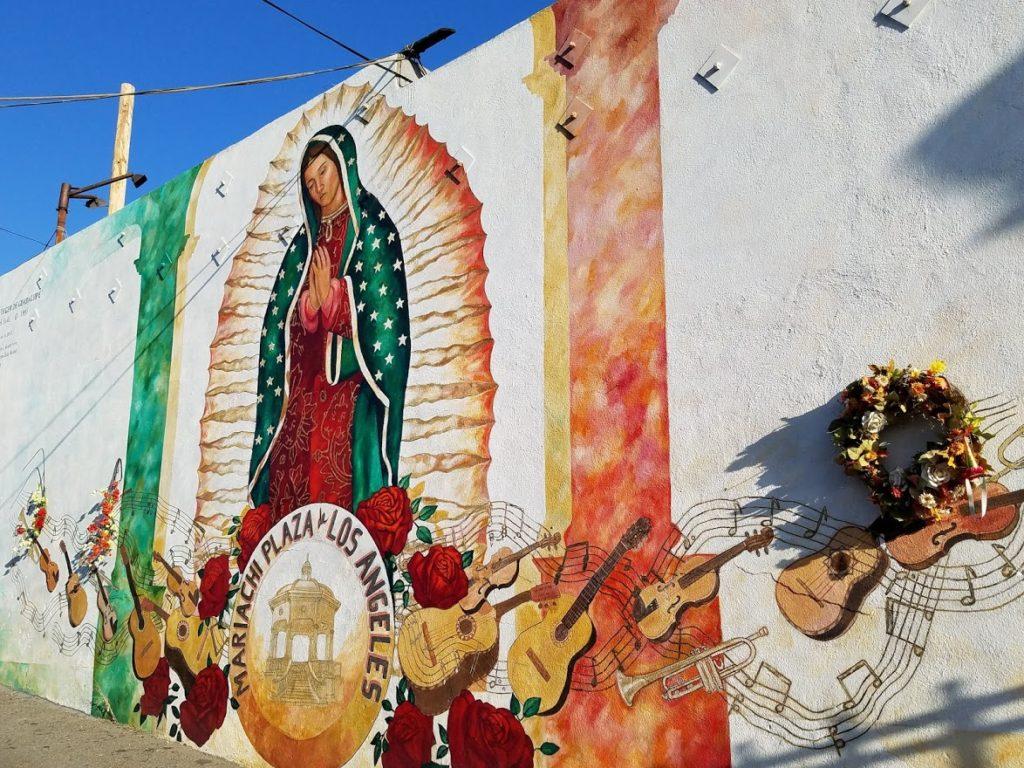 Hollywood Street Art
Hollywood is another section of town with plenty of street art and murals. Colorful and artistic portraits of celebrities and Hollywood life is plastered on walls, buildings, and poles. The area around Hollywood Blvd has undergone a major renovation. There are still plenty of kooks and characters walking around. Most are pretty tame but it always pays to be careful.
San Fernando Valley Street Art
I lived in the SFV for decades in the North-Western end of the Valley and in Burbank, near Toluca Lake. The valley was once filled with citrus groves and farms but became a bedroom community after WWII. As suburban as it is, it's very diverse.
The valley has a large Hispanic population from Mexico and Central America, but also many immigrants from Korea, India, China, Israel, Vietnam, Thailand, and Armenia. Each nationality brings its own forms of art, food, and culture.
The North Hollywood (NOHO) Arts District (see map) is home to many aspiring actors and artists. There are murals along the bike path on Chandler Blvd and throughout the theatre and arts district.
Here is some of the street art I've found in the San Fernando Valley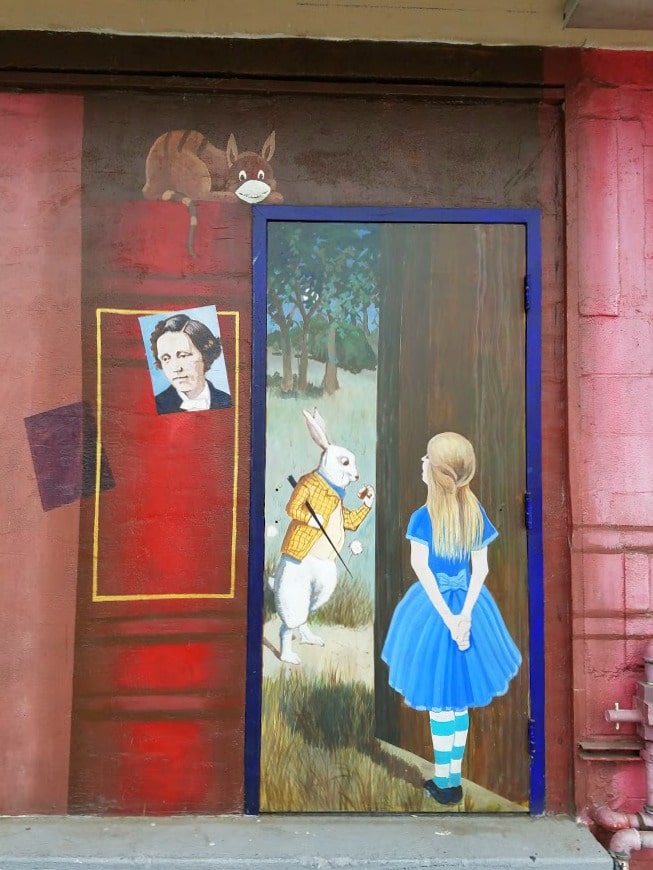 Other random street art in the city of Los Angeles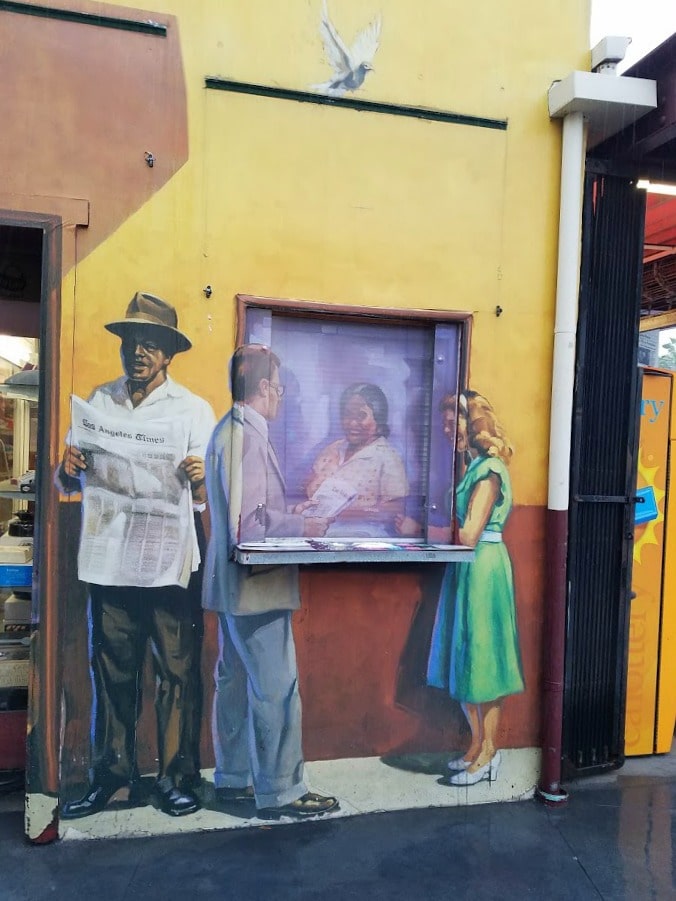 Save for later on Pinterest
Find fun things to do in Los Angeles by clicking here
Do you have street art where you live? Please leave a comment below.
Follow me on Instagram as I often post photos of Los Angeles street art and other places I travel there.