Whenever I look for a gift for someone, it befuddles me because I never know what to buy. It's even harder finding gifts for people my own age because most of us over 50 have everything we need or want. My favorite gift to give or receive is a gift of experience because it's often something you will never forget.
I can't even tell you how many oddball gifts I've received over the years that have eventually ended up in the circular file of hell or box of "I don't know what to do with this" items.
But whenever I'm given a gift with an experience attached like a dinner invitation, a basket of food to share, or a trip somewhere I'm always thrilled. Being with someone I love and sharing quality time with them is always the best!
And the nice thing about experience gifts is that they don't have to be limited to holidays or someone's birthday. You can give them any time. Invite your best friends for high tea, take someone on a special hike, a getaway for the weekend, or enjoy a group class. The options are endless, and the memories will last a lifetime.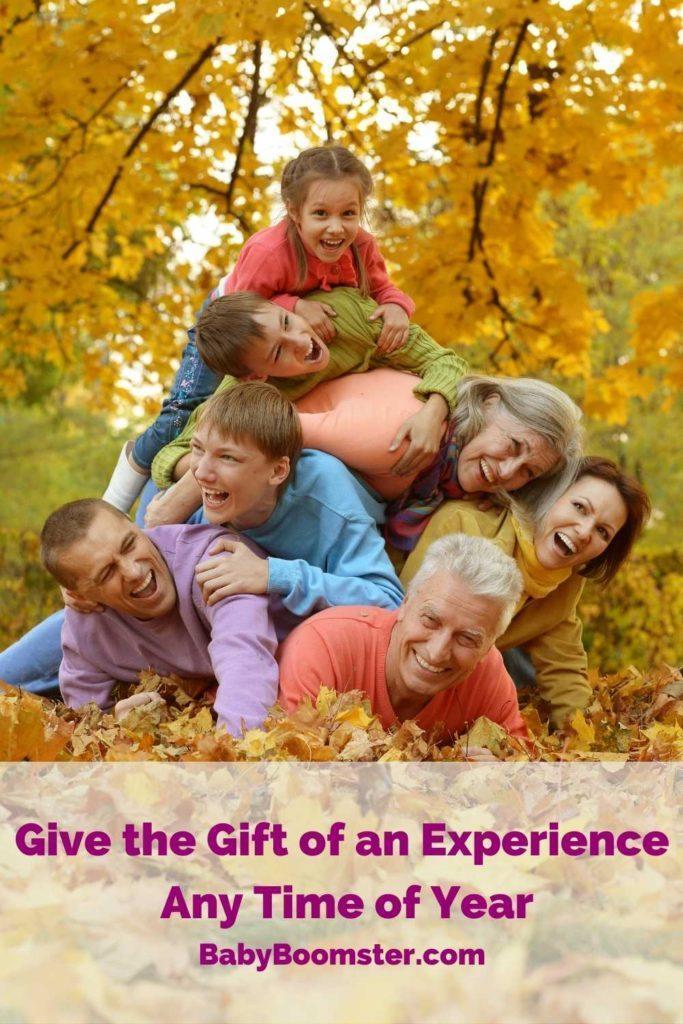 Curated travel gifts
There is a company called Tinggly that packages exciting and fun experience gift boxes. You can order them online and customize them to your recipient's interests and preferences.
For example, say you know someone who has always wanted to ride in a helicopter. Tinggly will let you purchase a gift box called Best Helicopter Rides Collection that you can send to someone via email or in a physical gift box within 2-5 days. Once they receive it, they can decide which experience they want from a list of options, visit the Tinggly redeem page, select the date, the experience, and wait for a confirmation. Then they just show up and enjoy the ride.
There is no expiration date, easy refunds, and your gift will never leave a carbon footprint. It's so cool!
Tinggly offers gifts for men, women, couples, thrill-seekers, students, and travel lovers. Buy a gift of two nights in an Italian hotel, a hot air balloon flight, a bungee jump, a staycation, or give a gift card to let them choose their own gift. It's such an interesting concept.
To buy an experience gift for someone you love on Tinggly, click here.
Other experience gifts to consider giving
Know any wine lovers? Why not buy them a membership to a wine club?
What better excuse for a great experience than receiving regular shipments of wine? California Wine Club will let you or your recipient sample selections from some of the best small artisanal wine sellers in Napa, Sonoma, and other California wine regions as well as other domestic and international labels.
Explore nature
With a National Parks Pass, you can take family, friends, or loved ones on amazing adventures within the National Parks System. Hike, camp, or take a train ride to view the most spectacular outdoor lakes, mountains, and scenery. Horseback ride, boat, or simply sit and take in the magnificence of the natural world. And don't forget that seniors can purchase a lifetime pass.
Take someone you know on an urban green adventure
As a city dweller, I love visiting my local botanical gardens like the Huntington Library or Descanso Gardens. But gardens, zoos, parks, and aquariums can be found in most major cities and offer memberships to ardent nature lovers. They make wonderful gifts and will give hours of awesome and serene experiences.
Cultural attractions
Buy tickets as a gift to favorite museums, galleries concerts, theatres, or movie palaces.
Sporting events
Know someone who loves baseball, football, basketball, or even horse racing? Buy them tickets to watch upcoming games and events.
Give the gift of learning something new
What could be better than learning a new skill especially in a group setting? A gift to enjoy a fun dance class, photo tour, cooking class, or tennis lesson will reap benefits for a lifetime. And don't forget online classes like Masterclass, or Udemy if you purchase a subscription.
Organize unique family gatherings
You could spend hours buying so-so Christmas gifts for your entire family or take them all out on a whale-watching boat instead. Or maybe you know a relative who lives far away who hasn't been able to visit because they can't afford it. Imagine their excitement if you buy them a plane ticket!
Organize a family cruise or something as simple as a themed family picnic. An experience gift doesn't have to be expensive to be memorable.
The options of experience gifts are endless and often have more lasting memories than any material gift you can ever give.
Think about it.
What gift of experience would you love to give or receive? Please leave a comment below.