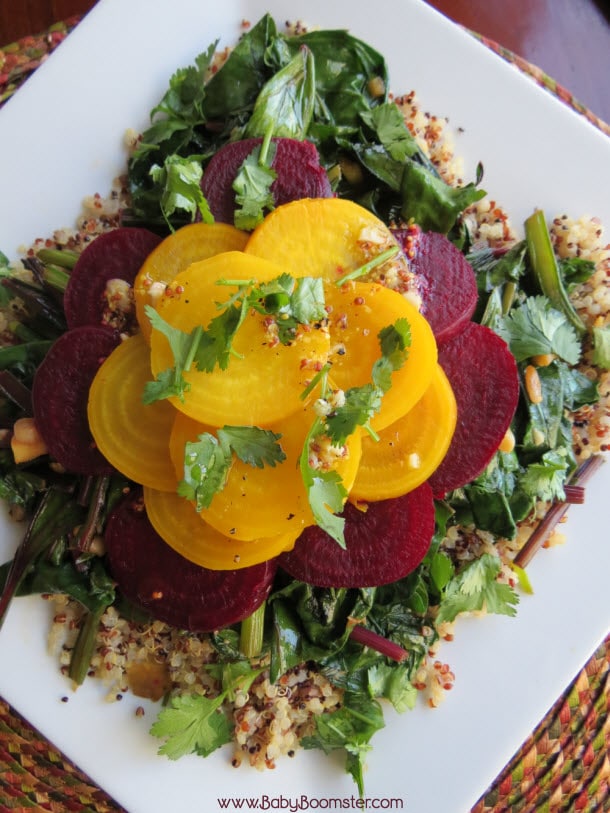 Baby Beet and Quinoa Salad
Red beets and quinoa make a colorful as well as nutritious salad.
Beets
Cut the stalks off the beets. Rinse with water. Place in a saucepan covered with water and bring to a boil, Simmer until tender. (about 15 minutes) When done, rinse with cold water to cool. Rub the skins off and cut into thin circles or cube.
Quinoa
Rinse quinoa and drain. Bring 2 cups of water to a boil in a small saucepan. Add the quinoa, lower the heat to simmer, cover for about 15 minutes or until the water is absorbed. When done, set aside.
Beet Leaves and Stalks
Tear or cut the beet leaves and stalks into bite-sized pieces.

Heat 1-2 Tbsp of extra virgin olive oil in a skillet or stir-fry pan.

Add the beet leaves, stalks, chives, scallions, ginger, and garlic and stir-fry for about 2 minutes until the leaves wilt.

Add the soy sauce and mix into the vegetable mixture for 1 minute.
Assemble the Salad
In either a large flat dish or individual salad plates, cover the bottom of the plate with the cooked quinoa.

Put the stir-fried vegetable mixture on top of the quinoa

Arrange the beets decoratively on top.

Garnish with chopped cilantro
Garlic Vinaigrette Salad Dressing
In a jar or small bowl add 1 part extra virgin olive oil to 3 parts lemon juice

Add minced garlic, mustard, salt, and pepper to taste

Drizzle over the salad