With many people trying to do their part to lessen the spread of the novel coronavirus and stay safe, there are still, unfortunately, some situations where traveling is necessary. Much of the traveling industry, such as U.S. airlines, have taken extra preventive measures to help make travel safer. However, that's not the only factor in this equation.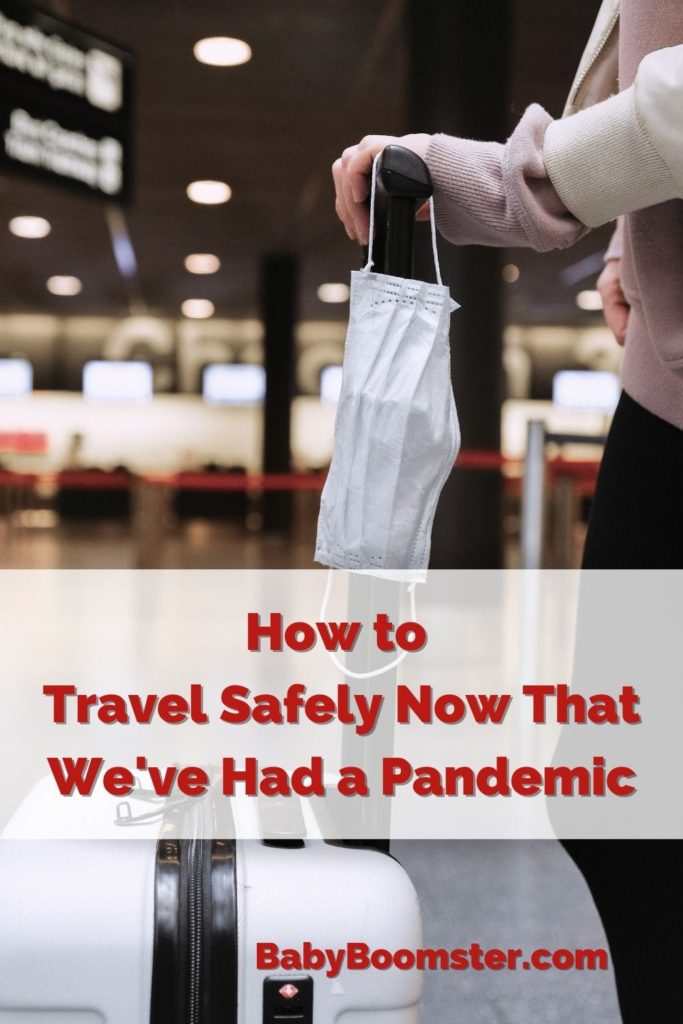 It's imperative that travelers also do their part. Furthermore, the Centers for Disease Control and Prevention (CDC) has warned that older adults, ages 50-70, are part of the high-risk group. So, whether you're traveling on the road or in the sky, taking the right precautions and following key safety guidelines can help lower your risk of infection. It's also important to help protect the communities you'll be visiting and anyone else along the way.
With all of that in mind, if you're preparing to travel during the current pandemic, particularly as an older adult, here are some essential tips to help keep you safe on your next trip:
Take The Right Precautions
Despite traveling becoming a risky situation for catching or spreading COVID-19, there are still some ways you can help reduce that risk. It's also worth noting that a lot of countries and even states have strict policies in place that might interfere with your travel plans. Before you start packing, consult your destination's coronavirus protocol. It's better to make sure you can even enter the place you're traveling to before making any concrete plans.
Beyond familiarizing yourself with your destination's current regulations, it's also worth keeping a close eye on the number of COVID-19 cases in that area. Your destination could suddenly see a spike in cases, which could result in the need to cancel. Not only to protect yourself but to also help prevent the situation from worsening if you happen to be an asymptomatic person.
Additionally, make sure you're following as many safety tips as possible while you're traveling during the COVID-19 pandemic, such as:
Protecting Your Personal Space: COVID-19 is an airborne virus that transfers person to person through the droplets of a symptomatic person whenever they cough, sneeze, talk, or even exhale. This means maintaining your distance from others and avoiding large groups, especially as your travel through places such as an airport. And don't forget your mask.
Maintaining Your Health: Consider self-isolating for two weeks before traveling to ensure you're healthy and Coronavirus free. Also, while you're traveling, try to maintain excellent personal hygiene, good hydration, and stick with a nutritional diet. Due to this pandemic, health care resources are extremely limited so as an older adult traveling around, it's essential you take the right steps to better protect yourself from any and all illnesses. Also, don't forget to bring any medications you're taking as it might be difficult to get them replaced at your destination.
Avoiding Extra Stops: Look for direct flights and only stop when necessary while driving. Keeping the list of areas and people you interact with as low as possible throughout your travels can really help lower your risk of infection.
Being part of the high-risk group means you'll need to be more cautious than usual and thoroughly plan ahead. It can seem like a lot of work, but it's worth it if it means protecting yourself and those around you.
Keep Your Wits About You
Considering the precautions you'll already be taking to lower your risk of catching the Coronavirus, it can be easy to forget other basic traveling tips. We're also living in a time that is different in several ways from our usual sense of "normal."
For example, cash is now no longer being accepted at some businesses. While bringing cash is typically a staple of any traveling guide, for now, you're better off sticking with cards or direct online payment apps such as Venmo or Cash App. Of course, cash is still legal tender, but better safe than sorry.
Another basic travel trip that is particularly important these days is getting caught up on your vaccinations. Certain countries require you to get specific vaccinations before entering. Luckily, the CDC has an easy-to-use tool that allows you to enter in your destination and they will show you that place's vaccine requirements.
Your upcoming trip might also be the time to invest in traveler's insurance. Baby Boomers traveling with pre-existing medical conditions can still be covered by most travel insurance but you have to purchase early. Traveler's insurance can be especially useful if you're traveling to a country that makes the list of the most expensive places to be hospitalized in. In a time full of so many uncertainties, perhaps more than ever, you never know when it will come in handy.
Don't Get *Too* Comfortable
When you finally arrive at your destination, it can be tempting to let your guard down. However, it's important to stay not only vigilant against catching and spreading COVID-19, but you should protect yourself against other health concerns as well. For instance, staying outside as much as possible while you're visiting may limit your risk of obtaining COVID-19 (and boost your mood). That being said, if you aren't wearing proper protection, you could be at risk for sun-exposure-related issues.
Too much heat is bad for varicose and spider veins. It can also increase your chance of getting sunburnt, which can lead to skin cancer. Too much time in the sun also puts you at risk for heatstroke. This is especially dangerous for older adults as age-related changes to the skin and certain medications can result in poor blood circulation and reduce your ability to sweat. Find some shade and take plenty of (socially distant) breaks inside a cool area as needed.
While you may be looking forward to your traveling plans, especially with how stressful the pandemic has been if you aren't cautious you could end up in a dangerous situation. This is especially true for older adults. Always plan ahead, pack accordingly, and keep your eyes on the news for any updates that could change your plans.
Don't forget to also bring plenty of hand sanitizer, masks, and always follow basic safety protocols.
Good luck and travel safely!