I love comfy shoes and I'm not the kind of person who wants to suffer for fashion. You'll never see me sporting stilettos like some women over 50 do. They must have feet made of steel. In fact, 2-inch heels are my max and even those can be excruciating. So, when I was offered a chance to try out Therafit Shoes a couple of years ago, of course, I said yes. You can see my review of their Francesca Sport Walking Shoe (which is still available) if you scroll down the post.
Sandals
More recently, I was offered the opportunity to try on a pair of Therafit sandals. For this, I chose the Capri Women's Adjustable Sandal in brown. I was excited because I was on my way to Mexico City and San Miguel de Allende so I wanted stylish sandals I could walk in. They're really cute and I love that my feet feel supported because you really need sandals to keep you steady when you're walking over cobblestones.
The Capri sandal I tried comes in brown, black, navy, or white.
My only issue with them is the strap. They have a velcro closure which is fine but it's a little difficult to adjust the length of the strap itself. I was able to slip into them without undoing the strap but they could have made them easier to adjust.
Even so, I know I will enjoy my sandals for a long time because they are sturdy and feel good on my feet.
Therafit Shoes is known for having adjustable adaptor rods that allow you to tweak their shoes to fit the shape of your feet. You can see how they work in the video further down that page that shows how to deal with Plantar Fascitis. This also applies to their sandals.
Walking Shoe
When I reviewed Therafit's walking shoes a while back, I chose their Francesca Sport Walking Shoe in taupe. It's a faux suede sneaker with a zipper on the side.
You can see in the images how their patented personalized comfort system adaptors are built-in on the side of the heel area. Just insert or remove the adaptors to adjust the impact resistance of each step.
Therafit makes sneakers, boots, slippers, slip-ons, and sandals. All are designed to prevent foot pain, knee pain, leg pain, and back pain. If you're over 50 that's a priority.
As we age we lose the fat pad underneath the ball of the foot. That causes pressure when you walk which can be painful. I have high arches so I often have a hard time finding comfy shoes. However, as soon as I put on my Francesca's I was amazed at how incredibly comfy they were.
Here are some of the features of Therafit shoes:
Shock absorbing wedge with comfort adaptors you can customize for your feet.
Breathable uppers (on walking shoes) that are helpful if you have sweaty feet,
Shock-absorbing EVA removable insole with contoured arch heel support.
Polyurethane Gel insert comfort pad.
A formulated compression-molded EVA midsole
Flexible long-lasting rubber outsole
All Therafit Shoes are made with man-made materials with no animal ingredients or bi-products
I love that Therafit shoes are stylish. Often when we think of comfy shoes we think ugly.
You can choose from slip-resistant, (always a good thing for those of us over 50) Vegan-friendly, and wide-width. Each design is specifically made with superior arch support which helps prevent plantar fasciitis. Therafit also offers free exchanges and shipping.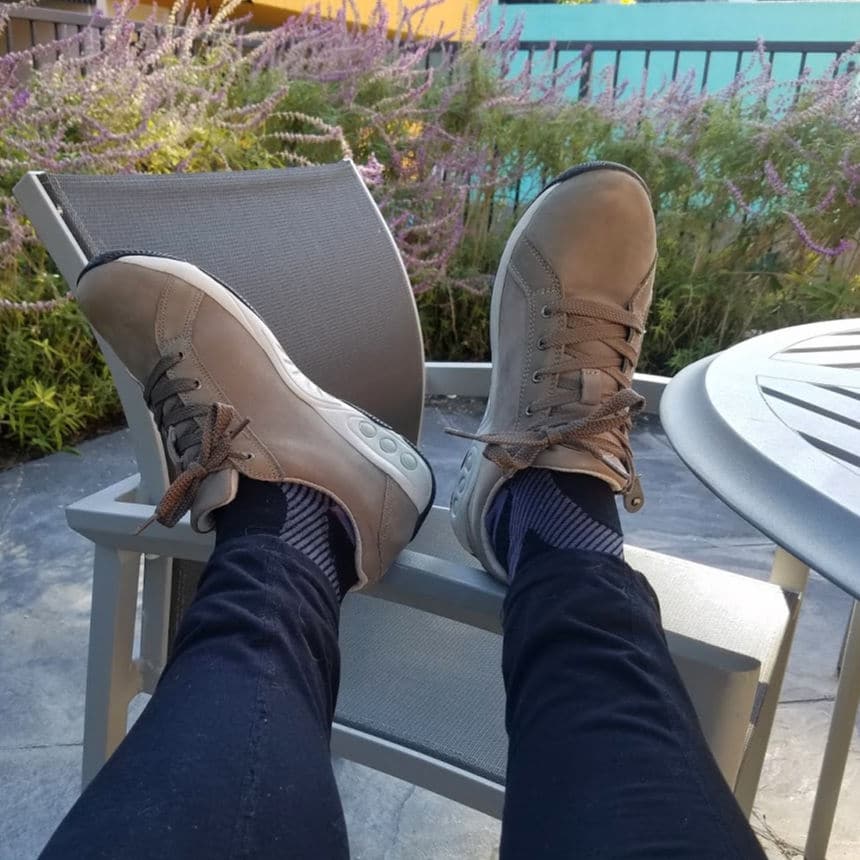 To see what shoes Therafit is currently offering visit their website by clicking here.
I plan to wear my Therafit shoes until I can't wear them anymore because they're such comfy shoes. How about you?
I was given free Therafit shoes to try and review. However, my opinions are my own.