If you've hit a brick wall on what to give your mom, grandma, or older women friends, then you'll enjoy the special occasion and holiday gifts for women over 50 I've put together below.
They include culinary delights, skin care, beauty items, jewelry, and other fun items all women will love even if she makes you think she's got everything she needs. Please shop 'til you drop and send them to a woman you love.
If you are a woman over 50, check out these gifts to give yourself something special too. And, why not? You deserve it, right?
This post was updated on 6/2022.
If you like any of the photos below, please be sure to save them on Pinterest.
Let's get personalized
Everyone needs shopping tote bags but what about bags personalized with the names of kids, grandchildren, or even pets? These bags from Jane.com are perfect for a trip to the store, traveling, or whatever you use tote bags for.
Fabulous Accessories that older women will love
This stunning Smooth Edginess Stick and Ring Belt from Dorothee Schumacher will add a touch of elegance to her outfit. It's made with 100% Calfskin.
Nothing is as luxurious as cashmere and Gentle Herd has everything a woman over 50 needs that is cashmere as well as silk, linen, and more. The company has ethical practices that ensure each goat used to harvest the wool is treated gently in green pastures in the best way possible. Their classic and elegant scarf below is available in a variety of colors.
Give her something silk. What could be as elegant? The pink silk pajama set below is from Lilysilk, which has a large selection of silk products from blouses to bedding. She will feel like a million bucks. All of their items are made with natural fabrics and are sustainable.
How about a colorful canvas tote for her to carry with her when she is traveling or shopping in town? Maika makes their bags out of recycled canvas using eco-friendly ink. They are practical, affordable, and fun.
Silpada has gorgeous sterling silver jewelry that is delicate and classy. Find her something she will adore.
Wine and Chocolate Gifts
For the wine connoisseur
Many older women have everything so they may be hard to shop for. However, everyone needs to eat so a culinary gift basket is always a welcome gift.
As a California girl, I'm always ready to enjoy a fine glass of wine or bubbly from my home state. The California Wine Club curates selections of vintages that come from some of the finest small artisan wineries in the California wine country. Depending on the wine club level you purchase, a box of your favorites will be sent monthly.
What a great gift to give to a wine-loving older woman you know! Plus, members receive VIP tours at wineries that are featured and much more!
Give her chocolate, darling!
It's hard to find a woman who does not adore chocolate. Vosges Chocolate is cultivated and cured on the Bourbon Island of Madagascar. It is Fairtrade certified and offers an array of gift sets. Their Ensemble Du Chocolat Classique is an elegant and totally delightful gift for anyone.
Give her the gift of a fabulous experience!
For a woman over 50 who loves to travel and have fun, her favorite type of gift to receive could be a weekend getaway or a surprise trip somewhere. What if you could give her a gift box that will give her memories she will never forget?
Tinggly lets you do just that. Create a unique gift box that will send her to a favorite destination or even something daring like jumping out of a plane. You can choose a one-night stay someplace exciting, a trip to somewhere in the world, or a staycation experience she will love. She will love you forever!
Soothe her soul with an organic tea gift
Do you know an older woman who would love a gift of organic tea? One of my favorite tea companies is Art of Tea. They are located in the Los Angeles area and offer a wide variety of the world's finest organic teas, botanicals, as well as gorgeous gifts.
You can order exquisite tea blends that come from distributors who not only grow clean, non-toxic teas but also treat their employees with respect.
This Assorted Teabag Sachet 6-Section Gift Box makes a wonderful gift for a tea aficionado and is a wonderful way for her to sample new blends and flavors.
Skin Care and Fragrance gift sets
Older women may have time working against them when it comes to their skin but you can help her turn back time by giving her the gift of a Nebulyft R1 Anti Aging Device by Rebeccatech. This device works with the company's proprietary microRF technology to promote subcutaneous collagen tightening and regrowth. The immediate benefits are smoother skin and wrinkle reduction within 10 minutes and it is safe and easy to use.
The device's sensors scan and analyze the skin beneath and then adapts to different areas of the face so it can receive optimized RF energy. It's lightweight and is recommended by top dermatologists.
Use coupon code NEBU-BABYBOOMSTER for 10% off.
I love this 10x/1x Beauty Vanity Mirror from Bed, Bath, and Beyond. It even has a stereo speaker with Bluetooth Speakerphone. Perfect for plucking eyebrows, and putting on makeup.
This Billion Dollar Babe Bundle from Billion Dollar Beauty is a fun gift for any woman who wants a convenient way to carry around her makeup. Each piece is magnetized inside of a handy carrying case that comes with its own mirror. It's a gorgeous assortment of neutral and flattering shades that will look good on every complexion. All of the products from eye shadow to lip balm are paraben-free, cruelty-free, and vegan.
In addition to the cosmetic color items, she will also get a tweezer that will also stick to the makeup carrier so you don't have to worry about losing it.
I have one of these sets and am really enjoying it. I can switch out or replace shades anytime I want and it's all so easy.
With all the hand washing we're doing, a perfect gift for a woman over 50 you love is a luscious hand or body cream. L' Occitane offers French provincial hand and body gift sets and gift ideas that are top of the charts in quality. But their shea butter hand cream is often ranked at the very top when it comes to hand creams.
Women of any age often love perfume but sometimes a strong scent can be overpowering. However, there is nothing as sexy as a softly scented woman walking into a room. Skylar makes all of its scents and body products using pure and clean ingredients. If you know an older woman who enjoys a delightful fragrance, give her Skylar's Discovery Set so she can sample a variety.
Isa Lazo is a mother-daughter-owned and high-end skin care brand that is both luxurious and healing. The body oil in the image below contains moisturizing primrose blended with energizing grapefruit seed oil and silky Rose Damascena oil. Her skin will feel radiant and sensual.
Also pictured is Isa Lazo toner which is a combination of rose water, witch hazel, and a complex blend of botanical extracts. It soothes facial redness and calms the skin.
You can order items separately or in gorgeously elegant gift sets. She will feel as though the spa came to her.
I was given some of these products to try and I absolutely love it, especially the facial and body oils. The scent is fresh, and light, and it makes my skin feel thoroughly luxurious.
Create a photo book of memories
One of the most wonderful types of gifts you can give an older woman is a photo book of memories. It may be from a recent wedding, photos of a new grandchild, or shots taken during an incredible vacation. Instead of sifting through photos in a box or trying to find them online, they can be curated into a gorgeous coffee table book. Mixbook lets you design your own unique and personalized photo books, cards, calendars, home decor, and more.
Give her a game to remember what it was like growing up in the past
Boom Again, from the creator of Taboo, Outburst, and Super Scattergories is a trivia game for Baby Boomers that comes in a cigar box with tokens from the 50s, 60s, and 70s. Boomers can play the board or ask each other questions from two thick decks of cards on Zoom to play Zoom-Boom. It is guaranteed to keep everyone laughing and singing remembering memories of growing up.
I interviewed the creator of the game, Brian Hersch, on my YouTube Channel. He explains exactly how the game works.
Gifts designed by women entrepreneurs and artisans
Handmade Greeting Cards
Older women remember when it was traditional to send greeting cards through the mail. With these gorgeous handmade greeting cards by Pygmalion Card Designs, she can send a thought or appreciation that is unique and special. They come with matching envelopes that are works of art.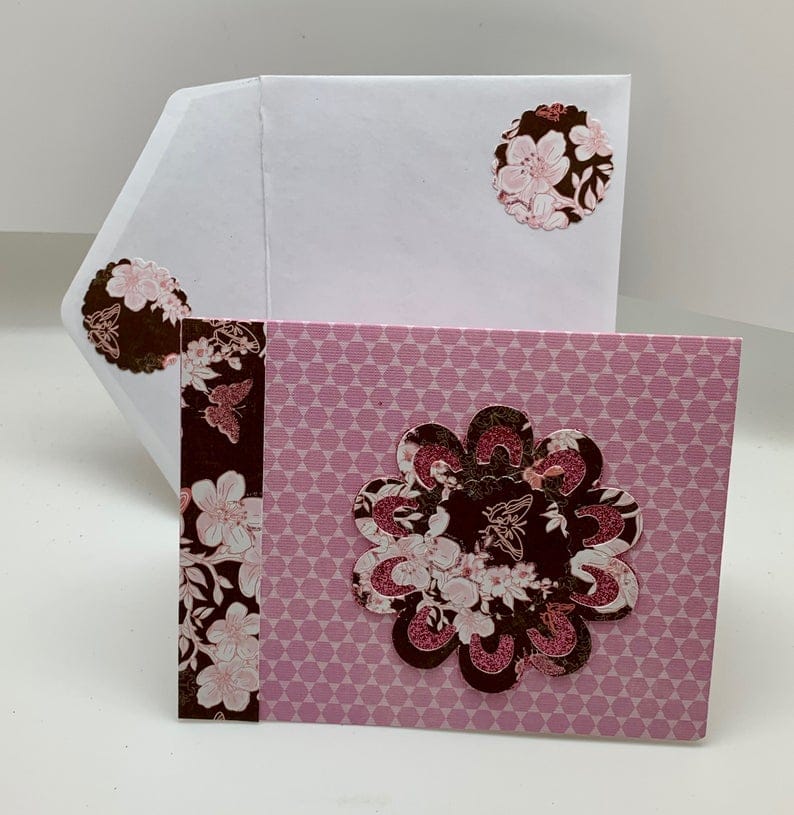 Janet Leroy is an artist and also my sister who is known for painting on feathers. She creates gorgeous original framed paintings, prints, spirit feathers, and these adorable notecards. They all feature wildlife and landscapes with a Southwestern flair.
Carol Cassara has an Etsy Shop called A Healing Spirit and designs tools to help people who are experiencing grief. She creates gorgeous healing soy candles made with flower petals and crystals. They are a lovely addition to a relaxation room or to enjoy in your home or office.
Anne Fletcher is the founder of UnWined L.A. Studio and is another candle maker and one-of-a-kind artist. She's a French woman living in Los Angeles who has a passion for the visual arts and a love for Champagne. Her candles are made with upcycled wine bottles from her neighbors that have been cleaned, cut, and polished. The candle itself is vegan and is a premium blend of natural soy and coconut with a wood wick. They make lovely special occasion gifts.
If you like these special occasions and holiday gifts for older women over 50, make sure to click on the links above and send them out today!
More Shopping
Fashion Over 50 | Beauty & Skincare |Travel | Blogging and Tech | Life Long Learning |