Middle Eastern Food is one of my favorite cuisines so I was excited when Secret City Tours announced a Los Angeles Lebanese food tour. I had previously taken their Italian food tour and was absolutely drooling to go on another one. John and Laura Bwarie were again our tour guides and didn't disappoint.
We boarded a bus at the Universal City metro station with 28 other hungry foodies. I adore people who love food because they're usually not the type to be fussy about trying new things. To me, foodies are sensualists of the highest order. They savor every bite and enjoy the entire culinary experience. Isn't that part of what makes life fun? Well. . . it is for me!
Our first stop was in La Crescenta, and along the way, John regaled us with facts about the area. He's a Los Angeles fact file and author of the book Nobody Walks in LA. His family is Lebanese, which made it easy for him to pronounce the names of dishes and Lebanese references. He also entertained the group by quizzing us on Lebanese trivia for raffle prizes. Unfortunately, my smartphone wasn't as fast as the people who had iPhones (or I wasn't as fast) and I came up empty-handed.
Los Angeles Lebanese food tour stops
We got off the bus at a mini shopping center to taste some food at Shanto's Bakery.
Shanto's Bakery
3747 Foothill Blvd. Unit C, La Crescenta CA 91214
website
Specialties include oven-fresh flatbread and wraps. The owner brought out scrumptious wraps filled with Beef Soujouk, grilled Halloumi Cheese as well as baked Falafel. We also tried Zaatar, which is a flat round bread with thyme, oregano, herbs, and olive oil baked on top.
Next up was The Zaatar Factory and Bakery in Burbank.
The Zaatar Factory and Bakery
2909 N. Glenoaks Blvd. Burbank, CA 91504
818-859-7353
website
We ate more Zaatar bread and could watch how they made it. We also sampled to die for Soujouk with cheese, (sausage roll) The shop also sells Bureks, mixed with potato, mushroom, beef, various other sandwiches, cakes, and pastries.
Zaatar spice can be used on meats, vegetables, rice, and bread. You can also make it into a spread with Lebanese olive oil or sprinkle it on yogurt. Lebanese tradition believes that Zaatar spices make the mind alert and the body strong. Children eat it before a test so they'll be able to answer the questions better.
We continued our tour to a restaurant in North Hollywood called Skaf's Grill.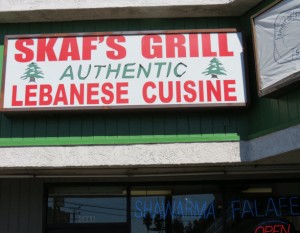 Skaf's Grill
6008 Laurel Canyon Blvd. N. Hollywood, CA 91606
818-985-5701
Skaf's on Facebook
Skaf's has been around since 1999 and had outstanding reviews plastered all over the walls as well as some beautiful pictures of Lebanon. The owner, Salim Skaf, insists that it is the best Los Angeles Lebanese food restaurant and he may be right. One customer was swooning over a Fatoosh salad he ordered.
It's a small, unassuming restaurant, but those are usually the best. We were each given a Kibbeh Ball to take on the bus with us. The balls are made with bulgur wheat mixed with ground beef, onions, and pine nuts and are the most popular dish in Lebanon. They look like little brown footballs.
Mr. Skaf also proclaimed that his Baba-Ghannoush (made with eggplant) is the best around. I'd love to go back and try it. All the ingredients at the restaurant are fresh and imported from Lebanon. There are two other Skaf's restaurants run by his sons in Glendale. Lebanon is slightly larger than Los Angeles with the same number of people, approximately 4,000,000 and, according to Mr. Skaf, everyone knows one another.
After so much great food, we were ready to try some wine. So we stopped at a liquor store in Sherman Oaks called Mission Wine and Spirits. It has a selection of wines from Lebanon and Arak, an anise-flavored liquor similar to Greek Ouzo. They didn't have a tasting license yet, so we did our tasting on the bus. Laura had been in Lebanon for 6 months and loved their wines. The climate is similar to California.
We tried a Ksara Cabernet and some Arak, which is 54% alcohol. It's a traditional liquor in Lebanon and is also popular in Iraq, Syria, and Palestine. When it's mixed with a little water and an ice cube, the liquor turns milky white.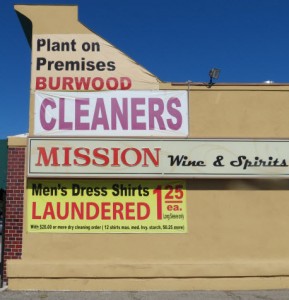 Mission Wine and Spirits
13564 Burbank Blvd. Sherman Oaks, CA 91401
818-785-6529
website
The store also has an unusual and large collection of liquor including some that are exotic and expensive. They had a Remy Martin Louis on display selling for $6999. I don't think I'll be buying any of that soon. One bus buddy bought a bottle of Moonshine and there were bourbon bottles that looked like guns. If you're a liquor aficionado, Mission Wine and Liquor is a fun place to visit.
Dessert was in Granada Hills where we were given a yummy Barazek cookie from Vrej Bakery. It was made with honey and sesame seeds. We ate it on the bus while we traveled to our last stop.
Vrej Pastry
11148 Balboa Blvd
Granada Hills
(818) 366-2526
Facebook
Last, but not least was a visit to one of my favorite Los Angeles Lebanese food restaurants . . . the Carnival Restaurant.
It's widely known for its excellent Lebanese cuisine and, because it's so popular, was too busy to seat us for a tasting. Instead, the staff gave us each a hefty portion of tantalizing tabbouleh, hummus, and French Fries. They soak the potatoes in water first to slough off the starch, and that's part of what makes their fries so good. I don't eat them often, but the fries at Carnival are difficult to resist.
Carnival
4356 Woodman Ave, Sherman Oaks, CA 91423
818-784-3469
website
When I go on food tours I always figure it's not a good time to count calories. I'll do penance later. Well . . . maybe. It's best to immerse yourself in the entire experience.
If you're in the Los Angeles area, look for Secret City Tours on Facebook. If not, try some of your city's local Middle Eastern food. It's delicious and healthy because it originates from the Mediterranean. "Try it . . . you'll Like it."
Have you ever been on a food tour? Where did you go and what did you taste? Please leave a comment below We're drooling to know about it.